Maoupa Mazzocchetti discusses Belgian electronic music, serial killers and experimentation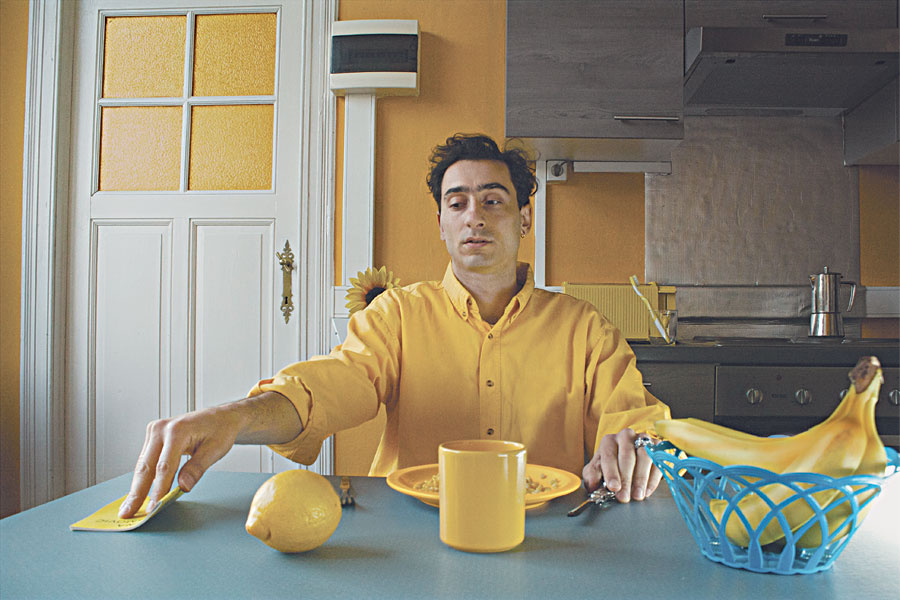 Maoupa Mazzocchetti debuted on Unknown Precept with a cryptic dispatch from the brink of hardwave and minimal electronics, showing the Brussels-based producer experimenting with thick quakes, paranoid tones and caustic drum machine welts. Call it what you will, Maoupa's vicious industrial terror gives sex-appeal to discomfort for when the dance floor turns ugly. Following a string of releases on labels like Mannequin and Knekelhuis, he's been back on Unknown Precept this year with his latest 12″ Infinite Glance Court.  
Are you originally from Brussels?
I'm from the south of France, but I have been living in Brussels for the last six years. Maoupa is a Belgian project.
Why?
I started to record music alone in parallel with my (New-Wave / Post Punk) band in the south of France around 2011 without a specific name or goal. After I moved to Brussels, the band dissolved and I was into Maoupa 100 percent. It was really born there. My first year in Brussels was so intense musically. Almost every day, I would discover a new Belgian band or artist. Lots of new music approaches have been introduced to my brain and to a certain extent changed my vision of music.
I read somewhere that your artist name was inspired by a serial killer.
It was inspired by the name's melody in particular. I wanted to find a name which wouldn't sound too Italian because Mazzocchetti is very Italian. And in this period, I was interested in the psychology behind the phenomenon of serial killers. Try to check the French author Stephane Bourgoin's work, it's so interesting.
You mentioned it is a Belgian project – were you also inspired by Belgian electronic music, per se – EBM, New Beat, etc?
To a certain point yes. But to be honest, not so much by New Beat. More by the stuff that came before and after, like Bene Gesserit / Klinik / Danton's Voice / Pseudo Code / Somnabulist / Dirk Ivens / Walhalla records / Insane Music… It was genius and had taste compared to New Beat. Belgian electronic music is very specific. It has a very DIY approach and aesthetic. I'm into Belgian music from the end of the 70s and the beginning of the 80s – a huge quantity of music was produced in this period. Belgium = Insane Music = Pseudo Code = Alain Neffe = God. Last year, I had an epistolary correspondence with him and he told me that he was also a member of all of the bands featured on the Home Made Music for Home Made People compilation which he produced for his prolific label. Insane Music is one of my biggest Belgian influences.
What exactly inspires you in it in terms of the sonics?
This musical period inspires me (amongst other things) because the aesthetic sounds very avant-garde to my ears. It's a fact. There was a different kind of freedom in music back then. Nowadays, electronic music is very attached to club music in the sense that it should make people dance. That generation was focused on making electronic music without a purpose. It's very different nowadays exactly because of this.
Do you think people have lost this experimental approach because of club music?
With the internet, it's hard to say people lost experimentation. Now you can live in Brazil and producer very interesting experiments with Japanese influences, for instance. Lots of bridges are created thanks to the internet and the experimentation is present more than ever. The fact is, it's difficult to play this kind of niche music in a DJ set or live in a club. Not because of the crowd, it's more about those who run the clubs – some people are too focused on making money, it forces them to get more Facebook likes or listens. I think it's fake and unhealthy for self-proclaimed cultural spaces. I talk about big clubs here, not small venues. For me, the best feedback is to hear that someone didn't know this music before, and they really liked it and would return the next time because of that. We need to keep in mind that art is just entertainment.
When you play, do you feel this affects you?
To be honest, I play whatever I want when it's a live set! I think it's important to trust yourself, and, of course, to doubt yourself even more. When I DJ, it doesn't make sense to adapt, it means you're lying. People book you for your approach and not to be a juke(club)box.
You also collaborate with a lot of artists and projects. Can you talk about it?
The last one, called De-Bons-en-Pierre, was with Beau Wanzer. It was released on Dark Entries. We have many similar musical influences and after a couple of years of sharing music, the idea of working together came up naturally. When Beau knew he'd be touring Europe in 2016, the first idea was to record something together as soon as he'd be in Brussels. Then it's Berbiguier with Eindkrak from Amsterdam, which has also been very creative. We played our first gig in Amsterdam with a playback dialogue at the beginning, a banjo surrounded by synths, drums and lots of humour.
There's also An Ultimate DJ with PRR! PRR! owners PD Cloarec and DJ Coquelin. Our next release will be folk in collaboration with Robert System and a foxtrot dancer; L.A.A.M with Air Lqd and Lostsoundbytes released on Vaste Choses and PRR ! PRR !; and a project released on BANK records with Nick Klein.
You also work as a graphic designer.
Yes, I do artwork covers, flyers, books, posters. I like variety. I also make drawings and sometimes I teach workshops at graphic and art schools when an opportunity arises.
How's the music scene in Brussels?
For the last couple of years, it has been very dynamic. There are lots of crews and event organizers. The atmosphere is very friendly. This electronic, experimental niche is very small though. There's a place called Épicerie Moderne, where this kind of music found its home thanks to promoters like Vaste Choses / Intramuros / Nose Job / Schiev / Listening Festival / Orpheu …. Although it would be good to have more venues that would be less afraid of this music.
What are your current projects?
Due to some delays I've had four releases in six months recently, and I think that's too much. I want to focus on my music and collaborations. I'm recording with guitar, tabla, tam tam, synth, drum. I'm very influenced by Arabic, 80's experimental and strange music. I want my music to be crazier and with more humour.
How did you learn the oriental style of playing?
I didn't learn it. I tried to find it by myself but on a certain level I found it through my friend Luca who's into a lot of music and studies Arabic culture and sociology. She's also a DJ in a duo called Luca and Matha Hari, (they play a lot of good music on their radio show called Strange Sounds From Beyond). I visited her a month ago in Cairo and met a man called Zein who repairs electronic gear and sells rare records from Egypt, Cairo especially. It was very inspiring. I don't want to limit myself musically. I want to surprise myself and to explore different things and not to stay inside my comfort zone.
Did you start playing music via guitar?
I started playing music with derbouka, tam tam and tabla borrowed from my uncle and aunt when I was 8 or 10. After that I learned drums, but I stopped quickly because of solfeggio. Afterwards I explored guitar by myself. I had a short-lived 'ghost band'. In my last band, I played guitar and drum machine. I got introduced to electronic music through a CR-8000 drum machine and Kawai 100F synthesizer.
What inspires you apart from music?
Jokes and novelties….
Do you think there are some wider context parallels between now and the era when the music you mentioned being inspired by – the late 70s/80s – was made (the return of EBM, industrial, etc)? Is the society back then and now similar in any way?
This is a very niche music. I think internet music is trendier than the return of EBM or industrial. Art school kids create crazy music from the web and with very technical VST's on their computers these days. They are so experimental, but in another way and it's huge. It's probably just a cycle.