Posted on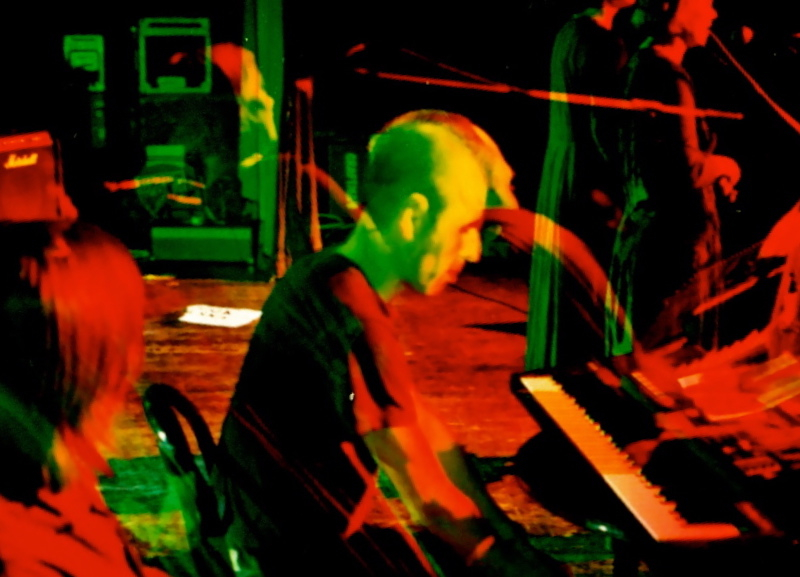 The first incarnation of Księżyc was active in the 1990's, the second exists now. In both forms the members include Agata Harz (vocals), Katarzyna Smoluk (vocals, piano), Robert Niziński (wind instruments, keyboards), Lechosław Polak (accordion, keyboards, synthesizers) and Remigiusz Mazur Hanaj (tapes). The sonic universe of Księżyc is idiosyncratic and combines inspiration drawn from early and late medieval music rooted in the Slavic tradition with elements of 20th century minimalism and vocal experiments. The surreal fairy tale inspired lyrics (written by Remigiusz Mazur Hanaj) add to the inherent beauty, sadness and madness within. Following the Penultimate Press reissue of their self-titled full length recording, the band re-united with a series of shows across Poland. Their upcoming record, a reissue of a 1992 concert, is slated for release on Blackest Ever Black this year.
Księżyc means 'moon' in Polish. Why did you choose it and did you select a Polish name purposefully? (A lot of bands choose English names in an effort to "be international")
Robert Niziński: Moon / Księżyc is a feminine symbol. Księżyc was formed as a female trio: Agata Harz, Katarzyna Smoluk and Ola Nakonieczna. The girls are of Polish and Ukrainian origin. The lyrics are in Polish, so there was no reason to name the group in any other language. The 'moon' has connotations of fertility, intuition, the unconscious, passive creativity, and also periods and rhythms of life. And the name of the group says a lot about our way of making music. Moon symbolizes poetry, the mysterious powers of nature, detachment from earthly human affairs. Our music was in its nature unpretentious (even if often perceived as extravagant), and we didn't strive for international fame, so it was natural to choose a Polish name as we were active mostly here in Poland.
The band had two incarnations – one in the 1990s, the other now. What has happened over those twenty years, and how different would you say the band is now compared to then?
Agata Harz/Remigiusz Mazur Hanaj: In our first incarnation, we performed not more than 30 concerts over several years. Our audience wasn't large, from 3 to 50 people. Our concerts were partly improvised. Four of us used to be members of a theatre group, whose performing and working style was based on Grotowski's method and that's why, in a natural way, our concerts were performative. Today we use less theatrical expression, with more happening in our imagination filled up with music. There are more places and opportunities for playing our music, although not as many as we wish. Our audience is also larger. It's hundreds of people now. Our not-so-easy music has lots of international fans. It surprises us and makes us happy.
RN: The second incarnation began at the moment when we started to work on the re-issue of our first album. In 2013, it was remastered and Mark Harwood (Penultimate Press) released Księżyc on vinyl under the catalogue number PP8. In my opinion it was the beginning of the re-birth and comeback…
Katarzyna Smoluk: Now, after the reunion, the group is different, yet the same. The way we make music is similar – somebody has an idea, the others join in and we play and sing trying to fit in – we are a gathering of very independent musicians, and there is a lot of freedom involved. This is more like a conversation, even though the voices of people and instruments intertwine with each other. The music we play nowadays is quite different, there is more improvisation in it, more freedom of expression, and it is – at least for me – richer, and the sounds are more unpredictable.
You are drawing inspiration from medieval music, also taking cues from Slavic tradition, all of this coupled with minimalism and 20th century music. Can you talk more about these elements and influences and how they are manifest in your music?
KSM: Slavic traditional music is ingrained in our minds, it is the thing that has impressed each one of us at some point, and remains important. The same is true for minimal music, and any other music that can be associated with the music we play.
You mention various influences, among them also some peculiar ones like Hildegard von Bingen, the 11th century German writer, mystic and visionary. 
RN: The repetitive structures, short motifs, the experimental approach for voice expression and creation of the sound place our work, let's say, somewhere between Philip Glass and Diamanda Galás, the Slavic tradition, John Cage and the "future music of the universe"…
AH/RH: The contemporary music we were interested in – for example Meredith Monk, Steve Reich – is not so new and the ancient music – for example by Hildegard von Bingen, Thomas Morley and many others – is not so ancient, it is surprisingly up-to-date. All of these are "mine" and "ours". When we were young, we also listened to rock music (Recommended Rec artists).
RH: …And my favourite bands from that time are: This Heat, Camberwell Now, The Swans, Pere Ubu.
Can you talk about your work with Polish folk tales and Slavic mythology/folklore as such. Why does it fascinate you, and how do you translate it into your music?
AH/RH: We discovered traditional music and it was a strong experience. It was like discovering an unknown land. During the communist years, this music was doomed and hidden. Over 20 years, we have been wandering across Polish villages, making field recordings and learning to play instruments, sing and dance from old musicians. I published some of these recordings in a special series of CD's on In Crudo label. And some of them I use after processing and mixing for creating new music (this year, they will be published as "field recordings of dreams"). We used our experiences in some musical projects based on Polish traditional music, but also experimental music like the group Wędrowiec (The Wanderer).
Can you talk about your live shows, the whole scenography? Do you recollect a memorable concert?
KSM: The concepts come into being during the live performances. They are obviously prepared and thought out beforehand, but the concept comes when we know the venue. We like to play with the associations of a place, but also with things that occurred to us at some (usually recent) moments, ideas, flashes of memory, anything can trigger a new scenography or a performative act.
RN: There were a few spectacular concerts in the career of the band. I'm sure that for the girls, Agata and Kasia, one of the most memorable was the concert in a jailhouse, organised by Amnesty International for the prisoners. When it comes to exchanging energy during the live shows, this one was a bit hard and devastating for the performers. I remember one of our concerts in Warsaw. Suddenly, a large group of soldiers in uniforms appeared among the audience. They sat down and left the show after one song. All of them at the same time. Quietly. A case of a wrong choice perhaps? I liked a lot our performances in Wales, UK. We played in caves, old wooden churches, and also in one hospital, where we performed for mentally ill patients as well as for the staff – doctors and nurses. The reactions were quite intense and loud. A very strange experience, and a deep hope that they had a good time listening to our music…
AH: My favourite concert took place in an old factory in Warsaw in the temperature of plus 3 degrees Celsius. Me and Kasia were singing on swings made of old steel radiators.
Can you talk about your Blackest Ever Black release?
RN: I met Kiran Sande, the head of BEB, last year in Kraków during the Unsound festival. He saw our concert there. We played in a beautiful old interior of St Catherine Church. Half a year earlier we started exchanging emails after Mat Schulz (Unsound) forwarded me a long letter from Kiran with a proposal of a Księżyc release on BEB. It was surprising for me that Kiran had been already familiar with our music for a long time. He even knew the dates of our performances and titles of our rare old recordings. We discussed a variety of options and focused on searching for the tapes and completing our archives, because the tapes 'disappeared' from our shelf. It was hard work and kind of a sentimental journey in time. In 1992 we played a concert at St. Vincent Church in Wroclaw. The performance was recorded by Mirek Koch and four pieces were released a year later on our debut 7 inch vinyl ("Nów") by OBUH records. Finally, we found the old tape with the whole concert recorded. Now we're working on the restoration of this archive material and hopefully some of these 'historical' recordings will be released by BEB this year.
A lot has changed in terms of politics and society, especially in the East. Can you reflect? Does this influence you artistically?
AH/RH: Yes, of course, but our artistic work wasn't directly related to any political or social context. Our music was always connected to the area of culture and humanity, which has never changed from the times of Shakespeare or ancient Egypt. After the liberation from communism, many opportunities to cooperate with western artists appeared naturally, something that was limited or impossible twenty years ago. But it lasted for a long time and at the beginning of the liberation period, in the 90s, the economic situation was bad and put an end to the activity of many alternative artistic groups (no places to perform, no money for living etc.). Some of such bands have been reactivated in Poland, but in Ukraine, where we have some friends, this was not the case.
RN: A lot has changed after the big political transformation in this corner of Eastern Europe. The music (along with the musicians) crosses the frontiers more easily.
SHAPE Artists' Hour ft. Ksiezyc – 22nd May 2015 by Resonance Fm on Mixcloud
Rumour has it, Księżyc will perform at the upcoming Les Siestes Electroniques festival, which kicks off in Tolouse, France, on 25 June 2015. For more information, click here.