Borusiade's SHAPE mix for Radio Campus
Stream a new mix by Romanian DJ and producer Borusiade, created to kick off SHAPE platform's new collaboration with the French radio network Radio Campus France. The mix features tracks by Prostitutes, Genesis P-Orridge and many others; it was aired as part of the network's broadcast series Campus Club.
Born and raised in Bucharest, Romania, and now residing in Berlin, Borusiade aka Miruna Boruzescu started DJing in 2002 as one of the few female DJs in the city's emerging alternative clubbing scene. Influenced by a classical musical education and fascinated by raw electronic sounds, Borusiade combined these elements in the construction of her DJ sets and, starting 2005, also in her music production. After experimenting with different projects, Borusiade slowly crystalized a sound of her own, often dark, with poignant bass lines, obsessive themes and by all means melodic. Her DJ sets combine bold and obscure sounds and genres fluctuating mostly in the field of dark disco, minimal wave, raw house with a touch of acid. The sound is gloomy and powerful, with beats that touch one's deepest senses on the dance floor.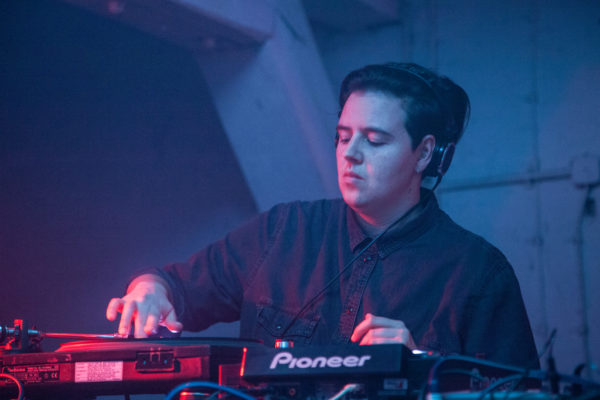 Borusiade at the 2015 edition of Unsound festival (photo by Anna Spysz)
The track list of the mix is as follows:
1. Telsco – Mutatzione
2. A Thunder Orchestra – Diabolical Gesture
3. Khidja – Monkey Tiger
4. Mr TC – Hebrew House
5. Johnny 5 – Kaka
6. Prostitutes – So Damn Gaunt
7. Senking – Great Day
8. Oklo Gabon – City Gym (Lena Willikens Remix)
9. JIMII – Templo (Instrumental)
10. Marco Bernardi – Catman's Going To Get You
11. I-F – Theme From Sunwheel Beach-bar
12. Benedikt Frey – SH Birds
13. Genesis P-Orridge with Splinter Test – When Fire Cleanses