Posted on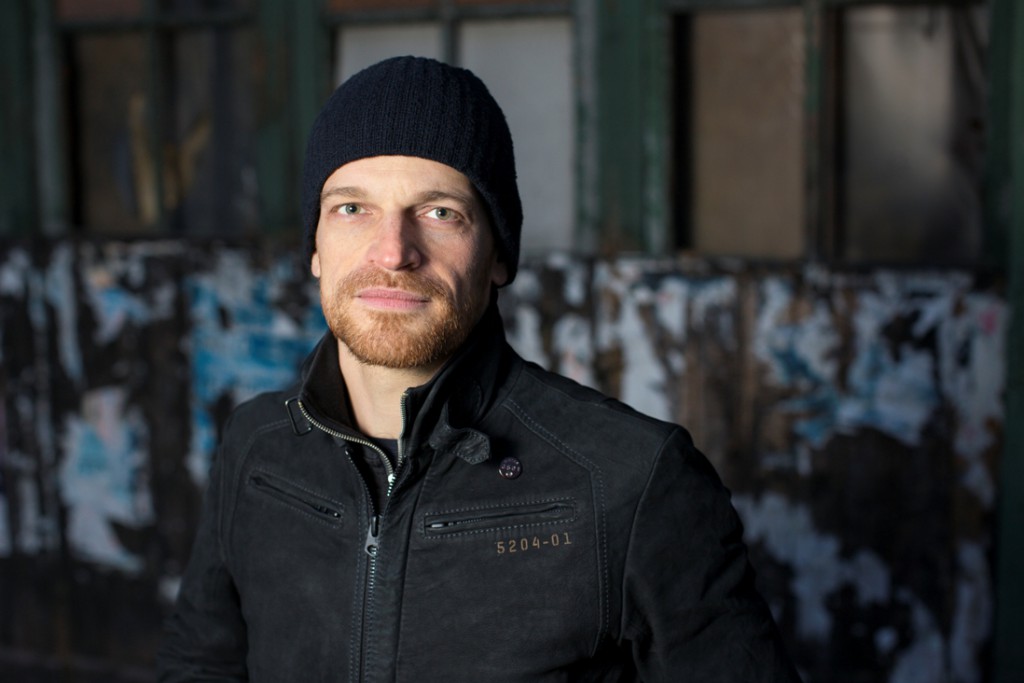 Ulrich Troyer's artistic approach is dominated by an interaction between architecture, music and fine arts. The acoustic space and the reverberation of sound events form a circular theme in his work. Troyer's commitment to dub production methods offer the perfect playground for his sonic experiments. His interest in sound system music (bass, dub, techno and their abstractions) led to the trilogy Songs For William. His debut Nok was released by the Viennese label MEGO in 2000 and resulted in an honorary mention at the Ars Electronica Festival in Linz, Austria. Since 2005, Troyer has performed actively as a member of The Vegetable Orchestra. We met during the ICAS Festival in Dresden in early May 2015, where he was also performing. He was nominated for SHAPE by musikprotokoll im steirischen herbst / ORF.
You are playing your "Songs For William" project at the ICAS Festival. Can you talk about it?
Ulrich Troyer: The project combines music, hand-drawn visuals for the live performance and a comic novel about a guitar effect pedal. William, the main character, is a guitar stomp box, probably a distortion pedal, who lives in the 4Bit Studio together with several other effect pedals such as delays, reverbs and filters. I started working on the "Songs For William" project back in 2006. It was intended to be a trilogy from the beginning. I released two parts of it so far, and hopefully next year the third and last part.
Where does your interest in dub originate?
UT: I'm not interested in reggae and dub cliches, but I'm really fascinated by the bass lines, bass frequencies and spaces that you can find in dub music. The concept of dub music was invented back in the 1960s by King Tubby and Lee Perry. Their use of the studio as an instrument is a very inspiring way to create for instance electronic music. Even if this concept is over 50 years old, it is still fresh and up-to-date. Dub as an artistic concept is the perfect playground for me to experiment.
Is it difficult to find your own expression, your own voice, within this genre?
UT: Everybody who creates something out of passion has his own voice. I find my inspiration in the records that blow me away. And then I want to create something new that is as good as the piece of music that made me happy, sad or moved me in a special way. I'm not looking to recreate the music itself, but the feeling it evoked in me.
Another aspect in your music is stripped down minimalism and repetition. Were you also influenced by the minimalist composers like Stockhausen?
UT: Yes, definitely. In the 90s, when I was fascinated by the Vienna experimental electronic scene around Fennesz, Pita and the Mego label, I was also discovering the electronic music of the 1950s. I was fascinated by Stockhausen and his concept of tape composition where you listen to music coming from a tape in a darkened room. Speaking of tape music – I remember that I was also blown away at that time by an early tape piece by György Ligeti. If I remember it correctly, it was "Artikulationen". I listened to it at the Electroacoustic Institute in Vienna in the 90s, and it sounded absolutely modern and fresh to me.
Space and time are the building blocks of dub. How do you work with them?
UT:  I think of a dub track like an 'acoustic walk' through a building – first a small room, then a bigger one, then a staircase, then a bathroom… I like using real architecture such as a stairway, a bathroom or even a toilet as an echo chamber. You put a speaker and a microphone in a room and send the snare via the speaker into the space and then you record the reverberation. It's a technique from the 50s, when they put a speaker and a microphone into a bathroom and over the auxiliary channel from a mixer, they could add reverberation on vocals or instruments. They didn't have plugins then. This was the easiest way to create an artificial reverb. I love this idea of the echo camber.
The delay also adds this dreamy, nostalgic layer. The past is repeating itself in a way.
UT: Yes, that's true. But it's like a story told from one person to the other – like the German game "Stille Post", I think it's called "Chinese Whispers" in English. It's the same, but always a different and often surprising version.
Is it important to innovate in music?
UT: It's always important to create something new that is interesting for the ear, but I think every great new music is based on some older great ideas. Nothing is completely new. Maybe it's another interpretation or version of something that already has been. It's always important to respect the people who made a similar thing a hundred years ago and declare where that idea came from originally.
I've always wondered what sort of music would somebody who has never heard any music in their life make, cut off from external influences.
UT: Personally I imagine it could sound like a hypnotic groove with strange sounds created with everyday objects, maybe even with vegetables.
Can you talk about the sonic architecture and using the studio as an instrument in your work?
UT: When I was a kid I wanted to become a composer or a musician but I thought the only way to make a living off music would be to become a music teacher. And I didn't really like to practise an instrument either – I learned to play the flute and the guitar when I was at school. I didn't know that what I do now existed as a vocation then. So I decided to study architecture in Vienna. But then during my time at the university I discovered electronic music, and realised, that it is possible to be something like a sound architect and create soundscapes with several layers and spaces in a studio all by myself. So I changed my plan: instead of becoming an architect, I decided to build bass lines and musical spaces using echo chambers. For my final project at university, I recorded interviews with blind people. I considered them experts on hearing architecture and space.
What has your involvement in The Vegetable Orchestra taught you about sound and the nature of performing?
UT: The Vegetable Orchestra is based on the wonderfully simple idea to create music using vegetables only. It was founded in Vienna in 1998, I joined them in 2005. It is an inspiring creative collective composed of ten very diverse people. It is a permanent and always surprising challenge to create sounds out of such fading material as vegetables. I learned a lot about sound design and collaborative, artistic labour.
Vienna had these cycles when its electronic music scene reached out globally, with Kruder & Dorfmeister and then later the Mego label. Could you describe your involvement in it?
UT: My debut EP "Nok" came out on Mego in 2000 when the Vienna hype was already over. As a listener and concert visitor I was very much into all the Mego stuff from the beginning. This was the first time when I thought, 'Wow there's something happening in Vienna'.
And how is it now?
UT: I love Vienna. It's a perfect city to live and work in. There are lot of great musicians working in different styles, from free improvisation to electronic music to new Austrian pop like Bilderbuch and 5/8terl in Ehr'n. It's a very diverse scene. Quite often I'd stumble into a concert and get surprised and blown away.
What are you working on this year?
UT: I've just finished composing music for the Kid's app LOOPIMAL by Yatatoy, a small company that I run with Lucas Zanotto and Niels Hoffmann. I'm in the middle of working on a film called Nose Hair by the young Los Angeles based director Louis Morton. The film is about a boy who cannot smell, he has anosmia. I'm composing the soundtrack and doing the sound design. In August there will be an EP on 4Bit Productions with four different versions of the track DEADLOCK, including a remix by my brother Kassian, a melodica version, and two versions featuring Vin Gordon, the legendary studio one trombone player, and Didi Kern from Bulbul on percussion. And I hope to have enough time to work on the third part of my "Songs For William" trilogy.
(photo by Eva Kelety)