Posted on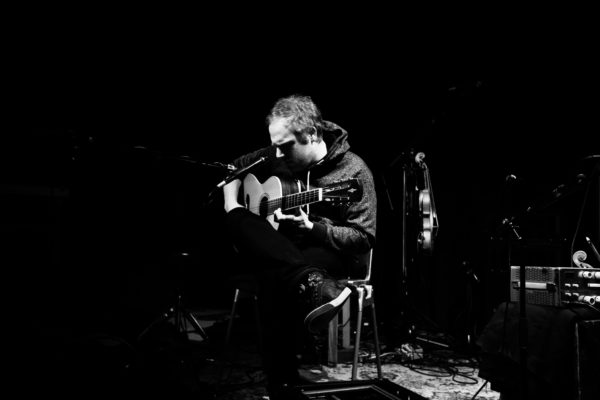 In 1910, the illustrator George Herriman created the Krazy Kat comic strip. Ignatz, a vicious mouse, was Krazy Kat's arch enemy, and his favourite pastime was to throw bricks at Krazy Kat's head. Belgian artist Bram Devens uses Ignatz as his alter-ego, and comes armed with his own pile of bricks; sparse, emotive songs born of the human condition, wrapped in effects, corroded by tape, driven forth by improvisation and spontaneity.  Ignatz's songs stem from a familiar stripped folk framework, with Devens' delivery recalling the louche primitivism of V.U. or Henry Flynt – but these songs sound inverted, cast adrift, their cool touch belying a stymied heat beneath the surface. Where Devens' fretwork is adorned, it is executed with a refined coarseness. His latest album, The Drain, was released this year on Feeding Tube/Kraak. We caught up with him via Skype.
Where do you live?
I live in a small town called Landen. It has a population of about 15,000 people. It's a city of commuters, people travelling to and from Brussels. It's very quiet here, people sit home and watch TV. On The Drain record cover, I used the water tower from our town. Before I moved here, the only thing I knew about it was the water tower, which you could see from the train passing by. People who grew up here tell me they hated it and moved out as fast as they could. But it's not so bad.
Is this environment inspiring for your music?
I moved here from Brussels fours years ago where I'd lived for 14 years. I think it changed my music. It has become more calm and relaxed. There's less direct influence from the Brussels music scene.
So it has become more inward-looking?
Yes. It's more about my own music taste.
Do you feel that over the years, your music has become more stripped down and direct?
I think so. It's always hard to have a musical identity in a way that is personal. It fluctuates, but it's definitely a lot less hidden behind sounds. My approach has become more minimal. That also comes from a practical way of working. Ever since I moved I have to walk to the station and I don't want to carry a lot of pedals. In the past, I used a lot of samples and loops but those things break, so I decided to do without it instead of buying new ones all the time.
So basically voice and guitar has become most prominent?
Yes. Guitar has always been very central to my music, but I wrapped it in a lot of effects and electronics.
Your music alludes to American musical inspiration.
There's a direct influence. Of course, American music is everywhere. I started to listen to old American music when I was 15 or 16 when I was learning to play guitar. I realised that if I tuned my guitar in a certain way, I could play like the old guys. I grew up with two brothers and we all had different musical tastes. My older brother was into English and European music, so I was going to listen to American music.
Have you always sung in English?
Sort of. It's not proper English though. I've always felt uncomfortable writing lyrics in English. I sing in a way a six-year-old would hear it in English without knowing any English – phonetically.
So the actual content of the lyrics is not important to you?
I have some basic ideas, images and concepts about a song, but I move around it, it's not fixed.
Can you describe how a concept of song of yours is born?
Usually it starts with me playing guitar in my living room. It's a lot of fiddling around and then there might be something I could work on. Sometimes it's recorded straight to tape and never played again. The lyrics come at the same time.
Are the lyrics improvised – like a stream of consciousness?
Yes. There're certain sounds I always fall back on. I don't like writing down lyrics and singing them.
The atmosphere is melancholic. Somehow it reminds me of Nick Drake.
That's definitely an influence. I like autumn, it's quiet. I just stare out of the window and look at things.
It's interesting that these days there are still these opposite strands in music – people working with state-of-the-art technology, on the other hand there's the acoustic singer-songwriting tradition which will never go away.
I try to connect with a culture that's not my own. These days you can pretty much choose. I have a difficult relationship with tradition. I really like it, but not having grown up surrounded by it also gives me the freedom of not having the context. I use technology a lot, but I hide it so that it's not upfront.
Your latest album was The Drain released on Feeding Tube/Kraak.
This record has a different approach to the ones before. I had all the songs ready before recording, while before I would record and then go back to the material and compile it. For this one, I actually went to the studio and recorded it in a day. I'd been playing these songs for about one or two years. I tried to record it at home but I wasn't happy with the sound. I really like this way of working.
When you play them live, do you change them?
They are structured, but there's freedom so they are never the same. A song I've been playing for two or three years sounds completely different to when I made it. There's a lot of improvisation involved.
What relationship do you have with your older music?
I don't really listen to it that much. It's more like these images I have about them.
You are actually a visual artist – specialised in comics.
I studied comic design but I haven't really done much comics in the last ten years.
I guess there are parallels between writing songs and doing comics – the narrative and story-telling.
I remember the moment I stopped doing comics. I'd been doing this really long story. I'd made five or six drawings, and thought this one story is enough, I don't need a whole page of text, so I realised maybe I shouldn't finish it.
And then you moved to music full time?
Yes. It's also more enjoyable and immediate. You don't have to sit in your room by yourself for two years when you play music.
Could you imagine that a similar thing could happen with music?
That can happen, but so far, I still find it enjoyable.
Bob Dylan has been awarded the Nobel Prize for Literature. What do you think about it?
Lot of writers were really angry because he's not a writer. I think it was a statement from the Nobel Prize committee, and also a way to get more attention.
When you don't tour, do you make music or practise?
I do, and I have to take care of my kids. I'm also recording with a band in November, and there's the occasional concert.
Do you children play music?
One is too young and the other plays a Korg on a Nintendo. It's really loud, I have to tell him to turn it down.