Posted on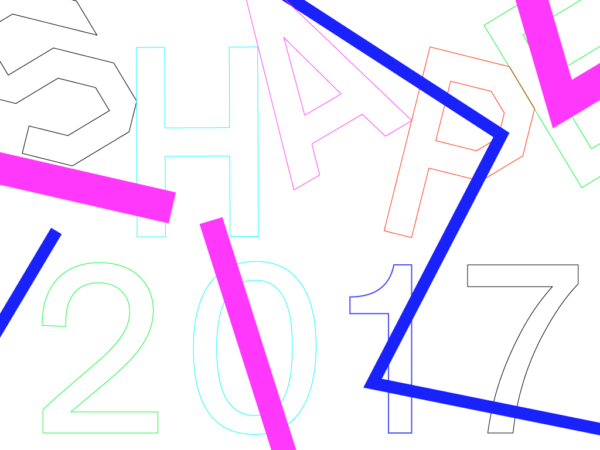 The Creative Europe-supported SHAPE platform for innovative music and audiovisual art is announcing its 2017 list of artists. The artist selection for the platform's third year traditionally places a diverse selection of audiovisual projects and sound artists alongside musical acts that range from post-grime and techno to free improvisation and experiments with field recordings. The platform is run by a union of 16 European festivals, including Insomnia, Maintenant, Unsound and CTM.
The roster
The third year's roster of SHAPE continues to demonstrate a kind of eclecticism that is clearly an outcome of all the 16 diverse festivals selecting artists and projects together – how else could one arrive at UK's instrumental grime producer Mr. Mitch brushing shoulders with Dutch artist Mike Rijnierse, who specializes in site-specific installations, or Lancastrian free improvising virtuoso pianist Stephen Grew sharing the stage with Toxe, the Swedish highschooler, who, with her productions for Staycore and Rabit's Halcyon Veil, unexpectedly catapulted to the forefront of European experimental dance music… A deliberate desire to detect streams of fresh ideas and unexpected influences beyond genre categories has influenced the choices of SHAPE's curators.
Sound art, free improv or experimental dance music are by far not the only genres, represented within this 48 artist list – there's the jazz-laden, warm modern minimalism of Polish clarinetist Wacław Zimpel, the lo-fi, ambient rap of Prague-based artist Lišaj, the "audio theater" of Lithuanian producer J.G. Biberkopf that brings together elements of abstract grime and musique concrete, the austere sonic architecture of Thomas Ankersmit, the post-rock, indie and electronica inspired works of British composer Anna Meredith or the ballads of Norwegian folk and jazz singer Mari Kvien Brunvoll, mostly built out of her voice, recorded in loops and accompanied by kalimba, kazoo and zither.
Less explored musical scenes are represented: the duo of beatmaker Oriole and video/performance artist Linda Konone evokes the collision of Riga's advanced dance music and contemporary art scenes, while the punk, techno and noise laden musical underground of Budapest is represented by Céh and  Új Bála, two projects by Gábor Kovács or the avant-garde metal group Entrópia Architektúra, all highly contrasted by the same city's eerie singer-songwriter project Unknown Child. The participation of v4w.enko, an audiovisual project from Ukraine, sees SHAPE exploring this country's music scene for the first time.
As in previous years, links to prestigious labels can be observed: producer Sky H1 released her debut EP last year via Codes, sound artist and composer Anna Zaradny published her critically acclaimed record "Go Go Theurgy" on Poland's mostly atonal Musica Genera records and the currently Paris-based boss of L.I.E.S. Ron Morelli participates in SHAPE with his live show, based on the largely beatless "A Gathering Together" – his most recent full-length recording, published by Hospital Productions.
In comparison to previous years, the 2017 artist list of SHAPE puts a larger emphasis also on seeking out interesting DJs – ranging from Denmark's all-female DJ trio Apeiron Crew, Romania's Chlorys and Netherlands-based Russian DJ Inga Mauer to Dynamons, the co-founder of Greek label Echovolt Records, or Danny L Harle, representing the kitsch-ridden internet label PC Music.
The audiovisual part of the roster includes, among others, Aurelia 1+Hz, a project that focuses on sonification of the movement data of a jellyfish, the French collective CHDH, who create audio and visual algorithmic synthesizers, Julien Desprez with his electric guitar/light performance "Acapulco Redux", Franck Vigroux with his various audiovisual collaborations, and many others.
First activities of the third year
For SHAPE, the second year formally ends on November 30. During year 2, the platform organized 150 performances (an average of 3 performances per artist) with a female performance ratio of 40% and male performance ratio of 60%. The mobility of 86 artists was facilitated.
Already in December, the platform will kick off its third year with its second large showcase beyond Europe – this time, as part of Rio de Janeiro's festival Novas Frequências (December 3-8). The showcase will consist of 13 SHAPE acts including 2016 alumni Stine Janvin Motland and Gil Delindro, as well as several names from the new roster, such sis_mic, Mr. Mitch, Toxe, Mike Rijnierse, Andreas Trobollowitsch and others.
Full list of SHAPE artists for 2017
Alex Augier (FR)
Amnesia Scanner (FI/DE)
Andreas Trobollowitsch (AT)
Anna Meredith (UK) 
Anna Zaradny (PL)
Apeiron Crew (DK)
Battle-Ax (AUS, AT) 
Black Zone Myth Chant (FR) 
Boska (NO)
Céh/Új Bála (HU)
CHDH (FR)
Chlorys (RO)
Christian Kroupa (SI)
Danny L Harle (UK)
Elektrovolt (NL)
Entrópia Architektúra (HU)
Fraction (FR)
Franck Vigroux (FR)
Gabey Tjon a Tham (NL)
Hiele (BE)
Ilias Pitsios aka Dynamons (GR)
Inga Mauer (RUS/NL)
Jacques (FR)
JG Biberkopf (LT)
Julien Desprez (FR)
Lišaj (CZ)
Machine Woman (RU/DE)
Maoupa Mazzochetti (BE)
Mari Kvien Brunvoll (NO)
Matthias Härtig (DS-X.org) (DE)
Mike Rijnierse (NL)
Mr. Mitch (UK)
N.M.O. (ES/NO/DE)
Ninja Sword (FR)
Olivia (PL)
Oriole & Linda Konone (LV)
Robertina Šebjanič & Slavko Glamočanin: Aurelia 1+Hz (SI)
Ron Morelli (US/FR)
Sis_Mic (FR)
SKY H1 (BE)
Stefan Fraunberger (AT)
Stephen Grew (UK)
Thomas Ankersmit (NL/DE)
TOXE (SE)
Unknown Child (HU)
v4w.enko (UA)
Varg (SE)
Wacław Zimpel (PL)
The platform
A 3-year initiative co-funded by the Creative Europe programme of the European Union, the SHAPE project reunites 16 European non-profit organizations active within the ICAS – International Cities of Advanced Sound network to create a platform that aims to support, promote, and exchange innovative and aspiring emergent musicians and interdisciplinary artists with an interest in sound.
SHAPE stands for "Sound, Heterogeneous Art and Performance in Europe".
SHAPE annually chooses 48 musicians and artists to participate in a mix of live performances, residencies, workshops and talks across member festivals and special events.
The selection process
Each year, the curatorial teams of all 16 SHAPE festivals and initiatives come together and choose 48 artists. The artist roster has been created disregarding divisions of genre, age or popularity. Rather, creative novelty and successful experimentation have served as core values, with additional emphasis on the inclusion of upcoming and underexposed artists as well as representing local scenes of involved festivals and art centers.