Posted on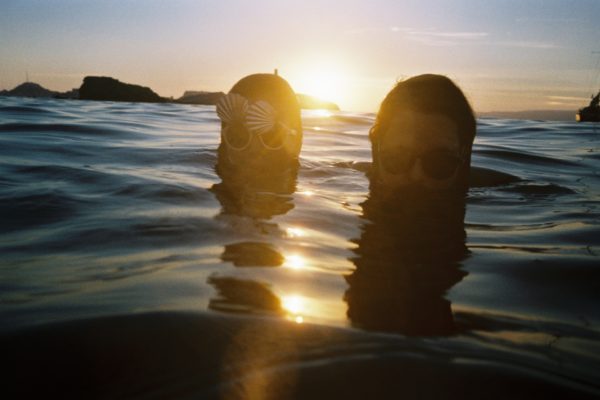 While the Antinote label has gained notice for its roster of leftfield house, acid, and lo-fi electronics, Syracuse has served as a palate-cleanser of sorts. A Parisian duo that go by Antoine and Isabelle, theirs was the label's second release and it offered woozy yet charming synth-pop. Syracuse is obsessed with the kind of gentle space-age psychedelia that wafted through the '60s, as the breezy strum of last year's Michelangelo Antonioni-repping single, Lovventura, made evident. The duo picked a telling acronym for their debut album, Liquid Silver Dream, but instead of staying in the '60s, its sound skips forward a few decades with touches of cosmic disco, early electro, and Italo. A beating 808, an acid SH-101, plenty of synths and some love chants are a few of the impressive elements of Syracuse's intense and sweaty show. We caught up with them before their live set at UH Fest 2016 in Budapest. 
Were you inspired by the music of the past and the instrumentation of those eras?
Antoine: We use instruments from the 70's and 80's, but we try to make contemporary music. In the 60's and 70's, there were all these new instruments and electronics, so a lot of the pioneers we listen to today are from this era, but we like music from all sorts of periods.
Isabelle: Lot of people keep using these instruments and that's why they are getting more and more expensive.
Is it important to you to use analogue instruments?
I: Yes, because the sound is different and when they break, we can fix them by ourselves. The components of the new machines are so small that when something happens, you just have to buy a new one.
A: It's not because we are into vintage instruments or more interested in this period but because actually it's the best instrument that can be repaired. When technology advances, it's not always for the best. For instance the MP3, you can have a lot of music on a small device but the quality of the sound is even worse than in the beginning of the 20th century.
How do you make 2016 music on vintage machines? What makes it sound contemporary?
A: The means is really important, but what you do with it is even more important. For example, piano forte has been around for several centuries and there are people that invent new music with it still.
Isabelle, you left home when you were really young and got into the Parisian music scene. Can you talk about the history of Syracuse?
I: When I arrived in Paris to study I was 15 years old. I come from an island, and my family still lives there. Antoine was living really close to my place in Paris. He was doing music with an MPC XL 2000 and synths. I've played piano since I was 3 or 4 years old and had my first synth when I was 4. I'm still playing with it when we play live. I was making music and studying at the same time and my friends were DJing. We were all really young and doing it just for fun and didn't think it was something serious. We were waiting for something to happen. One day, when Zaltan started his label Antinote, we woke up and started Syracuse. I really like to work with people I know.
A: When we made the first track, I asked him – because he knew everyone on the Parisian scene – where should we release our tracks and he said that he just started a label and he wants to do it himself.
In an interview, you mentioned specific ideas that you and the audience have in connection with your music. Can you talk about those?
A: Music is a personal experience. Everybody has their own way of seeing and hearing things. We have certain vibes and feelings that we want to translate into music, but our band is not political. It's art.
I: It's a snapshot of what we live. You can get inspired by a lot of things and you merge it with your own life and emotions. Maybe in a few years, we are not going to be able to listen to it anymore. People always change.
How do your live shows differ from your studio work?
I: It's totally different, but you still try to reach the same point. We build the live set like a journey. It starts and end with waves and there's a lot of stuff that happens in between. It's a path and we try to bring the crowd along with soundscapes and voice. Maybe the lyrics are not really understandable all the time because of the effects. Sometimes there are people who don't speak French or English, but they still get it and tell me what they felt after a show, and it's actually close to my initial ideas.
What about your name, Syracuse, is it named after the famous historical city in Italy?
I: Yes, it's named after the city in Sicily. So many things happened there. It's really rich and inspiring.
A: Each of our records includes a story that took place in Syracuse. The first record is about Archimedes.
I: The second one is about Latomiae del Paradiso, which is a cave with really special acoustics. There was a tyrant who used to go there and imprison people below the cave. He brought musicians to play because the acoustics was fantastic and he took pleasure in listening to the poor guys crying. He fell in love with the music of one of the flutist. She could ask for whatever she wanted. One day she was practising in the cave and heard someone crying and screaming, and asked the tyrant to free the prisoners. There's also a French song named Syracuse by Henri Salvador.
A: One of my friends told me it's good to take the name of a song you like, and there was no band called Syracuse. And it's a song we really like.
I: The song is about someone who really wished to be able to remember all of his travels when he gets old in Paris. We've been so happy since this experience started. We are able to travel everywhere. It's really important.
Have you been to Syracuse?
I: No. I wish we could go and play there one day.
A: But it's also nice to have it as an idea in our imagination. I was worried that Italians might think it's ridiculous to name a band this way, but actually they like it and think it sounds good in French because in Italian it's Siracusa.
G: We've connected with people because of that name. Once, I met an Italian guy in The Hague and told him I'm in a band called Syracuse, and he was like yeah, cool! He was making music in one of the biggest analogue studios in Europe and he was leaving the day after, and I went there the next day – his last day there – and tried it and it was crazy. I like when life is made of these small coincidences.
What are you up to next?
A: For the last two and a half years, we've been playing every weekend, mainly in Europe, but also in China. We have a song to be released on a compilation celebrating 50 years of Tele Musik, a great music illustration label. They asked many bands and artists to make a remix or a cover, but since we don't do remixes, we did a cover. We're also recording a new track for our label Antinote's 5th anniversary compilation.
I: We will continue to tour and develop our solo projects to be happy to play together again.
A: And afterwards we'll do a new Syracuse record.