Posted on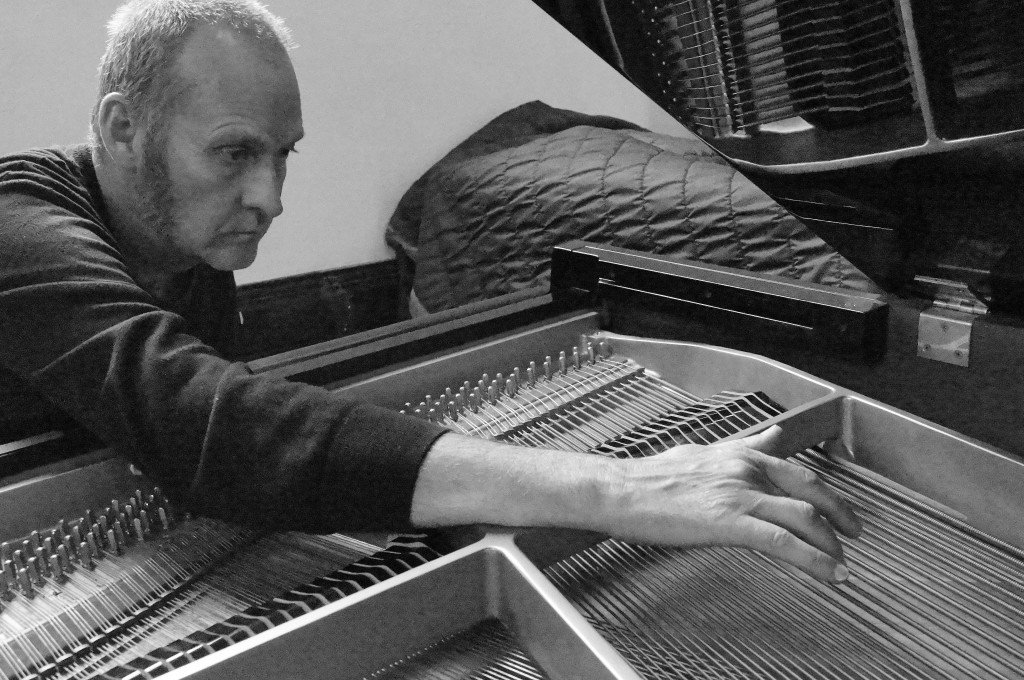 Stephen Grew has been playing totally improvised piano and electronic keyboard music for over 30 years. His music works with the life forces of the instrument, their sounds and a multiplicity of rhythmic patterns, dynamic extremes and whatever an improviser conjures in the creative moment. He has played in many European countries, toured relentlessly in his native country the UK and collaborated with many musicians, including the great British improvisers of our time. He also has countless recordings released on a variety of labels. He was one of the SHAPE artists performing at Novas Frequencias festival in December.
Can you talk about your path to music – a lot of pianists are taught to play piano early on as children. How was it in your case? Especially since you then gravitated towards improvisation. Was it a natural reaction to classical education?
I arrived at improvising in a very natural way – we had a piano in our house. My father and grandfather both played piano. I was always interested in music, but it wasn't long until I discovered that I had great difficulty reading music. I didn't like school and I also liked to do things in my own way. However, like a lot of children, you just pick up the instrument and start playing it and discovering things and I really liked that. I'm completely self-taught. I was also very interested in drawing and painting and I was encouraged to do that. There was always an element of having to do things in a particular – traditional – way, sometimes for a good reason, and I rebelled against that. Music existed in parallel to drawing and painting until my family emigrated to Canada when I was in my early twenties, and I really missed the piano. It was at that point when I didn't have any instruments and hadn't played for two or three years that I found pianos in churches and institutions and started playing again and became very serious about it. Later on I discovered that there were other people who played similarly. Of course I'd been aware that musicians improvised. It starts with one note, and builds from there and you are not necessarily working in any key or conventional structure.
Did you feel like you had more freedom because of it?
Yes I did, but there are constraints with that too because I soon became aware of the fact that if I was going to take it further I would need to have a considerable technique. I knew I would have to become very good in what I want to do in order to match up to what was in my head and body – my sonic dreams. If you're not part of an institution which can provide instruments and support, it's a long way around.
https://www.youtube.com/watch?v=WtPlPMmX3ns
Have you created a special technique for yourself?
The chromatic scale can only be really executed on a keyboard with the use of the first three fingers, and there's a particular technique to it, but everything else I've just had to make up and work my way around it. I've read that it takes something like 50,000 hours to become masterful at something. In my anality I've worked out that I've done about 35,000 hours, so I'm getting there. This is quite often what people don't realise – the amount of work, effort, thought and day-to-day practice that any musician or crafts person does throughout their lives. I've always had the feeling that I have got a bit of catching up to do because I didn't start as intensely as other people did, certainly in terms of the technique.
Is music your full-time activity now? I've read that you've also gone through quite a number of interesting jobs?
It is my full-time thing and has been for nearly 15 years. Before that, I was a painter and potter. On occasions, I did a bit of fishing. But I always felt uneasy if I wasn't making things. I'm a maker. There was a period when I was developing the pottery, doing painting and the exhibitions and practising when I could get to a school where there was a piano. I had an arrangement with them outside of school hours. I did that for six or seven years every day apart from the weekends because they were closed then.
Aside from your solo work, you also collaborate with an interesting array of musicians.
I collaborate with a lot of musicians. My main focus – partly out of practicality but also because of the current economic situation and how much money and opportunities there are for artists – is a solo, a duo with Trevor Watts who is a fantastic player, and the Grew Quartet with three other wonderful musicians. These are my three main projects, but I also work with quite a lot of other musicians, mainly during the recording process.
What are you working on right now?
Martin Archer, a saxophone player from Sheffield who runs Discus Records, invited me to make an album with violinists and a drummer. I've done a new solo record as well.