Posted on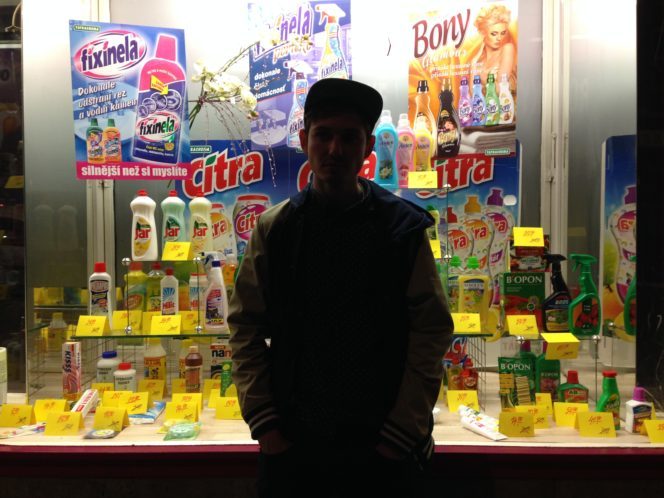 Isama Zing is a producer, DJ and member of the Mäss micro collective. By deconstructing compositions, the Isama Zing project refers to the diversity of subcultural dance styles, which not only naturally penetrate the underground scenes of capitals, but are also defined by independent labels, cloud servers and contemporary art. The latest Isama Zing EP cover, with a figure covered in a black burqa wearing white sunglasses, leads us to a contemplation about the construction of an artificial subject. She becomes the open listener or even the creator of the music herself. The sound of the recording is based on realistic impressions and shaping of specific sounds credible in their references to surviving organisms as well as apocalyptic scenarios. 
"The Isama Zing project refers to the diversity of subcultural dance styles, which not only naturally penetrate the underground scenes of capitals, but are also defined by independent labels, cloud servers and contemporary art." So you place the project within the context of urban subcultures at large? 
What I really like about the current climate in the so-called "post-club" scene is the absence of genres. There are no fixed rules that would define the music. And there is also a strong connection between the world of contemporary visual arts and the music scene, often coming from the same background. Maybe the only common factor is the idea of deconstruction. So yes, I would say that my music somehow works with the deconstruction of urban subcultures, even though I don't intend to fit into any particular one.
The person on the cover of your EP is veiled, covered in a black burqa with white sunglasses. Your moniker, Isama Zing, also evokes Arabic (although also a form of "is amazing"). Was this a conceptual intention, or rather something else?
The name originally comes from a poster that my girlfriend and I had on the wall when we lived in London. It said: "Every Thing Isama Zing", I really liked how by dividing the word differently, one can create completely new connotations. It suddenly became an Arabic sounding name. In Slovakia, where I come from, many people are racist and xenophobic, and when the migration crisis was at its peak, most of the people were scared of refugees and they literally went nuts about it. So the name and the whole "Arabic" concept was also a way how to mock these people and show how stupid it is to be afraid and hateful towards those running from war.
Can you talk about the music production of your new Isama Zing project? In comparison to your other solo project, Pjoni, Isama Zing draws from the world of (post)club music. 
It could sound strange, but for me the separation of my more club-oriented side and my more improv/experimental music oriented one seemed necessary. I really like to work with rhythms and grooves, however shifted and warped they seem to be and suddenly I had this whole EP ready and I just felt I had to release it under a different moniker. Back when I was creating this Isama Zing EP (around four years ago) I wasn't even influenced by this new trend of deconstructed club music. For me, it was a very natural process and the EP was its result. And I think this is often the case that many new genres/trends whether in music or other arts, are the result of collective ideas that culminate in society and suddenly when the time comes, they burst. Often simultaneously, but independently, in different parts of world and in many minds.
You have been active in various project since many years – you started your very first music project as a 9 year old in the band Tucan. Can you take us through your musical development?
I think I started my first making music attempts when I was three. I was hitting the strings of a guitar and singing some very weird lyrics to it. But my very first band was Tucan, I was playing cello and singing and my friend Adam (Ink Midget) was playing drums. It was all quite absurd, but we got to play a lot of concerts around Slovakia and the Czech Republic. That was how we got involved in the experimental scene which centered around the cultural space called a4 in Bratislava. They have also released our CD back than. Later, we both started to veer towards electronic music and we established our solo projects, mine was called Pjoni. I started blending cello with electronics and soon got involved in many improv projects.
Not long after that we got back together with Ink Midget, this time under our new monikers Pjoni & Ink Midget. It was a weird fusion of techno, avant-garde music and hiphop. We also started to play DJ sets and that got us more involved with the club scene. Then I moved to London to study there. That's where Isama Zing was born. It started as an audiovisual project with Misa Chmelickova. I returned to Bratislava shortly after I finished my studies and we started organising label/club night called Mäss together with Ink Midget. Actually today, as I'm writing this, we are hosting our friends Ashida Park from Vienna.
Already at that early age when you started with Tucan you were part of a very specific scene in Bratislava, the alternative & experimental scene around the A4 club and Next Festival, which is quite unusual for such a young age. How did you find it, and how would you describe the current state of Bratislava's underground music scenes?
It remains a very defining environment for me. I'm not sure if I can even measure how much of influence it has had on me. Many concerts and performances I've seen there were very inspiring and progressive. Also, the people I've met there were wonderful and I can't really imagine where I'd be without them. A4 still remains one of very few places of underground and experimental culture in Slovakia. In Bratislava, there is one other club called Fuga, which is also where we organise our club nights. There is a thriving experimental scene in Bratislava, just to mention a few names: Jonas Gruska, Vritti, Casi Cada Minuto, BZGRL, …, but I can't say the same about the club scene, unfortunately.
Can you talk about your plans with Isama Zing as well as any other projects for 2018? 
Under Mäss, we are planning to release a compilation of young, but super talented artists from all around the world, probably in April. I'm planning to release a new EP as Isama Zing soon after that. It is slightly inspired by avant-garde music of Stockhausen, Edgar Varese or the Futurist movement, mainly sonically, but I'm also trying to put a new context of club oriented tracks it into. And I'm planning to return to the audiovisual concept of the project, so we are working on new visuals with Misa Chmelickova. As Pjoni, I have a short video EP ready, I just need to find a right way to release it.