Posted on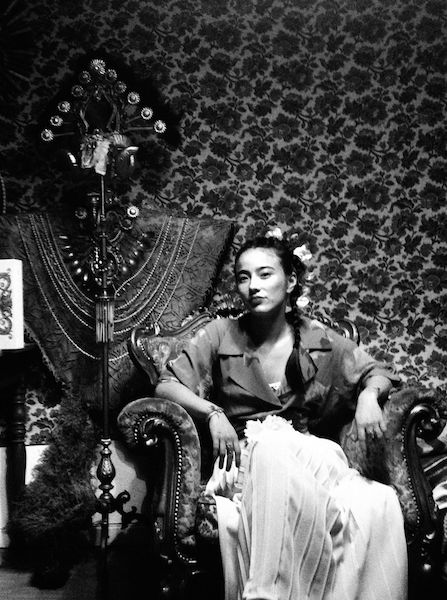 Mika Oki is a French-Japanese visual and sound artist, living and working in Brussels. With a background in sculpture and electro-acoustic music, she explores the notion of intangible spaces and emotional landscapes through video and sound installations, using abstract sound textures and kinetic mental images. Mika Oki has also developed an interest in DJing in clubs and for radio shows where she translates her atmospheric experimentations, blurring the boundaries between techno and ambient/narrative sounds. During the CYNETART Festival in 2017, she collaborated with dancers, performers and poets, creating over 24 hours an evolutive environment in which all landmarks of space and temporality disappeared.
What is the first sound that you remember, and what are the memories connected to it?
I wish I could remember and describe with precision the foetal sound experience while in my mum's belly. Must have been crazy down there! Indeed, Basses Terres (BFDM) and I imagined precisely these very first pre-natal senses and the awakening of perceptions for our Tuxuci project – how we would perceive the outside world from that immersive, liquid environment. We had a live and visual performance last September with hydrophones, muffled and distant voices, low frequencies and light variations. It was part of a residency in the south of France, in a 20m-high silo opened once a year by the SILO collective.
My strongest sonic memory/experience was during a Phill Niblock live show five years ago. He used a multi-layered "drone" sound in Workers. It's like a glowing sound-object sent into an imperceptible chain of overarching transformations. The sound experience was combined with scenes of manual labour and its movements, consistently treated abstractly without any explicit anthropological or sociological meanings attached. I remember I had my first powerful experience of strong kinetic visuals: I could see varied textures moving on different layers of surface and forms of body in motion, rhythmic in the microscopic evolution of tones. These images are still imprinted in my mind and are strongly present in some of my later installations. I also had a very strong physical sensation of these micro-tonal sounds traveling through my body.
Previous to this moment, I'd always assumed that I could only find sensations in "intense conditions", like heavy techno sounds being pounded into my brain through club sound systems. I now know and have become more interested in the potential and richness of psychoacoustic music. These sounds have the capacity to create fully immersive experiences, because they communicate with the space, your body in that particular space, and your mental space spiritually. I'm particularly attracted to Éliane Radigue's music, which, compared to some electro-acoustic pieces that I find inaccessible, explores music with a great deal of sensibility and mastery. There's a certain absence of pretence and a strong presence of spirituality related to her Tibetan Buddhist faith.
Your background is in sculpture and electro-acoustic music. Can you talk about these two disciplines – sound art and sound-creation is often perceived as aural sculpting. What is the interconnection between the two in your work, and what led you to pursue this direction in the first place?
I studied sculpture, but quickly got frustrated by the static state of sculptures in their conventional form. So I turned towards the video medium, using it as a light projector. Light and sound are the best elements for moving and inhabiting a space, changing its form – that's why my work is always set up in in-situ installations. The link between my music and art became more tenuous when I started taking electro-acoustic courses. Here, the acousmatic refers to a sound which is heard without seeing the originating cause, allowing for infinite interpretations. This is something that can also be done visually – forgetting the origin of an element perceived.
A few days ago, I was lying on the grass under a clear blue sky. An airplane flew above, and because of the hot weather, it was blurred and its white contrail seemed to move like a liquid substance, like a whale swimming in the sea. So for a moment it was as if I could perceive the world upside down. Like magic. The possibility of transforming sound into a tangible substance, a texture that we feel we can visualise is something that interests me a great deal in electro-acoustic music. This possibility embraces the quest which lies at the heart of my art practice as I question the immaterial and intangible.
Texture and narrativity seem to play an important part in your work, the creation of a certain ambience, a space for the listener to immerse themselves in. Can you talk about how you structure your sonic-visual work?
My works are often based on unconscious and altered states. I try to open spaces which immerse the viewer in my installations, and lingering soundscapes in my radio show, Waking Life. I also often work on deconstructed narration, like that in our dreams – this allows me to enter many different music genres and rhythms without logic or coherence. The construction of my mixes is also often based on false awakenings: continuously waking up in your dreams without knowing when you will finally awaken for real. My music and installations are always related to dreamy atmospheres – both good and bad – because I'm an eternal dreamer. But I'm also conscious of the necessity of staying in touch with reality.
We live in a time when people often simplify real complexities of the world, rather than face them head on. Simplicity is reassuring, and politicians, scientists and technological utopians rely on it. Adam Curtis's HyperNormalisation is a great documentary on this phenomenon. It's necessary to stay rooted in reality. My installations always link back to concrete elements, like Fukushima in my Kiokubu installation. Even in an increasingly unstable world, you can't just construct a fake reality to escape and stay disconnected. It's also very important to quantify the different variations of states of life; how to intensify the presence of things.
You are also involved with radio, The Word Radio to be specific. Can you talk about your radio work, and the importance of these new, online radio communities in your opinion?
The Word Radio is a new Brussels-based online community radio, founded by The Word Magazine. Launched last December, it broadcasts a large group of producers and music lovers 24/7. We already have more than a hundred residents sharing their productions and their discoveries of Belgian underground pioneers, legendary independent labels (Aguirre, SubRosa…), strong experimental event actors like the schiev and Meakusma festivals, and plenty of SHAPE regulars like Hiele, Maoupa Mazzocchetti, Lawrence Le Doux and Ignatz. I manage the studio, take care of the radio platform, coordinate with our residents and constantly feed the radio with often overlooked Belgian talent. Community radio is a great way of creating a strong and flourishing music environment, constantly nourishing a common field where all the actors can tangibly meet, exchange and create new collaborations on a more human scale. We've also featured a number of international artists passing through the city, such as O Yuki Conjugate and Abstrakce Records.
Can you describe your usual day? Is music and art your full-time activity?
At the moment, my time is divided between the two – but I devote most of my daytime to the radio. At night, I work on my personal projects. I've actually started building modular synthesisers – that's been taking up quite some time! I'm also working on an audio-visual performance with Ulf Langheinrich which will take place at the SHAPE- affiliated Nyege Nyege Festival in Uganda.