RED Trio show on Resonance Extra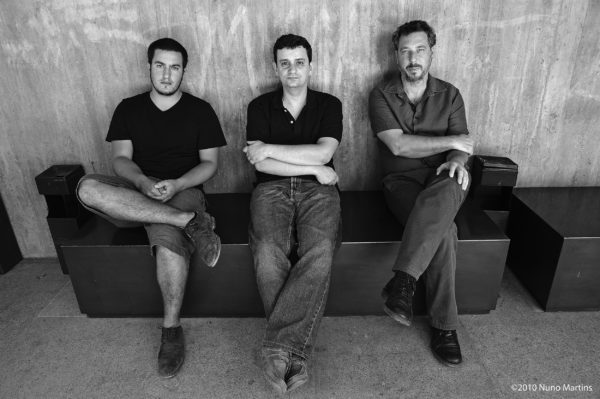 Listen to an hour-long show, devoted to the solo projects of the members of Portugal's RED Trio, a free improvising group of piano, bass and drums. The show has been produced for the online radio station Resonance Extra.
This is a special SHAPE platform broadcast, dedicated to the solo projects of members of RED Trio – arguably, Portugal's most prominent free improvisation ensemble. Red Trio is: Rodrigo Pinheiro (Piano), Hernani Faustino (bass) and Gabriel Ferrandini (drums). Other players, heard during this hour, are Yedo Gibson, Pedro Lopes, Miguel Mira, Carlos Zingaro, Lotte Anker and many more.
Formed in 2007 by three musicians from the Portuguese free improvised scene, RED trio is Rodrigo Pinheiro on piano, Hernani Faustino on double bass and Gabriel Ferrandini on drums. Founded by Hernani Faustino, RED trio is a group that presents a multiple approach to music and its creation through improvisation. RED trio explores one of the most prolific Jazz formations: piano + double-bass + drums. Instead of having the piano in a privileged position supported by a rhythm section, RED trio to explore a symbiotic and interactive improvisation between the three players, all of them having an equal voice. The trio's sound is then characterized by its timbre and rhythm coherence, functioning as a whole.
Tracks played:
1) "Visible Wind", Fragments of Always (2017, FMR Records)
NAU Quartet:
José Lencastre – alto saxophone
Rodrigo Pinheiro – piano
Hernâni Faustino – double bass
João Lencastre – drums
2) "Tooth", "Chain" (NoBusiness Records)
Yedo Gibson – baritone and soprano saxophone
Hernâni Faustino – double bass
Vasco Trilla – drums
3) "Daytime song", Birthmark (2013, Clean Feed Records)
Lotte Anker: saxophones,
Rodrigo Pinheiro: piano
Hernâni Faustino: doublebass
4) "Track 1", Gancho (A Besta)
Uivo Zebra;
Jorge Nuno – electric guitar
Hernâni Faustino – electric bass
João Sousa – drums
5) "II", "History of the Lisbon Chaplaincy" (2017, Creative Sources Records)
Per Gardin: saxophones
Rodrigo Pinheiro: organ
Pedro Lopes: turntables and electronics
6) "Red Courtains" House Full of Colors (Jacc Records)
Staub Quartet:
Carlos Zíngaro – violin
Marcelo Dos Reis – acoustic guitar
Miguel Mira – cello
Hernâni Faustino – double bass
7) "Dream Theory", "earnear" (2014, Tour de Bras)
Earnear:
João Camões: viola
Rodrigo Pinheiro: piano
Miguel Mira: cello
RED Trio are 2018 artists of the SHAPE platform for innovative music and audiovisual art. You can catch them live  at the 2018 edition of Skaņu Mežs festival in Riga, where they will be teaming up with the Grammy-nominated microtonal viola player Mat Maneri for the first time.