Posted on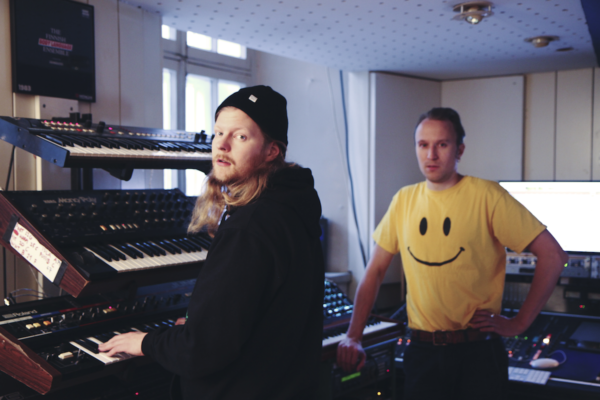 Finnish band JESSE make unsentimental and innovative music, influenced by earth and space.  Their first releases came out some ten years ago. They have now moved from "arrogant synth-based music" to embrace influences from Afro beat, funk and ambient. One thing that makes them special is their ability to place listeners on the edge of their safety zones where they explore the possibilities of crossover music.
You are currently in a studio. What are you working on?
We're working on an album. It's kind of like a sequel to our Fluids album from last year. It should be out by next year. We're basically always in the studio, working on so many different projects for others and our own too. We've had a really productive period with our band in the last few years, so there's lots of new music on the way!
Can you talk about your influences and inspirations? Your music has elements of kraut and kosmische: you cite space and earth as your influences, but I'm sure there's more.
One of our biggest inspirations has always been the search for new music and sounds from all over: Suicide, Arthur Russell, William Onyeabor, Don Cherry, Tony Allen, Tangerine Dream, and the list goes on and on… It could be something stupid or simple, or very serious, too. It doesn't matter as long as it's different from everything else. Us being from Finland, we're probably always going to be influenced by the long winters and having nothing to apart from music. Also, we feel that our peripheral position on the map has allowed us to be free from most expectations and too much pressure of the more central locations and scenes.
The Finnish scene has been renowned for idiosyncratic artists such as Mika Vainio and Jimi Tenor. What is the current state of the scene in Helsinki and the rest of the country?
Those are our heroes. At the moment, there's a lot less of that kind of vision in the Finnish scene, people make much more conventional music. Maybe they want to get inside the global scene by doing what is expected. There's always that problem in a small country that you have to prove yourself to the rest of the world. It's nothing like London or New York and that's great, too. Best things here are very much in the underground and also more in the field of sound art and experimental music.
You have collaborated with some Norwegian artists such as DJ Sotofett (with whom you've worked on a release), Sex Tags Mania, etc. Are there any connections between the various scenes in Scandinavia and what are the particularities in your opinion?
Yes there's a nice connection within Scandinavian scenes. Lately, we've been playing a lot more in Sweden and Norway than in Finland. We're very proud of our friends like Sotofett, Fett Burger, Joxaren, Trauma Trauma & Skatebård making waves with their own unique approach. We would say that there is some kind of careless attitude towards music and art. We don't want to make what others have already done, but rather create a new thing and have fun doing so.
How do you make your music – does it come from improvisation and jamming (instrumentation), or the idea comes first? How important are the individual instruments and the way you play them to the overall sonic signature?
We mostly make music by improvising and experimenting. Jamming is a big part of the process. We make our music in the studio by recording a lot of stuff and then we pick the parts that we like and arrange and produce them for more detailed pieces. It has always been mostly about playing together live and in the studio. Lately, we've been experimenting with instruments triggering and intertwining each other. In that case the individual instruments and sounds are very import for the bigger picture. It could be that a drum machine is triggering the rhythm of an electric guitar. There are some traces of that on our earlier albums, but now we've tried to get it involved in the whole thing. It's like a synthesis of man and machine.
Your bio mentions that you make "unsentimental" music. Can you elaborate?
That's actually something that our friends from Höga Nord records came up with. Maybe it means that we don't try to push these sentiments very hard like pop music does. There's no agenda behind our music, it just is and will be so.
You were one of the SHAPE artists performing at our showcase in St Petersburg. What were your impressions and experiences?
It was fun as always in Russia. We went to see some interesting performances, drank a lot of vodka and saw some of the city. We were requested to do our soundcheck pretty drunk the night before our show, so we were wondering if our gear would be still set to go when we started playing the next day. The gig was great and the audience seemed to be enjoying it. People in Russia are really receptive to new things.
By Lucia Udvardyova