Posted on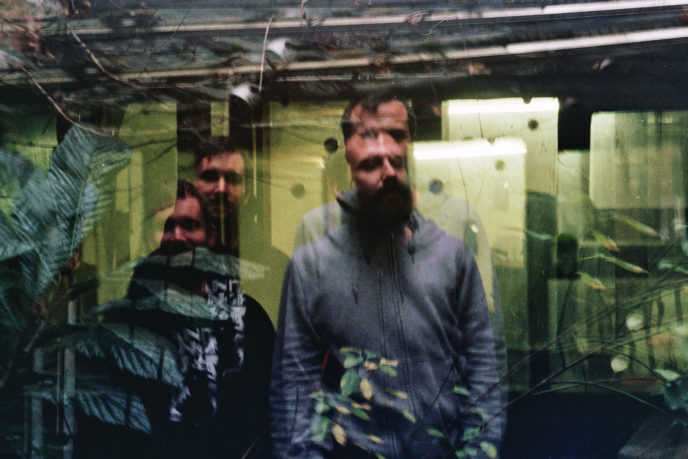 OD Bongo melds Somaticae's solid beats and C_C's noisy grooves. Using various drum machines, the duo blend genres such as techno, dub, noise and industrial. These Brussels and Lyon-based musicians build a soundscape of continuous rhythms, and immerse crowds in a wild bass music bubble. Their first LP was released in October 2017, on SK and Serendip records and a new album is in the works for Lost Dogs Entertainment in 2019.
How did you two meet and start making music together? You are also active as solo musicians.
Amédée : I saw Edouard playing his C_C solo set in Lyon and Saint-Étienne in 2013/2014. I liked the concerts. There was such a raw energy, with noisy breaks and huge basslines! I was totally inspired by it so I went to talk to him about his setup. I told him I was supposed to play at a squat party a few days later and that maybe he could play as well. He showed up and it ended up with us improvising a set together at 8am in this very chaotic party in this squat called Toxic. As it was really fun; we did few concerts again in the next months and decided to spend time in the studio preparing a live set, with visuals by my long time friend, Hugo Saugier, with whom I had already worked for my solo project, Somaticae.
You are part of the, let's say, new wave of French/Belgian underground electronic scene, which is very active and fascinating. It takes place away from big venues, at various squats, off spaces and private events. Can you say something about it? Especially as you are also part of SHAPE and the slightly different context of institutionalised festivals.
Edouard : I started organising underground electronic events in Paris in 2007, with some friends. Since 2010, I've played solo, and I've played hundreds of gigs. As you say, it was mostly in small venues, but in different contexts: sometimes dance-oriented parties, sometimes improvised experimental noise gigs. It's important for me to play in front of different kinds of people: it's really enjoyable to get noise-freaks and experimental scholars dancing crazily or to hear happy drunken heads screaming along to distorted drones! I'm very inspired by the passionate people of the underground scene, but it doesn't mean I'm not glad to be able to play OD Bongo in front of different and bigger audiences. As long as people are interested in our music and I don't feel that it's instrumentalised in a way we don't like, it's great to share it as much as possible.
One of you is based in Lyon, the other in Brussels. How do you work as a duo?
A : We always work on the duo when we can meet together. It's a matter of scheduling; as we're travelling a lot to play, it's quite easy to organise some days together. Sometimes it's in Lyon, where I have a cool basement to rehearse in (plus it's near a concert and workshops place called Grrrnd Zero). Sometimes it's in Brussels, where Edouard has a really cool studio near a great collective place called la Senne where a lot of experimental and noise concerts take place.
E : Yes, it's always nice to get inspiration when we work together by listening to interesting concerts! Our first sets were all improvised and we tried to experiment with a lot of things. As we recorded these concerts, we listened back to them and decided together which parts were the best and in which direction we should go to write tracks.
Your music is live-oriented, made on hardware. It's electronic, but has a certain punk attitude; it's raw and direct. On the other hand, it also brings to mind early 90s raves, the spirit of underground warehouse parties and even the likes of Spiral Tribe (in its ethos, spirit – punk vs rave) and the free party scene. Were you influenced by any of these?
E : Our tracks are live-oriented, with a lot of freedom in their structure but with some meeting points, then we play them very differently at each performance, depending on the mood of the crowd and how the PA and room sounds.
A : When I was younger, I couldn't go to many rave parties even though I played at a few psy-trance parties, but I listened to a lot of dark and hard 90's techno like Surgeon, Regis, Pacou or Oliver Ho and I fantasised about it a lot. I was also a big fan of Breakcore, which is totally punk vs rave, but I was only able to enjoy it through the internet or sometimes at a Randomatik Blast party or a BRK party (these people were really involved in the Lyon Breakcore scene 15 years ago). However, now that I've been in Lyon for 8 years, I've had the chance to see really good live acts in small venues or techno squat parties. Projects from Lyon, like those of Raymonde, Jean Bender, Plein Soleil, Kaumwald, and Tani Otoshi, inspired me a lot.
E : Unlike many of my friends, I never had a rock or punk period as a teenager and I wasn't very close to the free party movement either, although it was very big in France in the 90's. The first styles I really dug were drum & bass, jungle, hip hop and dub, and I spent a lot of time listening to and deejaying UK bass music alone in my room as there was not so much of a scene for this kind of music in the French countryside where I grew up. I feel that the raw and direct sound and dance ceremony combination in my practice comes primarily from my fascination with Jamaican and UK sound system culture, and also with the folk music from all around the world that I've had the chance to hear since childhood through my father, who's an ethno-musicologist. Late 80's and early 90's raves and free parties are obviously an influence as it was such a huge musical and social phenomenon. We're still following the energy and creativity that exploded back then. But speaking specifically about having a Punk vs Rave feeling, I would say it's something I/we experienced from breakcore.
What about the politics of the DIY scene – are you also involved in any sort of activism? Is politics in its widest sense (as a modus operandi, way of doing things) something that's important to you in what you do?
A & E : We have friends involved in different forms of direct political action and of course we are interested in current social struggles. In our practice of music, as in many aspects of our lives, we question ourselves about the reasons for and the impacts of our actions, and try to stay upright as much as possible (this is not without contradictions : we're now using Google drive to write this interview together!). It's important for us to support small venues or squats, collective or autonomous places. There are a lot of very nice places in France, Belgium, Switzerland, and Italy, hosted by really dedicated people who actually lose money to promote experimental or weird music as much as they can, sometimes in very remote places. It's both a political and cultural struggle to keep alive an artistic and musical scene that's out of the market, and try to not follow its rules.
It's also possible to see the fact that we refuse to play on a stage as a kind of political, or "ethical" statement. Being on the same level as the crowd, sharing the same vibes, not being afraid of people, are very simple but very significant details to us. It's very cryptic, but our first album also contains clues about the so-called Françafrique system in Gabon, around the person of the dictator Omar Bongo. This man was a secret agent for France before independence. He managed to become president in 1967, and stayed at the head of the country until his death in 2009. Guess what? Now his son rules the country and has built a huge mausoleum for his father. Omar Bongo actually made himself and his family very rich, without developing the country, and managed to avoid justice by "secretly" financing most of France's political parties. A classic story in post-colonial Africa. The mainstream electronic music scene nowadays doesn't seem so concerned but, even if it's not so obvious, we think it's good at least to speak about this kind of history because to acknowledge it is a small but first step to hopefully not letting it happen again. We are both very impressed and influenced by Muslimgauze, who conceived all of his music as a political statement. Even if we obviously do it at a clearly lower level, we believe music and politics can relate in a good way.
But, as we said, we're musicians first, and music remains music. It's important for us that people stay free to just appreciate it for its sound or to dig for the message we try to put inside.
What's up next for OD Bongo?
E : We want to release an LP based on the tracks we play live, at the end of the year or the beginning of next year. We've also started working on studio tracks, with a lot of overdubs, which is new for us, so it may take a while to achieve but is very exciting.
A : We've some shows scheduled at the end of the year, mainly at SHAPE festivals :
Ljubljana – Sonica Festival – 13.09.2019
Budapest – UH Festival – 05.10.2019
Rennes – Maintenant Festival – 11.10.2019
Marseille – Riam Festival – 19.10.2019
Paris – Quasi-Stellar Objects – 28.11.2019 (with Hugo Saugier's visuals)
I will also release a new album with my solo project, Somaticae, on In Paradisum. This album will be about a French company that sells spy software to dictatorships.
E : Apart from OD Bongo, there will be the first release in October on Da!Heardit of another duo I'm in with noisy turntablist Arnaud Rivière : A_R_C_C. There's also a huge and crazy project of the experimental accordion player and singer Claire Bergereau, involving 100 accordions played by non-accordion-players (!!!), and me on electronics, which will be premièred in November in Tulle.
Interview by Lucia Udvardyova