Posted on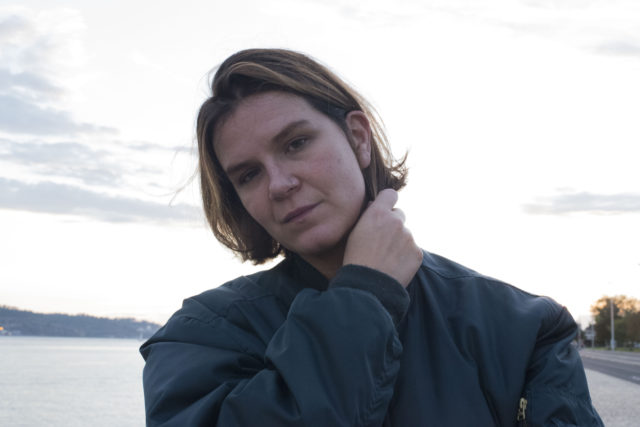 In her home city, Lisbon, Violet contributes to her local scene from different angles. She's the co-founder of the online radio station Rádio Quântica and also resident at mina – a queer rave in unexpected venues. This work permeates Violet's practice as an artist, as she thoughtfully expresses the political history of dance music through her voice and her music.

As a producer, she has released music on One Eyed Jacks and Love On The Rocks, self-released collaborations with artists likes Elles, DEBONAIR and Nightwave for International Women's Day, remixed on Cómeme and established her own label – naive. Violet incorporates similar sounds from her production process into her DJing, melding breaks, extraterrestrial jacking rhythms, imaginative techno, acid house and more, in a way that feels natural and challenging all at once.
Can you talk about the environment that formed you: 90s Lisbon? You also later lived in London, where parties are easily accessible and rave/party culture (whether legal or illegal) is part of the country's history.
In 90s Lisbon I was a kid and then a teenager in the second half of the decade, but I was exposed to the rise of rave culture in the country as the first acid house records arrived from London record shops and some key clubs like Alcântara-Mar and Kremlin became very popular – they had resident DJs that would push this sound via compilations that got really big and that I would listen to, just like a lot of young people at the time. So while I was unfortunately too young to attend the first illegal raves and general club nights, I was in touch with the music and the stories that would circulate via our older siblings, etc. While living in London I was already at a nightlife-friendly age of course, and it was hugely inspiring to attend warehouse raves, house parties and also very well curated nights in places like Corsica Studios or Dalston Superstore as well as the now-defunct Plastic People and Dance Tunnel. I brought back to Lisbon a clearer sense of grassroots projects, community dancing and queer nightlife.
You are outspoken about the need for politics and activism in music, which is resonating with the underground dance culture at the moment, but I guess coming from Portugal, which has an authoritarian as well as colonial past, has also had an influence on your outlook and work?
Portugal's past resonates a lot with the collective unconscious whether we like it or not: in my personal case, my grandfather was a political prisoner for criticising the regime by writing on walls in the city of Ponta Delgada. Both my parents were young when the revolution happened – my dad was enforced to serve in Mozambique while being part of the resistance against the regime, he was lucky he had kind of an office clerk position, and my mother, as a history graduate, is very aware of all of the bullshit our country was up to, and made her children aware of it as well. Both my parents are leftist, and I know that was something that informed my political consciousness from early on. That, mixed with my Aquarian belief that each new generation has a purpose to change society into a more inclusive, emancipated one, made me someone who, like so many of my peers, does what they can when it comes to incorporating political action and ideas in their work.
Can you talk about your activities in Lisbon: Radio Quantica, the naive label as well as the mina parties?
Radio Quântica is the oldest project of them all – it started brewing in 2014 and came to fruition in 2015 – it was a joint effort with Photonz to found it, and nowadays it belongs to the community that was created around it – around 150 broadcasters, most based in Portugal but also abroad, who share a love of spreading the word about great music, old and new; and ideas of inclusion, intersectional feminism and a society that looks after the classically oppressed and works for parity – instead of profiting from them. We broadcast 24/7, and run a little studio within Rua das Gaivotas 6, a beautiful state-funded space put together by Teatro Praga, one of the city's most interesting and multifaceted theatre companies. We also run a series of parties at Lux Frágil, where we showcase fresh talent alongside some of the scene's pioneers in balanced line-ups.
naive is the label I founded in 2016, where I put out the music I believe in by people I love and trust. It started as an outlet for my some of my own music that other labels weren't interested in releasing, and it quickly became a sisterhood of artists around the globe. It's sub-label, naivety, is a bit more freeform, hosting music that isn't necessarily DJ-friendly, serving as a lab for artists to explore all genres, sonics and weirdness as they please – it's Bandcamp-only and a varying % of sales go to an organisation picked by the artist. Both labels are very artist-focused, each release is worked on at a time, with the respective artist participating in all the decisions, from track-list to artwork to words.
mina is a party, started in 2017, by marum, Photonz, Viegas and me, and it became a collective of over 10 people – and a huge community of hundreds of ravers who are very faithful to the events, given that this is one of the few parties that is politically vocal: mina has a safer space policy, a careful door selection, is sex and drugs positive, has gender-neutral bathrooms and a raver's care team to look after everyone. We have a team of 6 residents: marum, BLEID, ketia, Viegas, Photonz and myself and our bookings try to create meaningful line-ups with artists from other queer crews around the world who are making and playing vital music in our view. It's, like the projects above, a community-building project and a true labour of love that is playing an important part in changing Lisbon's dance underground into a more conscious arena, and less of a boys club.
How is the scene in Lisbon now?
Buraka Som Sistema and Principe Discos have been key catalysts of a fresh danceable sound coming out of Lisbon in the present decade – Principe has the best artist roster in recent memory, in my opinion – there's also an interesting improv scene in places like ZDB, a historical venue with impeccable programming and ethics. There are parts of the dance / electronic scene that are a bit more male-dominated and gatekeeper-y that i'm less interested in, but there are also definitely pockets of realness in beautiful efforts like Brave, Kit Ket, Çirca, Maternidade, the Rama em Flor festival, Paraíso, Suspension (check out the new compilations on these last two labels/party collectives, as they provide a great insight into our local underground that matters: the one that includes and actively searches for womxn, non-binary, queer people).
What three things would you change about the (underground) electronic music scene at the moment, if you could?
I would limit the involvement of brands and therefore capitalistic motivations in underground efforts, namely events; I would normalise the idea of safer spaces, door policies and non-gendered bathrooms for parties if they want to be considered valid for dance music's age-old ethos; and I would definitely consider the unwritten rules of credibility obsolete, once and for all: for example, what genres and labels are 'good taste' and what aren't; what kind of software or hardware music producers should use to compose and perform, what format and technology DJs should play in, etc. – these are all outdated notions that serve the purpose of privilege-maintenance for voices that have taken up too much space in the past decades.

What projects/records are you working on/planning to release?
On naive, the next record is by Swedish producer Almaty – it's called sonic signature and is her first full EP – and in mid-June, Photonz releases their 'Angel Heart' EP with an Almaty release. As for myself, my debut album 'Bed Of Roses' will come out on SF label Dark Entries this fall.
By Lucia Udvardyova