Posted on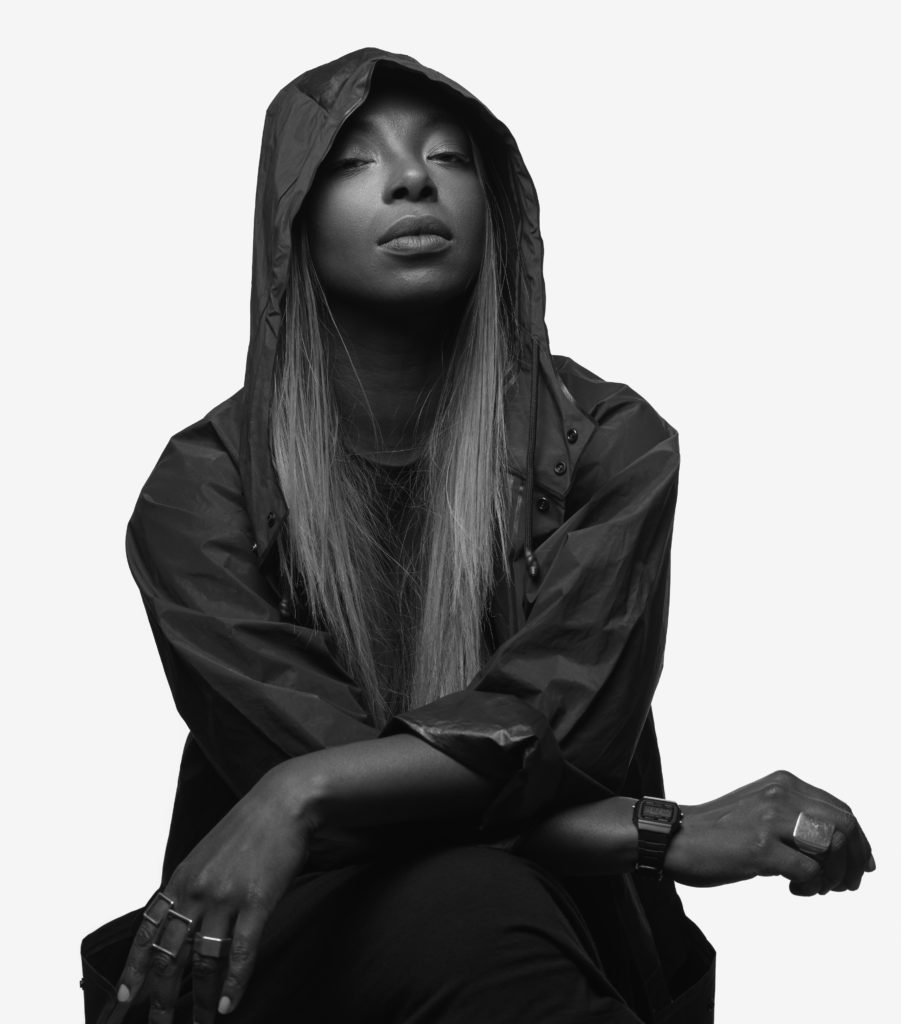 Afrodeutsche (Henrietta Smith-Rolla), is a British-born Ghanaian/Russian/German artist, composer, producer, and DJ based in Manchester. Her polyrhythmic compositions integrate a wide array of musical genres, including Afrofuturistic electro and techno, classical solo piano, and Detroit legacy house; all memorable journeys into deep, abstracted sound. Afrodeutsche's DJ style is a synthesis of Drexciyan and Underground Resistance-inspired selections intercut with a variety of forward-thinking UK techno such as Bola and Lego Feet. Her debut album Break Before Make appeared on the legendary Skam label in 2018, followed by an EP on Eclair Fifi's new label, River Rapid in 2019.
Is music your main thing nowadays?
I started Afrodeutsche in 2016, and since 2017 I've been gigging and working full time. Last year was the major year for shows.
People work so hard to get there, and suddenly there's a breakthrough and it happens. How does it feel to accept that this is your life now?
It's very confusing. You don't ever imagine that you're going to arrive at any sort of place. You realise you have these ambitions but don't know whether you accept when you actually achieve them. It's all been very much a learning experience. It's very exciting. It's exhausting. But it's also really fulfilling in lots of ways. Every other opportunity is a challenge and you have to get through that situation without falling or failing. It's challenging, but it's also really motivating.
You grew up in a rural area of the UK. Did you feel like you were searching for something else?
As I've got older, I've realised that it was very much about searching for my identity. Having never met my biological father, there was a huge part of my identity that I didn't have any understanding of. While I was looking for my father, the word "Afrodeutsche" kept on coming up and I had an innate sense of connection to it. Through Afrodeutsche I've been able to get a hold of my own identity and I've realised it is a lot of other people's identity as well. Having gone on this journey myself I've kind of almost facilitated other African Germans to find a way to their own identity even if they weren't looking for it. I do believe it's been an avenue for a lot of African Germans who listen to the type of music that I make and come to shows I play. I've met these three women of Ghanaian descent, born in Germany, who've been to three of my shows. It was almost like a reunion. We know we exist but we haven't felt connected with each other. It's not just me, it's not just my music, it's the reality of it. We exist.
These histories are often forgotten.
I had to be quite brave when I took on the name Afrodeutsche because I knew that it wasn't mine. I couldn't own this. It was meant to be for African Germans. I had to think about it and be brave about it because it's an untold history. I wanted to talk about it with my music.
I guess there is also the connection with Detroit. The Afrofuturism of Drexciya, the Germanism of Dopplereffekt and the whole spirit of Underground Resistance that have influenced your work.
All of the 90s Detroit sonics very much spoke a language which I feel I understood. It's very cosmic and I feel very connected to the music. It's overwhelming how connected we are.
I remember back in the 90s, growing up in the middle of nowhere in Eastern Europe, I was given a mixtape with Underground Resistance stuff on it and how special it was.
You were given a tape by a person who found some music and felt like they should share it. This is how people shared music before the internet. Someone in Detroit had a record and knew someone in the UK who might be a distributor. The connections that were made that resulted in you having that music are incredible. It's not an email or a message, someone actually physically had to be there and share that music.
It's easier to share all of this nowadays.
We used to do lots of mixtapes and share them with friends. There'd be parties and someone would record the gig and that would be circulated. That's how I often found music. That culture is being revived through podcasts and digital mixes nowadays.
Were you inspired or connected to the UK free party scene that happened all around the UK when you were growing up?
I was able to access it through my best friend who was slightly older than me. She used to go to free parties and bring me cassettes and flyers. I would listen to these parties that were going on in the West Country on my Walkman and imagined being there. But I was just too young.
Do you have a hypothesis why this whole electronic music culture fascinated you even at that young age?
It was quite a mysterious thing to me. I'd go to my friend's house and we'd pretend that we were having a sleepover. She'd leave the house and I'd stay up in the bedroom as if we were both there and then she'd come back the following day and have all these flyers and experiences and tell me how amazing the party was. It was this unobtainable world that audibly was just brilliant. Imagine listening to all these parties and MCs. There was something about the music that just got me. It wasn't necessarily that I wanted to be there, I just had a connection to it. Not being classically trained, I used to emulate the stuff that I would listen to. Something that I realised was that a lot of the melodies and basslines were like one-fingered basslines. I would be emulating it on the piano and thinking how brilliant it was that I could actually follow and be part of it.
You were also part of a vintage organ group called Sisters Of Transistors.
I loved that band so much. It was four of us on organs and synths, and Graham Massey on drums. We wrote original music, but we also used to do covers of Rachmaninoff. I used to make our costumes. We used to wear capes. I remember the first time we tried the capes that I made from a material similar to thin fake leather. I made hoods that came over our eyes, so you couldn't see them. You could just see our mouths. They were incredibly hot. At one point I turned around and Graham was drumming and he'd managed to take off most of his costume and leave the cape on. So he was trouserless while drumming because he was so hot. The music was geared towards a Baroque kind of style in an electronic way.
You also work in film and theatre.
A friend of mine who's a documentary filmmaker was working for Al Jazeera and heard some of my piano pieces. He asked me to score this documentary that he was doing in 2009 or 2010. I wasn't really sure that I could do it but I knew that I really wanted to, so I said yes. I've always had a real love for film and scoring – making sense of visual images with sound. I did a play in 2018 which went to the Edinburgh Film Festival. The last documentary that I scored has been nominated for a BAFTA in the Best British Short Film category. It's called "Kamali" and it's a story about a 7-year-old girl skater from India. It's a really beautiful film and it was an absolute pleasure to work on it.
Film scoring is often an evocation of certain moods and atmospheres. Your music has also been described as dark or melancholic.
I actually struggle to get out of that melancholic vibe. I'm always telling a story and they tend to be my honest kind of stories which tend to be quite melancholic. My new AV live show is very much about understanding my mental health and my existence, what has been before and what's to come. I find I can make sense of stuff when things are a little bit darker. There's an element of being able to understand light with darkness. Often when I'm not feeling great, I listen to stuff people might think of as quite dark but that helps me to see the light in situations. If I listened to things that are jolly and bright in those states it would be almost like I'm not accepting the fact that I'm not feeling great.
The world is not a happy place these days anyway.
There's a lot going on for everyone. It has always been this way, but it's also about whether or not people feel they can share how they feel or what they're going through. People are starting to understand that it's OK to share the dark side of their lives rather than it being a wonderful Instagram "great day", "what I've seen, where I've been" kind of vibe. People appreciate and respond to honesty and vulnerability because it's relatable.
Music can also be a way to decompress.
Music is so important. It's the language that we all speak, especially instrumental music.
You're presenting an AV show called "Amt der Seele" at CTM Festival. It's meant to be a requiem. Can you talk about it?
I have been in therapy for quite a number of years now. I had an awful experience with a therapist in 2016. It meant that I couldn't trust anyone, but I really appreciated what therapy had done for me in the past. I ended up going back into therapy and I had a really heavy experience with this new therapist who has helped me through these past two years. I was sat with her and she said to me "You need to write down certain events in your life to help you process these things." I'm not very good with text and I realised that I could do it through music. And then I thought of requiems. I listen to a lot of classical music and requiems for me are just amazing pieces of work. I saw them as ways in which composers could make sense of their existence. Life and death and everything in-between. I thought maybe I should write my own requiem: me processing my life and my existence. The work is 14 pieces long of which I'm going to do the first seven at CTM. It's extremely personal and I don't think it's going to be like anyone's expecting. I'm going back to my classical way of thinking, with arrangement and instrumentation. I'm absolutely terrified of how it's going to be received because it's so personal. It's a requiem. Over the years when I've spoken to people after my live shows I feel that when I've gone through something and I'm able to translate it into music other people have felt the same way. It's almost a kind of therapy.
Do you feel that you've found what you set out to search for when you were growing up or would you still like to continue the search?
I don't know what it was that I was looking for other than my father who I've not found yet. That search for him has kind of come to a halt at the moment. My brain and my emotions can't handle it right now. I thought that was going to be the body of work that I was going to do for the live show. I thought it's going to be much more about the search for my father, but actually it's turned into something else. I think I'm always going to be searching for that thing. I don't think I'll ever arrive at any certain point with music because it's always changing. I guess my motives will remain the same in that I can't do anything else. I've tried every single job there is, from landscape gardening to working in bars to making clothes. I've really tried everything but the only thing I'm really fulfilled by is making music. I think it's going to be an ongoing search. This piece of work will help me with that.
Afrodeutsche presents her AV live show 'Amt der Seele' on 24/01/2020 at CTM Festival in Berlin
Interview by Lucia Udvardyova