Posted on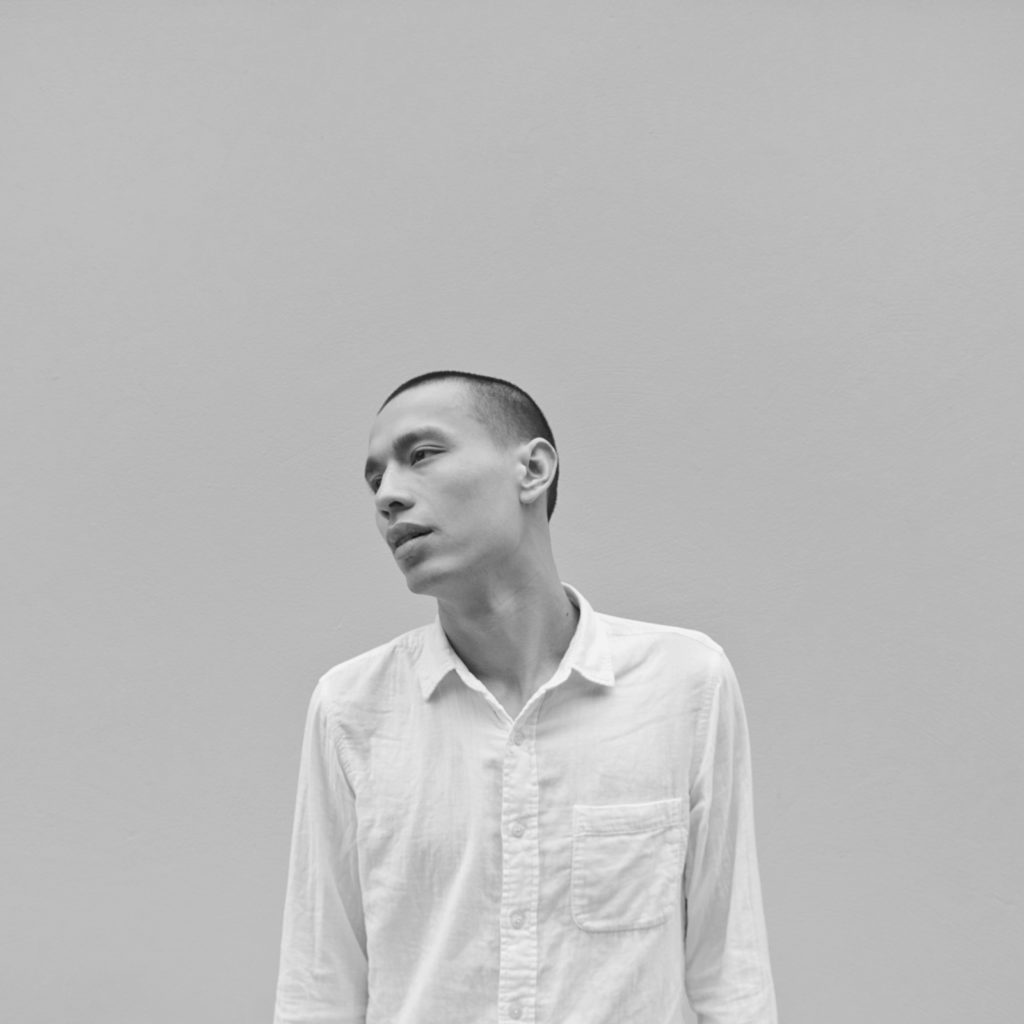 Aloïs Yang, born in France, raised in Taiwan, now based between Berlin and Prague, is a media artist, performer and experimental musician who produces work that explores relations and interactions between people, sound, and the external world. His work is influenced by both science and the imperfect human understanding of nature, and investigates the perception of time and space in both the "outer" physical world and "inner" metaphysical levels of awareness – as a manifestation of how we contextualise overlapping realities between body and mind, objective explanation and subjective projection, analogue and digital, the certain and the unknown.
You're quite international, having lived in several countries. Do you feel inspired by the environment in which you live?
When I'm in Prague, I spend most of the time in my home studio. I enjoy the size of the city and the calmness here. The performance and art scenes are very open and friendly, in most cases, allowing me to present new performances, and experiment with new ideas about space, technological set-ups, and interaction with the audience. I travel a lot, and also co-organise a small artist residency named "OutsideininsideoutinsideoutoutsideiN" at Torhaus Gallery next to the Saxon Switzerland national park. We do a 2-week laboratory of knowledge & practice-sharing, and experiment with diverse art forms that bring our awareness back to nature. At the end, we do a public event over one day and one night called "Art Trip", which takes place using both in the forest and the gallery as the performance or exhibition space. I think any kind of environment could inspire me, but most important is how I respond to it and how I create meaning and magic.
Nature seems to play a big role in your work.
It all began three years ago; I was into water. Observing how water moves in a cycle through different states and environments brings us insight into systematic interactions with surrounding conditions, and also provides measurement of present time and space. As the most common substance on Earth, it reminds us of our interconnection with nature.
Inspired by this phenomenon, I created an interactive installation "Micro Loop Macro Cycle", playing with how I can create an artificial environmental, cyclical system as an instrument of reflection and embodiment of one's presence in the dynamic state of present time space. Sound, as the medium that generates comprehensive environmental sonic information, is initiated by a drop of water melting from a piece of ice, and then amplified. It interacts with the space through an "organic spatial feedback loop" created using bespoke software and a multi-channel sound system.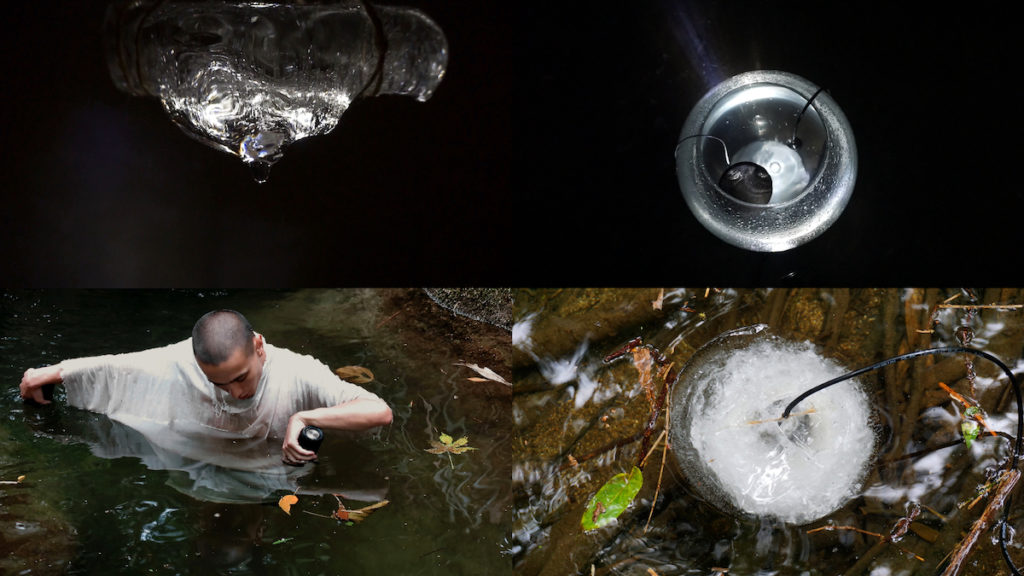 You mention the duality of objective existence and subjective experience in your work.
I want to point out the human-centric perspective of looking at non-human sentient beings, the position of a superior consciousness perceiving the physical-natural world from another point of view, the ability to connect with nature in the unconscious, when mind and body are not separated, as a spontaneous experience of becoming one within.
"On the Search of the blurred Borderline Between Being and Believing" Recorded at Petrohradská Kolektiv, Prague, Czech Republic, 2018
Are these pieces more about sound and its perception or is there a wider commentary on ecology?
I'm interested in the topic but I don't want to choose a concrete subject to manifest or solve the problem, because I think that is not the purpose of my art. I'm trying to raise awareness about how we consciously or unconsciously connect and disconnect from nature. For example, if I enter an installation that is about nature, I'm aware I'm part of the audience and I'm at a gallery and there's this intellectual understanding of what's going on, and what I need. I believe sound plays an important role in entering the "experiential stage" of who and what I am. Thanks to its ability to have an immediate impact on our body and even our subconscious, we have the freedom to decontextualise the moment in order to open more space for contemplation and reconnection with the nature inside of us.
Nature is something uncontrollable – do you take into consideration chance and unpredictability?

I often use bio and natural inputs to achieve generative and organic outcomes. I could spend a lot of time and logical energy in Max/MSP to programme a system that has its own life. My artistic approach involves using data-sonic-spatial-bio feedback loops, as "sonic happenings"– a co-occurrence with the surrounding physical material, the character of the space, the property of the technology, and also the state of the listener. In my work, I see all this as one big living organism.
How did you get to this point? What is your background?
From the age of 17-25, when I was living in Taiwan, I was into DJing and producing electronic music. After completing my Bachelor's degree in product design, I moved to the U.K. to take a Master's degree in "Design Interactions" at the Royal College of Art in London. It is there that I found an integrated approach to combining my skills and interest in sound with critical design thinking. With design as the instrument and sound as the language, I see the potential to interact with a subject or idea that is far beyond what happens in daily reality.
Sound is more flexible in terms of what you can do with it?
It's the technology that enabled the flexibility to connect sound with my subject and environment. When I have an idea to investigate, I start by building my own instrument with software, sensors, microphone, and speakers. In this development, all the technical decisions reflect and refine my conceptual direction, in other words, create an experimental environment which permits sound to emerge from the logical process, in order to have its own voice.
What are you currently working on?
I am always looking for new spaces and realms within which to experiment with the idea of representing the particular energy flow of the moment through audio feedback loops.
In the performance "Sonic Animism: the Emergence of 30-feedback-system", I was using a pair of electromagnetic sensors worn on my hands, which brought the electric energy into sound from the inside of machines processing the "environmental cycle system", for example, my laptop, mixer or speaker. These sounds are then amplified into the space and developed into an audio feedback loop captured by another pair of wearable microphones, in relation to my body movement and position in the space. This sound is then fed back into my computer as data that determine the "form" of the soundscape, hence, complete the cycle to where it begins.
Recently, using similar approaches, I have been looking at the energy inside the brain. I want to create a sonic environment which is like walking inside my brain, using an EEG headset– a wireless brainwave sensor. I am focused on prototyping a model of a sonic energy field in space, based on the listener's neural oscillations. It is an attempt to diminish the separation between inner and outer space, as the body becomes one with the environment, and the environment becomes one with the body.
Recorded at Performensk Festival, Museum Zair Azgur, Minsk, Belarus, 2019
Are you interested in mental capacities?
I believe the mind is capable of doing a lot of things, and I still have a lot to learn from it. I'm interested in the nature of the mind, which I think is fundamentally an experiential knowledge – science, technology, spiritual practice, experiments with consciousness, philosophy or art can all bring us closer to an explanation, however, in the end, we are left on our own to face the ultimate truth.
Aloïs Yang plays at Urvakan Festival in Dnipro, Ukraine taking place between 4 and 7 June 2020.
Interview by Lucia Udvardyova
Photo: Wang Yu