Posted on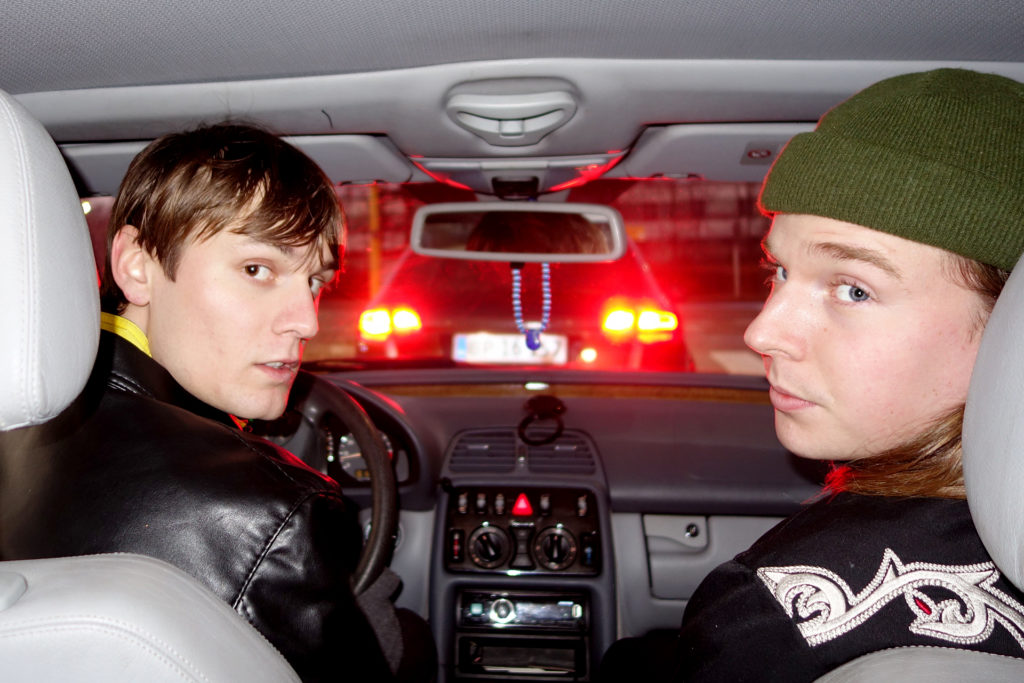 Fracturing their way out of a snoozy 4/4 paradigm to flourish in the all-engulfing rave hyperspace, Lyra Valenza create pulsating tapestries of mischievous electronics that resonate deep within shape-shifting webs of hybridised jungle, footwork extravaganzas, high-velocity hardcore and glassy, future-ready atmospherics. Behind the Latin-sounding moniker Lyra Valenza hide Jens Konrad and Hjalte, aka the Copenhagen-based duo at the helm of the cross-dimensional travellers' haven, Petrola 80. Having released their debut, Synkronudspring I Tomt Bassin [Synchronized Dive into an Empty Pool], on their own label in 2017, the pair went on to explore further trance-y grounds on their noteworthy followup, Scan, Deliver, for Stephen Bishop's ever-daring imprint, Opal Tapes, in 2018. Their latest release, 'Nightshade Edition', is out now via Petrola 80.
Who are Lyra Valenza?

Jens Konrad: We're Hjalte and Jens Konrad. Hjalte has a solo project called Yelzin and mine is called called Severin. In 2017 we started our own label, Petrola 80.
I also meant the actual name "Lyra Valenza" – it sounds Italian, and feminine somehow. Is there a story behind it?
Hjalte: Actually, we started out as Lyra, named after the star constellation. We released our first EP Synkronudspring I Tomt Bassin (which translates into Synchronized Dive into an Empty Pool) on our Petrola 80 label. Later on we decided to add a surname to Lyra, because it didn't pass the Google test; a lot of random things occur when you just search for "Lyra". Valenza seemed fitting because we wanted a feminine and Southern European sound to it, and also because it's pronounced differently depending on which language you speak.
How did you two meet and start working? What are your backgrounds?
Hjalte: We went to school together, we're childhood friends. We used to play AC/DC and Guns N' Roses covers in JK's basement after school, I played guitar and Jens Konrad played drums. Fast forward 7-8 years and we started making gritty techno/house music together without knowing a single thing about producing.
Jens Konrad: I had this ambient/noise project called Sansernes Rus, which was 100% analogue. As the project evolved, it became too difficult for me to handle all the gear live, so I remember asking Hjalte to help me out for a show in Århus in 2014 and it worked out so well that we've been producing together ever since. So, shout-out to Alexander and Matias for putting on that gig!
You sent us a photo from your (very scenic) studio where you spent some time during the lockdown. What were you working on?

Hjalte: I don't remember the specific tune we were working on at the time, but probably a banger of some sort. A lot of our tunes are made on that spot, as we frequently use the house as a creative getaway-space. The house is located in the north-western part of Zealand in Denmark, just a one-hour drive from Copenhagen. It is surrounded by a few houses, a lot of trees, grassy hills and slopes and an amazing coastline. A great place to go for a long walk.

Jens Konrad: We've been there a lot during the lockdown, working on our debut full-length album, an EP + tracks for various compilation releases. Since our Scan, Deliver release on Opal Tapes in 2018, we've had a few inquiries from various labels around Europe, so we're basically just stacking up material. I think there's gonna be a load of sick releases from many artists once this corona shit goes away. Most of our friends who make music, design, art, whatever, have used this time as a chance to dive deep into creating something new, making the most of it.

A lot of people have been quite worried, talking about the negative impact of the pandemic on the music scene and arts in general. But you think there are some positives in the end, too?
Hjalte: I hope and think that people have an urge for cultural exposure, artists as audience, and with that being said, this lockdown period has left a huge gap just waiting to be filled on the other side. Both of us are really hungry to play shows and go to concerts and I don't think we're alone in that feeling. When so many people all around the globe have had this much time getting creative I think the music scene and arts in general will explode with music and works in the near future. We're gonna have a cultural boom.
Your music has been described as a hybrid comprising elements of techno, jungle, rave, grime and sampling. Do you feel that genres have become redundant? Are we living in a post-genre era?

Jens Konrad: We're living in a world where you can create exactly what you want, and we're just trying to embrace that from a musical perspective, keeping ourselves entertained. We don't really think about genres that much…
How important are samples in your work: do you try to build some sort of narrative in each track?
Hjalte: We sample a lot of different stuff: bad movies, shitty tv shows, commercials, field recordings, etc. Sometimes, when taking a break during a session, we smoke a joint and watch a movie or a tv show with the MPC hooked up, so we can sample directly from what we're watching. We don't use everything that we sample, and we almost never know how it's gonna turn out, but it always brings life into a track when non-computer-generated samples are integrated into computer-generated music.
Can you talk about your label, Petrola 80, as well as its place on the Copenhagen scene?

Jens Konrad: Sure, Hjalte and I curate the releases and our close friend, the graphic designer Laurits Hanak, draws the visual direction of the label. So far we've put out six releases and two compilations, almost entirely made by friends and people around us, rooted in the more leftfield part of the Copenhagen scene.
There are several amazing labels in the city focusing on experimental music, techno or house, so maybe you could say that Petrola 80's place on the scene lies somewhere in between. We both release dance music and more experimental stuff and would like to expand further in style and sound in the future. I think our focus is more on the adventurous spirit of the music than the genre.
Speaking of the scene, I'd like to recommend a couple of new albums people should check out: our boy Minais B just released his new killer album, Quiet Bloom, and also Splash Pattern's hammering debut EP Sentinel. A lot of interesting things are coming out of Copenhagen these days.
Can you talk about your new release?
Hjalte: After the release of Scan, Deliver we took a break from LV for about 8 months. It wasn't anything we had planned to do, we just needed to spend some time on other projects. When we started making music together again, the future of LV was a bit uncertain, but we managed to put a brand-new live-set together, and all the tracks that ended up on our new EP, Nightshade Edition, are from that live-set. This is the first record we've done where every single track has been tested in our live-sets first, improving each tune from show to show and finally having a couple of focused studio sessions, working with details and mixing.
Jens Konrad: This record and the live-set that initiated it are definitely the result of some sort of musical reunion for us. Especially when we performed the new live-set for the first time at Strøm Festival here in Copenhagen, it really felt that way.
Listening back to the recordings on Nightshade Edition, I'd say that we leant a bit more towards the floor on this one, and the UK influences are probably a key feature of the record. Some of our long-standing musical flirtations finally found their way into our output on this EP, especially jungle, but also grime and 2-step. We're currently cooking up something completely different for our next release; looking forward to sharing it with y'all!
Interview by Lucia Udvardyova