Posted on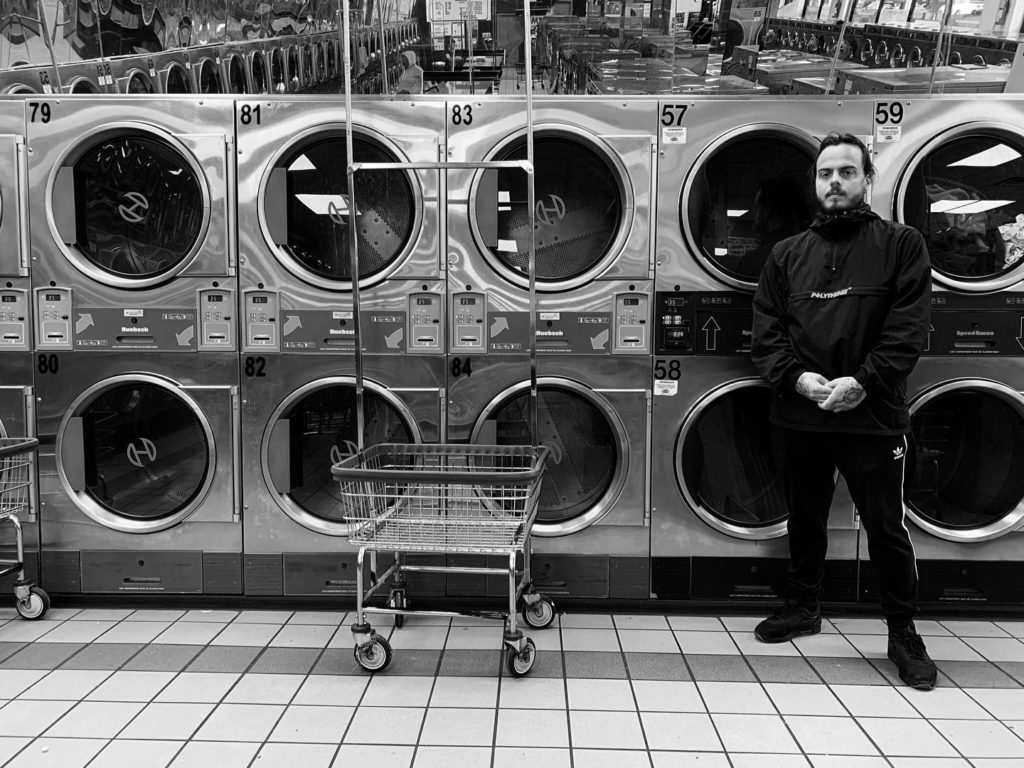 Oliver Torr is a Prague-based electronic and acoustic composer, producer, audiovisual artist and label owner. Since graduating from the British & Irish Modern Music Institute in London, where he studied under the well-established composer and instrument programmer Phelan Kane, he has been pursuing various activities revolving around sound, art and music. Genre-wise, Torr is trying to blur the lines between eclectic dance music from all corners of the world and the experimental avant-garde musicians that he admires, using various tape machines, field recorders and synthesisers.
Oliver has been posting all week in the Stories section of our Instagram – check more about his work and Prague in the Highlights.
You're based in Prague. How is the situation there now – are events happening, etc?
Events are slowly starting to spring up. It is permitted to organise open-air parties, so that's been happening a lot, and it's quite wild (laughs), people come out for the first time after a few months of lockdown and they want to let go. Which is interesting to observe, to say the least.
You're involved in the Noise.Kitchen project there, which is run by the Czech music hardware company Bastl. Can you talk about this initiative?
Noise.Kitchen consists of artists that all congregate in a space in Krymská Street in Prague; we are now slowly waking up from hibernation and, after a short pause, we are trying to properly define the space. I would say it is mainly a lab for experiments of all sorts, obviously focused a bit more on sound than anything else, and we can upkeep the space thanks to the fact that it is a shop as well. It is also now the new Prague lab for Bastl's inventor, Václav Peloušek (aka Toyota Vangelis), so it has become a pretty fruitful environment for new instruments and device ideas, and music making of course.
You have lived and worked in London and Berlin, where you also worked in the Patch Point synthesiser shop. How have both of these experiences – studying in London and working in Berlin – influenced you and why did you decide to come back to Prague?
Well, I moved to London to further my studies of music, to gain a BA in music. London was hard at first; I remember feeling like I had been thrown into a vortex of chaos and 'hustle', and not really knowing what to think or do. But, after some time, I got to really enjoy it, and I think I still have that 'London hustle' state of mind in some respects. London is all about connections and new experiences on a high level of professionality. I remember that I got to go to a hardware-only studio for the first time, and Phelan Kane, my professor, sort of took me under his wing and guided me to a less confused path, gave me some direction that he thought made sense for me. Another mentor in the UK who I was lucky to have a two-week residency with is John Richards (Dirty Electronics).
Berlin is a pretty interesting environment for me… I moved there in hopes of studying a master's degree in audiovisual art, but the school was just not for me, and I rather explored the city and got to meet some amazing people that influenced me. I feel like I am pushed forward by my mentors, who believe in me, and give me a sense of self-belief in some situations. In Berlin the mentors were Mark Reeder and Darrin Wiener (Patch Point). Darrin showed me a way of life that I admired, and Mark gave me his experience of being in the music scene for a very long time. I still get a kick of energy when I go to visit Darrin at the shop, or when I talk to Mark from time to time. It's a sense of assurance that my mind cannot create for itself because it's being occupied by some kind of obsession with the craft and has no objectivity.
I think mentorship is important overall; I have many people to thank for a lot of things that I've come to do or think about.
In short, I just wanted to live in Berlin for a while, to see what it's like to be a local there. Unfortunately, I got sick of the rent increasing incredibly and all the bureaucracy that you have to go through when you're not a native, moving every two months…
Prague's music scene seems to be in a good place, with many DIY initiatives, spaces and musicians. Could you talk about the initiatives that should be mentioned?
There are so many interesting ones, I'm not going to list all the initiatives, that would be too long a list and I would forget about someone probably, haha..
In terms of educational collectives, Synth Library is the place to be, we are sort of in a collaboration with Noise.Kitchen that is now going to be a lot more apparent, hopefully.
Headless Duplicated Tapes is a cassette-making studio run by David Šmitmajer. Get your tapes made there.
In terms of radio, definitely pay attention to Radio Punctum and Radio Laude. They both have their studios now and are starting to do interesting things apart from radio shows (Punctum is, for example, preparing a compilation of remakes of old Slovak folk songs, which I'm very grateful to be a part of). Punctum is also closely connected to the Punctum venue (although the studio is somewhere else). Punctum is a great DIY space where I really enjoy playing, you can go to see mainly live music and I've played everything there, from 30- minute obscure electronica and noise sets to 3-hour tape loop improvisations… They also have their cassette label, check it out! Punctum Tapes. Petrohradská Kolektiv is another favourite place of mine, I need to go there more often.
A few other labels and initiatives to check out are: Underdogs, Fuchs2, Zvuk, Altenburg (hopefully open again soon), Genot Centre, AVA kolektiv, Phonon, BCAA system, Herna, ONYX, LBD Audio, Unizone, Wrong, Endless Illusion, Dietl Archive, FM records, Glory Affairs, NONA records, KSK, OMO recordings, Vašulka Kitchen, Lunchmeat and there are so many others, I've definitely forgotten some 🙁
As far as venues go, Ankali would be the baseline for dance clubs here; they are now opening a listening section of the club, so let's see where that takes them. Bike Jesus is also a nice venue where you can get your bike fixed, dance, have a beer and hang out on Prague's Štvanice island. If you're into records and coffee, go to Luft in the Letná district. You can also noodle on a few modular systems there. Order a grapefruit iced coffee.
We (XYZ project) have also just started doing things at our own venue, which was born during the last two months… Still not sure of its form = @elektro.salon (Instagram only at the moment). It's nice to have a lab for experiments, a sort of open studio… But it's not in my competence to run a club/venue. I'd rather make music and things.
As mentioned before, there really is a lot of stuff happening in the Czech Republic, if you're planning a trip and want some tips, get in touch, I'd be happy to point you in a nice direction.
You use various mediums for music: cassettes, vinyl, music hardware, etc. How important is each medium for the message, so to speak?
The reason I use these mediums is not a kind of audio-fetishist one, it is purely an expressive one. I found that I can be much more expressive with an instrument than with a mouse and keyboard. I like the music to have an element of humanity in it. My artistic career started with playing acoustic instruments from an early age, so I guess I have this expression engraved into me somehow. I tried using the computer and almost nothing else, even made a record like that, and I couldn't connect (and still can't) with any of the recordings.
That being said, I do enjoy software also. I use Ableton, MaxMSP, NordModular, IRIN, Cecilia5… and a bunch of effects and audio processors. The power of software is incredible, I think the joining of the physical performative world with the digital is where the power lies (for me at least). I really enjoy my friend Natálie Pleváková's opinion on the subject, that the pure analog wave is like vanilla ice cream – it's just the starting point of a flavour.
At this point I would also like to call out the Eurorack modular craze. The modular is just a tool, yes, it's great, I also use it a lot, but don't limit yourself to it! There are many other tools, and they all work great together if you find their collective language.
Can you talk about your XYZ Project?
I established the XYZ project around 2014 with my good friend Marek Šilpoch, who was studying graphic design at the time. We decided to make an audiovisual book for ourselves and a few friends… We basically made four chapters that were each separated into different topics, and then worked on them separately. I made the sounds and Marek made the visuals. It was a study of synchronicity, to see whether the components would work well together without influencing each other in the creative process. I think the result worked!
Anyway, XYZ is an initiative that I hold very dearly, close to my heart. It's a collective of artists, a music label, an event organiser. It's very fluid, but the core remains constant, and the ideas generated are of a hivemind nature; we all influence each other in some sense, and even though we don't all work together all the time any longer, when we get together we are always working towards a shared idea, whatever it may be. The artists considered to be a part of XYZ (even though a few are not so active in the collective anymore) are Jan Slanina, Marek Šilpoch, Dominik Jančík, and Jakob Schubert. The most constant creative output at the moment is probably the music label.
You are currently working on a project called Trans Europe Postal Express in collaboration with SHAPE. Can you talk about the project?
The project is my take on chance music. The idea struck me after having a conversation with Michal Brenner from SHAPE about the possibilities of collaboration between SHAPE artists during the COVID-19 quarantine. Before that, I was watching some performances of La Monte Young's 'Compositions 1960' that he made while inspired by Cage's compositional techniques, and the idea of my take on chance music was on my mind, but I didn't know how to grasp it yet.
The idea is that a four-track tape recorder is sent around Europe to SHAPE artists, with a specific set of instructions, and, to cut the technicalities short, the recorder returns to me full of location-specific material and original music recordings that I will then try to manipulate into a collaborative record. The reason for using a four-track tape recorder is to limit the artist's creative process, it is my form of meta-collaboration because I use this technique to make music in some instances.
You've been also doing these improv "marathon" concerts of 5+ hours, which reminds me of the Kraut & Kosmische long sessions. How do you structure such a set, and how does your approach to playing live evolve over the set?
Sometimes this is hard and it's just a cacophony of sound, but some moments are totally spiritually pristine and those are the moments that you have to learn to get to. My strongest moment that I can recall was during my concert at Genot Centre's Silent Night. I was even more emotionally broken than usual (laughs) because of some personal reasons, and I placed microphones on the roof of the venue, beside a train track. I had timed some sonic events as the trains passed by, but I didn't know when that would happen, so I had to kind of actively listen to the outside world, waiting for a specific sound, but also fill in some silences. When a train passed, it came onto the sound system quite quickly and I had to stay in an active listening state of mind, so I had to learn to control my excitement when I heard a train coming and not make an impulsive movement… It was an exercise in self-control, let's say.
I'd like to add that the most exciting thing about these improvisation sessions is the ability to navigate through other people's ideas and be driven to a new state of mind/idea-generation by them. As creatives at the beginning of our path, we try to find our own voice, and then when we are absorbed by it, we try to get rid of it. These concerts are partially a technique that helps the mind to keep thinking fresh in terms of new ideas, thanks to impulses from colleagues and other musicians in the form of free improvisation. When we stop looking outward, the mind has nothing to 'eat' but itself and ideas become stale and repetitive in most cases.
You also create audiovisual installations. Can you talk about this side of your work?
This is the thing that I probably enjoy most at the moment, thinking about mainly audio installations. I did a few, for example, based on a shared concept called 'Studie Dislokace' or study of dislocation, where sounds that are happening in real-time are reproduced in an environment that is perhaps not so natural for them to exist in. It's a sort of sonic transportation. In some instances, I also manipulate the sounds in order to create a surreal version of reality.
The largest dislocation studies took place in Prague at Jiřího z Poděbrad Square, as a part of an installation by XYZ called 'Hlidka 2,1/18', and in Berlin at the echo chamber at the Funkhaus. For the one in the Prague square, I used Jonáš Gruska's LOM usi microphones and fixed them to satellite dishes in order to create a focused sound-collecting device, and then fixed them around the square in different places. There is a metro entrance, for example, where you can hear metro sounds and such, and I displaced those sounds to the other side of the square, playing back on hidden speakers. This created a very odd environment, where something that sounds natural when visually connected to a place suddenly sounds so unnatural.
In the Funkhaus, I hid microphones in one of the hallways where people were passing through to go to the echo chamber where the main installation took place. I delayed the signal of their talking (or their sonic actions), and timed it so that when they came to the installation they would hear themselves 30 seconds ago on a large system (I also processed the audio so that only parts would be heard, not whole sentences, only perhaps separate words and the colour of their voice). This was a dislocation study that was aimed at showing people a mirror by having them listen to themselves. Some really nice moments were captured when people were perhaps discussing parts of the other artworks, and when they heard themselves their ego was exposed to them, but only to them, since only they recognised their voice in most cases. It's a kind of self-reflection moment.
Currently, I am working on a vectorscope installation for the 60th Anniversary of the laser beam.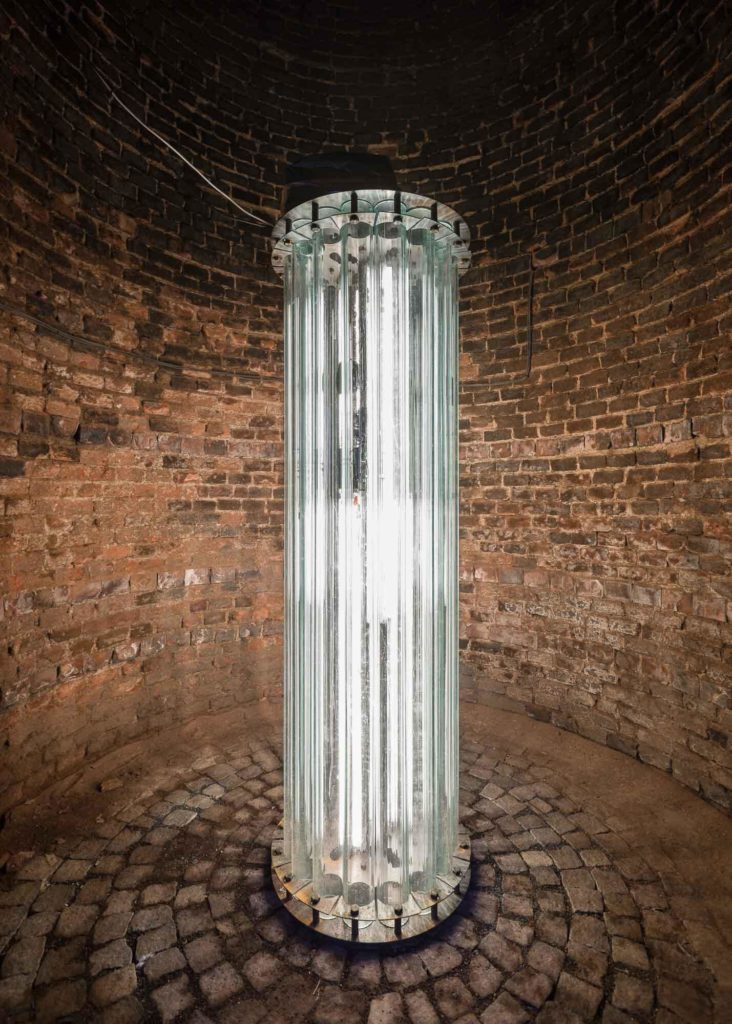 Interview: Lucia Udvardyova
Photo: Ondrej Merta