Posted on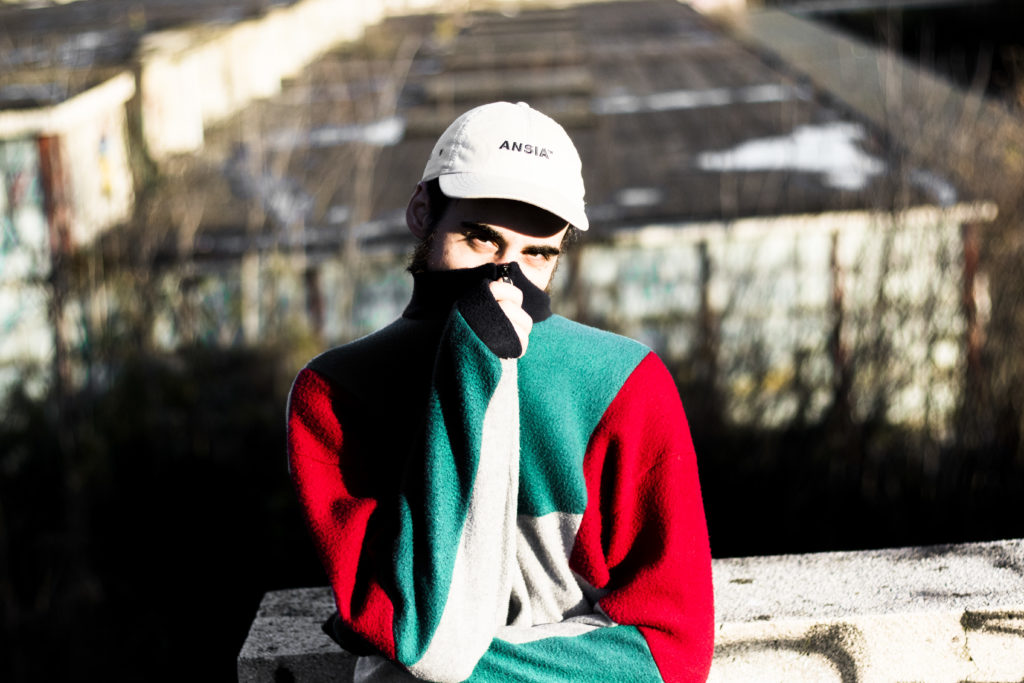 Piezo is a Milan-based electronic music producer, DJ and sound artist working at the intersection of UK techno, sound-system culture and mutant electronic music.
With his own label, Ansia, he focuses on dancefloor tools with a distinctive approach to composition and sound design. Piezo has also released music on Orson's imprint, Version, as well as on British labels, including Idle Hands, Swamp81 and Wisdom Teeth, proving his strong connection to the UK underground music scene, and more specifically the Bristol scene where he spent several years. He is also active as a programmer and sound designer in the contemporary arts and collaborates with the Milanese art duo Invernomuto.
Piezo is also part of the team behind the Saturnalia festival at the renowned Milanese underground music & arts space, Macao. His new album, Perdu, is out soon via Hundebiss Records. We caught up with Luca just as Milan was emerging from the Coronavirus pandemic.
Are you already able to do organise music-related events in Milan?
At the moment, legally speaking, music can only be enjoyed outdoors, seated, and the chairs must be spaced several metres from each other. You can't really dance. Soon they will probably reopen outdoor music venues with a limited capacity, but regulations vary from region to region and Lombardy is the worst hit by the pandemic in Italy, so we don't really know what's going to happen. I really think at some point soon illegal parties will rise again.
What do you think about it?
It's been really tough. We're really tired. We need other people, we need to touch each other, we need to sweat. If it's not in Lombardy, I guess it's fine. But I don't want to talk about Covid too much. I was meant to play Terraforma, I was meant to play at Tresor, booking-wise things had started to get interesting… I wonder what will happen when things supposedly get back to normal. Am I still a music performer or not? What am I supposed to do after this is over? What's going to happen with people like me who are not peak time DJs?
Are you in music full time?
Not really. Pretty much all my income comes from music-related stuff though. Before the pandemic, Piezo made up about 25 per cent of my income. I am a freelancer and I mainly work as an Ableton Live trainer; here in Milan it's a pretty stable job. I also do some software programming and tech consultancy for 'new media' artists, and I worked on some art projects of my own – mostly interactive audio installations. Music itself, nowadays – with no live gigs – is just Bandcamp, which is great but definitely not enough.
You've also been involved with Macao, a community space/cultural centre in Milan.
Macao is many different things: it's a social experiment, an independent arts centre, a music venue and much more. There's a strong dimension of political and social involvement, like any classic Italian squat – but at the same time, in a totally different way. I was really attracted by Macao when I moved back from Bristol because it didn't look like a squat. In Italy, a squat is usually associated with a certain mood and aesthetic: music-wise, 90% of the time you end up with this boring and predictable mixture of drum'n'bass-hiphop-reggae-folk. There are really few squats that push cutting-edge music. Macao has a clear artistic but also political vision: contemporary underground electronic music is seen as a political tool. And this, in my opinion, is radically new for Italy.
Within Macao, I'm more specifically involved in the 'Tavolo Suono' (Sound Table) collective. We discuss music and organise concerts and club nights, with the Saturnalia festival being our flagship event. One of our main goals there is trying to invite forward-thinking, not-established artists from all over the world, who probably would never be able to play in Italy otherwise – all within a safe space where everybody is free to express themselves.
In the wake of the coronavirus pandemic, there's been talk about focusing more on the local scenes. Do you think this will be the case?
Obviously, the local dimension of the festival is not forgotten. We, and all our friends from Milanese and other Italian communities are always invited to play at the festival. We firmly believe in these connections between local and international realities. The people we invite are 'local' in their own places, in the sense that they have built an interesting reality where they live: the focus here is not on the geographical location, but on a shared mentality as independent contemporary musicians with a forward-thinking attitude. Again, we find it crucial to establish such connections.
An obvious problem here is the ecological impact: how can people be made to fly from all over the world? We try to work in advance and cooperate with other promoters and booking agencies so when people are already travelling in Europe, they can stop by in Milan (one example being the Nyege Nyege crew, whose artists have been invited several times). We try to do our best to minimise the ecological impact of travelling, but we don't claim to have the definitive answer to this issue…
You also lived in Bristol. I guess that must have influenced you musically?
Very deeply. I kind of think of the last ten years as divided into three different parts. In my early twenties, while I was doing uni in Milan, I had kinda idolised UK dubstep so I got really focused on producing that specific style. When I moved to Bristol, I realised that you can have so many different sounds peacefully co-existing, which I had thought was not possible. In Bristol, you can see punk people going to dub nights and then later dancing to techno and that was completely new to me. If you cross-pollinate between different 'scenes', you almost always end up having a much higher quality. Music is much more than 'genres'. I obviously knew that already, but before Bristol I hadn't really absorbed the concept in my music-making process.
Were you actively involved in the scene there?
Luckily. I got to know pretty much everybody. People in Bristol are really friendly, even established artists, so it wasn't hard. Also, I can't stress enough the importance of having a hub like Idle Hands record shop: that place is crucial for the Bristol electronic music community. My flat was next to the shop, I learnt so much in there and met so many good people, thanks to Chris.
I didn't really want to get involved in throwing parties. I was focused on making music: that was a transitional period for my music. Definitely not an easy one, but I had this feeling of being more 'free' and that was totally inspiring. I could say that those were the years I became an 'adult' music-wise.
Eventually, I moved back to Milan, but I still miss Bristol every day. I became good friends with many people like Facta, Lamont, Ossia, etc. But luckily, when I came back home, I found another family with Macao.
Are communities as such important to you?
I've got to admit that I like to be on my own when I'm in my studio, I like to work alone in my 'comfort zone'. But my life as such has been about communities. I wouldn't really have made any interesting music if I hadn't moved to Bristol and met that community, and then moved back to Milan and found this other community.
It's about finding a group of people with whom you can share thoughts and opinions and music. That's key.
What about your label, Ansia?
That was not really meant to happen. Again, that's because of Bristol. My mates Boofy and Hi5Ghost suggested I should start a label because I had some interesting tunes worth putting out on vinyl. Then they introduced me to Dan Ossia and Alex who run a lovely online record shop and distro called Rewind Forward. Thanks to their huge help, they showed me it was actually quite easy to run a vinyl label. For me, Ansia is a DIY way to put out music quickly. Every year, I have three or four tunes that nobody would probably release, so I release them myself. Ansia is about dancefloor tools. The music is always very beat-oriented, pretty much just drums, percussion and a bass, sometimes to the point of being really dry and weird. There are usually no synth melodies and definitely no harmony. But there's a lot of humour: I often use weird sounds, cartoon samples or field recordings, and try to combine them with the beat using various sound design techniques. I don't consider it a label as such: it's just a quick way to put out that specific type of sound. I sometimes also invite other people to do V/A releases, but only when I find a tune whose aesthetic is very much aligned to what Ansia is about.
You have a new album out called Perdu on the cult Italian label Hundebiss.
I moved to Milan when I was 19 and I went to a couple of their sick parties back then. The label was sick too: Lil Ugly Mane, Stargate (Lorenzo Senni), Primitive Art… Hundebiss was kind of an institution for experimental music in Milan. Thanks to mutual connections, I only came to finally meet Simone Trabucchi (head of Hundebiss) about two years ago, and he got really interested in my music. Eventually, we became friends. And the album happened.
I'm also working on a big project with Invernomuto, the artist duo formed by him and Simone Bertuzzi (Palm Wine): it's an art project called BlackMed, which involves a big music archive, a lot of software, a website and a live installation.
Going back to the album, the music was written at various times over the last two to three years: it's a very diverse body of work. I have always wanted to make an album: I started listening to electronic music via the album form. I started with this idea of a very Bristol-like, trip-hoppy vibe. I had this big bunch of tunes, but then Simone from Hundebiss said, "OK, no, I can rescue just these three". So, I sent some more, very unrelated tunes, and he picked three or four more. We then had this body of five, six tunes which eventually became the core of the LP. Simone was instrumental in the compositional process; I can say he designed the album. I didn't think such different tunes could make a unique body of work: style-wise I can see at least three very different 'threads' through the album.
Conceptually, though, I was missing some glue, I had to connect some dots. Then I found that the strongest connection was the old days with my friends, even before Milan: I'm from central Italy, and in our teenage years we would go to illegal tekno raves. That is when I first discovered what it means to be in front of a sound system. I had discovered sound system music even before listening to dubstep and this is something I hadn't quite fully realised. So, from the nostalgic memories of dusty old raves, through UK bass music and Bristol, to the experimental community here in Milan: all of this brought me here, to the sound of this album. The dots were connected.
The album cover art and the insert in the LP are all material from an old archive of photos and videos my friends and I took at a rave in Portugal.
If you make an album, it must be personal, I guess.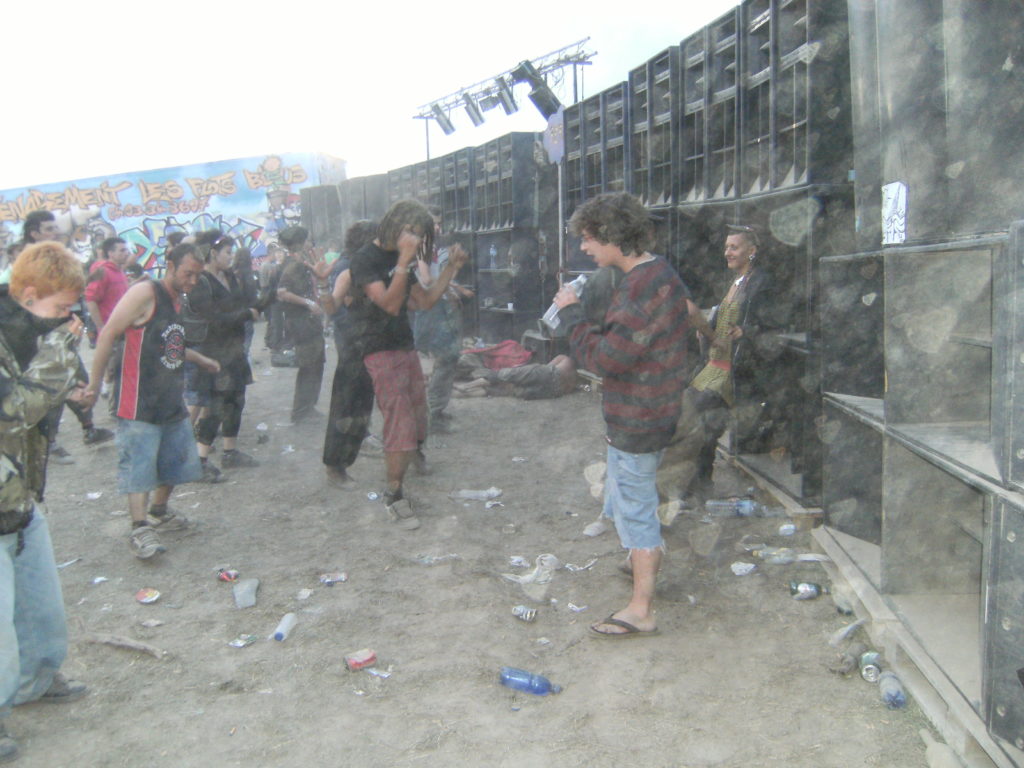 Interview by Lucia Udvardyova
Photos: Roxana Cerioni, David Giacomelli