Posted on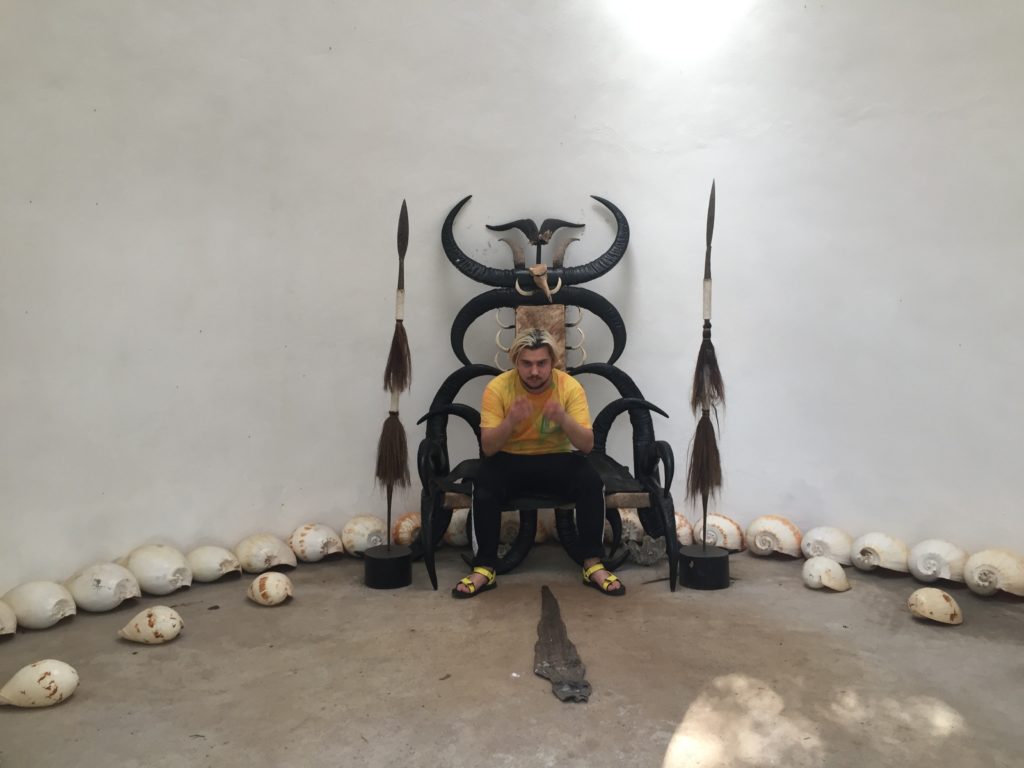 Eiger Drums Propaganda is an electronic music project led by Louis Ebola, half of The Pilotwings. Formed in collaboration with various musicians, the collective made its first appearance in 2018, with an eponymous album released on Macadam Mambo. This first opus of a yet incomplete triptych is a psychedelic and progressive ascension melting krautrock, ambient and dark experiments. The second part appeared in July 2019, this time with a more dancing and tribal approach. This development led Louis Ebola towards the creation of a solo live set. Throughout the show, he presents original compositions as well as work on the body, painting and light.
What led you to music initially? What is your music story?

When I was a teenager, I was already a big fan of electronic music and was DJing in some parties I was having with my school friends, haha. But then, at some point, I started The Pilotwings with my friend Jonquera. I think it was around ten years ago. After working a lot on this duo project, I wanted to explore different things with music, something more personal about my life experience and my passion for psychedelic culture. That's how I thought about doing this new project called Eiger Drums Propaganda, which sounds like a primitive tribe from the mountain (the Eiger is a mountain in Switzerland).
Can you elaborate on the notion of "psychedelic culture"? What attracted you to it?

Well, that started with psychedelic substances, obviously. And then, everything that is related to psychedelism in arts in general. You might think of those psy-trance posters, a straight bassline that goes on and on and the chillout zone of Ozora, but for me, psychedelism is everywhere: in industrial music, sometimes UK bass, sometimes synth-pop, even disco, haha. I love being transported by a vortex of sounds and visuals that take you across the boundaries of your mind and knowledge, and maybe get you into a state of trance. Also, I still have a big passion for psychedelics. I'm not ashamed of it, not at all; that is an important piece of who I am today.

Can you talk about your triptych, Macadam Mambo: a psychedelic and progressive ascension melting krautrock, ambient and dark experiments? The triptych is also conceptual – focused on different themes and topics.

I like it when a project or an album is telling a story. I guess that was something quite common back in the 80's, from what I've heard, but nowadays I think it's not so much the case anymore. I wanted to share an experience on every release of this project and try to create a triptych that tells a story about this character called Eiger Drums Propaganda, who passes through many events in his life, his death, psychedelic experiences and states of trance. The first release was about the different steps of the psychedelic experience. The second album is dedicated to the moon and the sun, the biggest guides on our journey on earth. And the latest double LP is about death.
Can you talk about this new LP, which is part of the triptych and is coming out in June?

Talking about death usually seems to be something dark and scary. In my opinion, not necessarily. It was important to bring the bright side of the picture next to these experimental tracks. When Sacha, Boss of Macadam Mambo, gave me the go-ahead to do a double LP, it was ideal to put all these ideas into the release. It was also a really huge pleasure and opportunity to invite some friends and artists like Jin Cromanyon – I've always wanted to work with him.
Musicwise, Eiger Drums Propaganda has always been about krautrock, ambient & tribal music, with a ritualistic approach and a very 80-90's sound. In this third episode, the music genres tend to represent the contemporary era.

You have recently moved to Greece. Can you talk about your move and send us a photo of your current environs? Does the different location influence your work?

Yes, I fell in love with Greece four years ago when I visited a friend. I moved here almost three years ago, and my girlfriend joined me in early 2020. Luckily, we found a new apartment just before the COVID-19 lockdown started in Europe. My years in Athens have been really great; I definitely made the best choice.

Here's a photo of my roof, where we organised some parties and gatherings during the lockdown. And another photo of the city view from that same roof.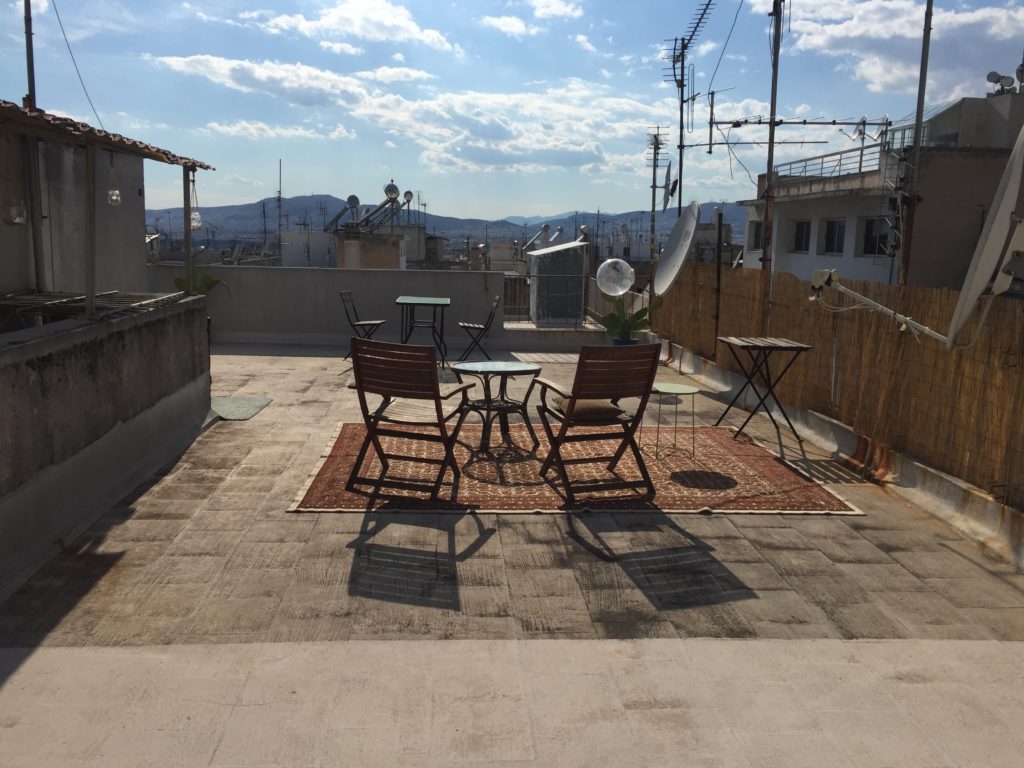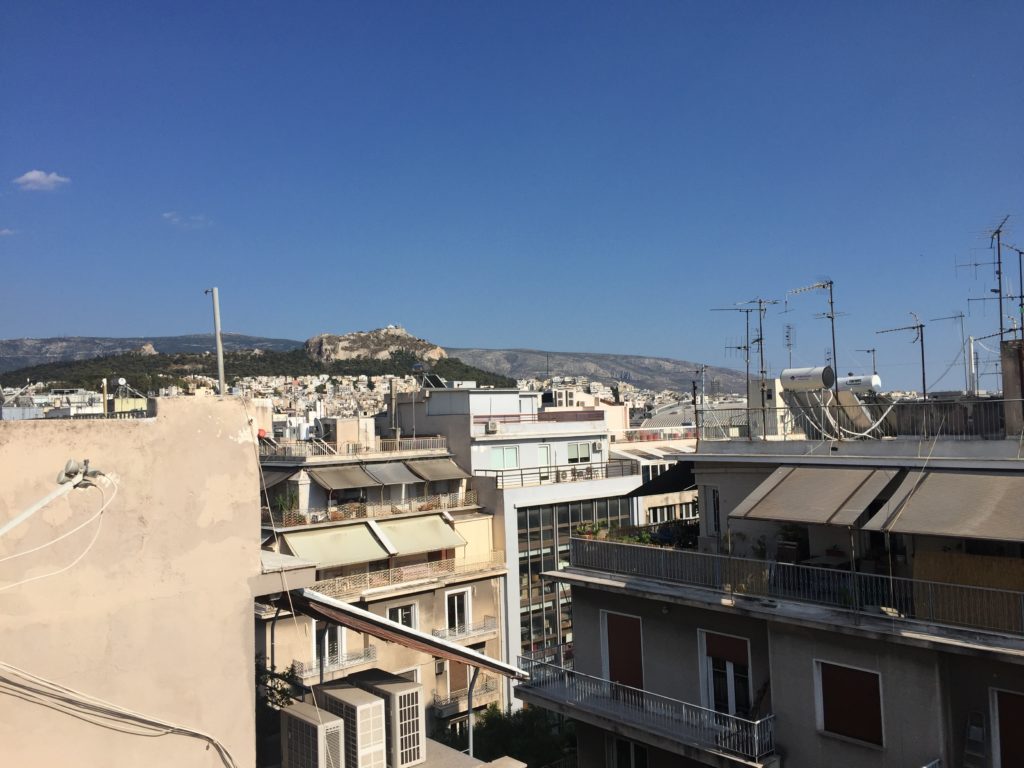 It definitely influences my work. Athens is a city with a strong dark techno, wave & future music taste. That's totally different from my environment in Lyon where I was hanging with psychedelic rock, disco & turtle trance diggers. I guess my new friends and the craziness of the electronic scene led me to change the musical direction of my project somehow.

You also have a radio show on Athens-based Movement Radio. Can you say something about it?

Yes, I've had my first season on Movement, and it was fun. It's a one-hour show called Taverna Bambaataa (which is probably the worst joke I could find..). I focus on a different part of the world every month, playing some tracks from the past that I love. It's cool to have a show on the radio in the city you're living in. I did the same in Lyon, on LYL radio with Pilotwings. But since I left, it was difficult to continue every month, so it became one show every two months, playing ping pong with Jonquera. So, the Movement show was perfectly timed.