Posted on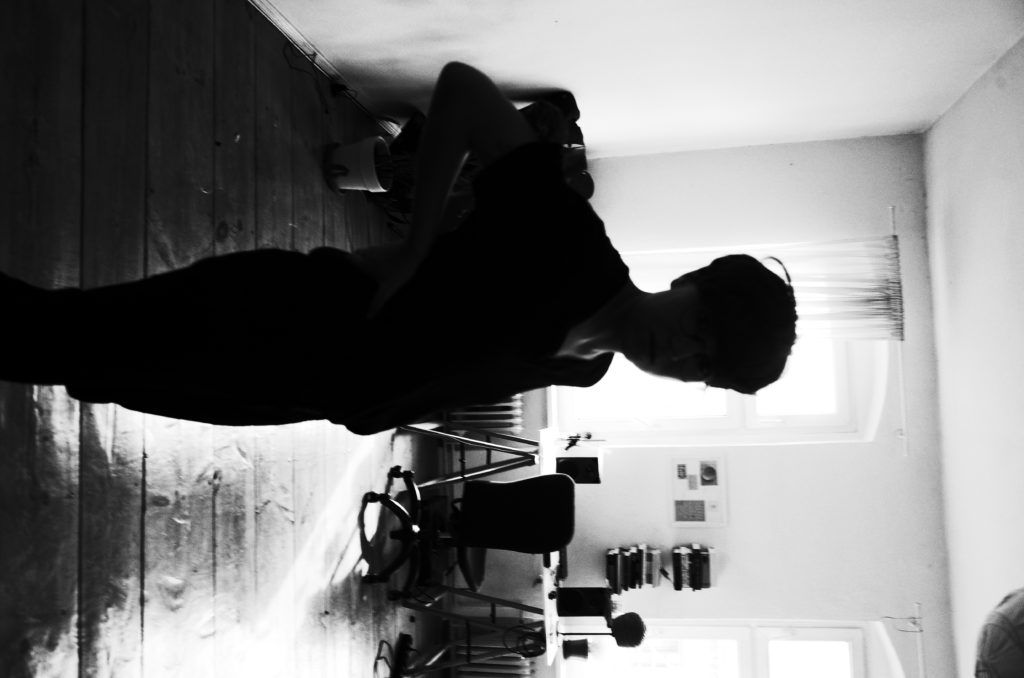 Julia Reidy makes music for processed and acoustic instruments (mostly guitars). Their recent recorded work—brace, brace (Slip 2019,) In Real Life (Black Truffle 2019), and Vanish (Editions Mego 2020)—can be described as a series of non-traditional song forms which combine unstable harmonic territories, rhythmic elasticity and abstract narrative over stretched, episodic forms. They have performed at Tectonics Festival (SCT), Send/Receive Festival (CA), Mona Foma (AUS), Berlin Jazz Festival (DE), Angelica Festival (ITA) and Borderline Festival (GR).
Hi Julia. How have you been and where are you at at the moment?
Hey! I've been very well thanks. I'm currently on a long train ride to Ljubljana for a gig at Kino Šiška, which I'm excited for.

One article about your work described you as a "classical bedroom producer". Would you agree?
Most of the music I've released was played, recorded and 'produced' by myself at home, so I guess that's accurate. The records are all pretty DIY-sounding as a result, which I'm happy with, it feels honest. I find it easier to realise work if I can do it at my own pace and intensity, and within my own means.

I try to treat records and live sets almost as separate projects, mostly so that I can let the records be as detailed as they need to be, and the sets can feel malleable. I don't try to recreate records on stage, as some producers do, I don't really see the point of that. I like to take advantage of not having a fixed set to play, it can develop as my music does.

Is self-sufficiency as a musician important to you?
I don't see being a musician and being a person in the world as being separate, so in that sense I'm not self-sufficient at all. I rely on my close friends, my local and broader community on a personal and musical level.
In terms of process though, I like working solo for the reasons I've already mentioned and also because I've found it to be a fun way of learning and improving. I'm generally pretty self-taught and find I can learn much more effectively when I'm choosing what to focus on and why.

I like dealing with the limitations of needing to create all the sounds, both in a live and recording context, by myself. It forces me to be pragmatic and push the boundaries of what I feel comfortable doing. For example, I don't have any training in electronic music, but I work with electronics in a haphazard, imitative kind of way, which probably comes across. So again, I prioritise producing work that I can create and re-create within my means rather than finding access to the best gear, a great studio, producers etc.

I really like collaborating, but it can also be quite freeing to not have to translate musical ideas or justify my often-very-convoluted process to anyone else. Hopefully the outcome can speak for itself.

Besides your solo work, you are also part of several ensembles, for instance the Splitter Orchestra that counts 25 members. How do you transform as a musician from working alone to working with 24 other people?
I recently left the Splitter Orchestra. I'm very grateful to have been a part of that group, but ultimately never figured out how to play within the sound. I'm looking forward to hearing them play from the outside, it's an incredible group of musicians.

I tend to only have a couple of active working bands at a time, I don't really see the purpose of playing in a huge amount of projects if I can't commit time and energy to them. It could also be that I'm not the most versatile musician, despite having a broad taste in music, I can only do a few things well.



I hear vastness and space, the expansive echoes of strings in your music, rolling across plains and uncanny valleys of sound. Your release Vanish on Editions Mego had two longer tracks that evolve across more than 15 min each. How do you develop your compositions, what themes and narratives do you work with?
Vanish was made during the first lockdown and both as a coping mechanism and an expression of what many of us went through, namely shifting into a more internal world – I guess the vastness and space comes from needing to make that internally since the world suddenly felt much smaller and more insular.

I've had people compare my music to landscapes and environments at times – occasionally with some kind of Australia-specific ocean/desert/fire association, which I'm willing to accept may be a thing. In any case I'm happy if my music can be in any way 'transporting' because I think it's important to escape from reality sometimes. I don't think escapism needs to be about denial, and it definitely doesn't need to be apolitical. I think creating or proactively finding alternative spaces which help you step back momentarily from the pressures and modes of everyday life is in itself a political act. Obviously I'm talking about making music, facilitating other people's music, having a serious listening practice – but it could be many other things.

In terms of developing compositions – I think having some experience and background in improvised music contexts has helped me have faith in that process and what can come from it, although I'm less interested in performing purely improvised processes for audiences these days. So a lot of the working phases involve experimenting with the material, allowing myself to have long thought processes and taking lots of little detours and tangents.
I try to develop an unfolding narrative feeling without imposing a specific literal narrative on the work – I'm not really interested in telling my own story through my music, at least in any explicit way. But the sounds and materials are obviously very specific and personal. I like the idea of creating the feeling of moving without being told exactly where you need to go.
You employ the autotune technique for your vocals. What is the importance of this technique often known from hip hop and pop genres.
Initially it was partly practical – I like using vocals and don't mind the tone of my voice but can't reliably pitch notes, I get too nervous. I like that it makes my voice sound less gendered, less human, more uncanny and alien.
I was trying to figure out how to play guitar and sing without feeling like a singer-songwriter too, not that there's anything wrong with being a singer-songwriter. The main reason for using it, like many of the materials I'm drawn to, is that it functions within a deliberately jarring combination of elements – the hard autotune next to combinations of open, detuned or just intonation systems in the guitar and synth parts, for example.

What has been occupying your mind lately – it could be work but also non-work stuff.
With things opening up again, I've been thinking about my community in Berlin more recently, but also the spectrum of performing experiences I get to have and from different perspectives – as a performer from within a scene, as a visitor, as a facilitator, as an audience member and a listener.
Besides that, I've been reading and thinking about Sara Ahmed's book the Promise of Happiness, the immediate and and not-so-immediate future, how I'm going to learn the Octatrack I recently bought second-hand from a friend, and finding peace in loneliness.

Julia is playing at SONICA festival's SHAPE event at Kino Šiška on 8 September.
Interview: Lucia Udvardyova