Posted on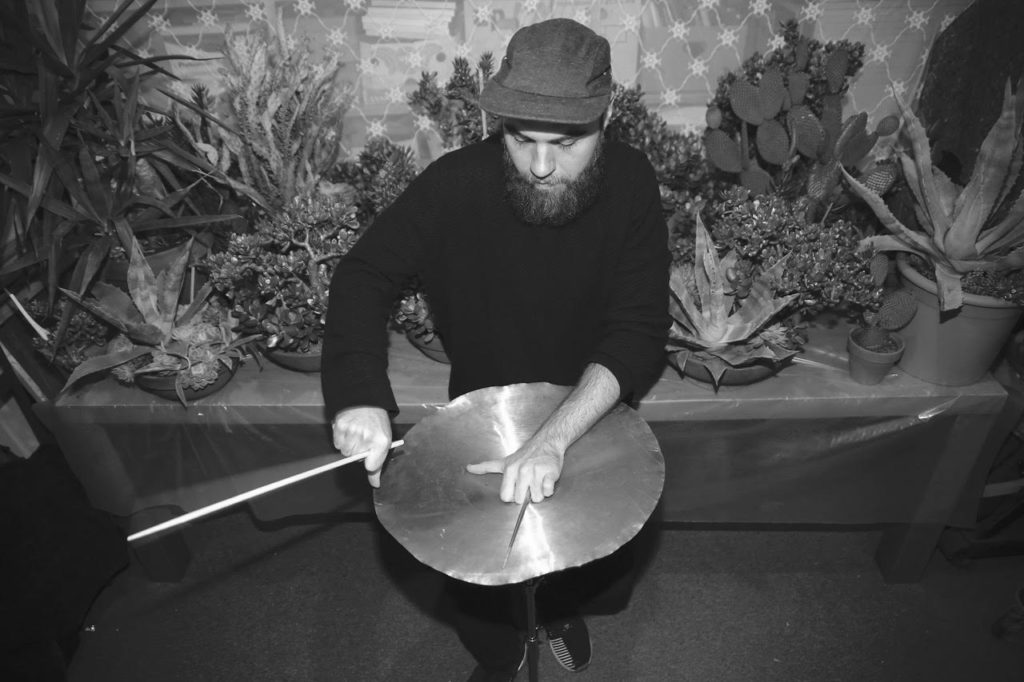 Lukas König (*1988) studied at the Gustav Mahler Konservatorium in Vienna, Anton-Bruckner University in Linz and HKB in Bern. He was awarded the "Hans Koller Prize-New York Scholarship" in 2009, the Bremen Jazzpreis, and the Bawag P.S.K. Next Generation Award in 2014 (with Kompost3). He is primarily a drummer. But there's a lot more than percussion happening on his latest solo album, Buffering Synapsis (Opal Tapes), from sputtering noise to fractured circuit breaking to a creepy horror-soundtrack ambience. Using electronics and pedals along with his cymbal, Koenig lets his imagination fly, leading to fascinating juxtapositions between tracks and sometimes even inside them.
How have you been?
I'm good so far, thanks. Not being able to play music any more was quite a shock at the beginning of this pandemic. I still worked a lot from home producing/co-producing/recording (my solo project, Mopcut, PLF and some other side jobs).
Where are you at the moment?
In Vienna. I have been touring since lockdown was over as much as possible but now I'm based in Vienna again. We're going to NYC for a month in December.
Your background is in jazz and hip-hop drumming. Can you talk about it and your "transgression" into experimental music?
I'd say that it's rather a short walk from Jazz/Improvised Music to experimental music because it is often already that. What you try to do is to find new ways of playing your instrument. Find new ways to build spheres, spaces, moods, dramaturgy and ideas of what you have in mind. Experiment and Improvisation are very close for me. Hip-hop drumming was changed by wonky beats. That happened when people like Jay Dilla started to experiment with time and grooves. Nowadays, hip-hop drum sounds are filled with experimental sounds as well…
You were based between New York and Vienna. What led you to the Big Apple, and how were you involved with the music scene there?
My girlfriend is from NYC, that's why I spent a lot of time there a couple of years ago. Before the pandemic hit and our son Otis was born, she still lived there and I went back and forth many times. Now it's the first time we can go again and I will play some shows with all the people I haven't seen for almost two years. I play with people like Shahzad Ismaily, Chris Pitsiokos, Matt Mottel, Jessica Pavone, Briggan Krauss, Brandon Seabrock, Almog Sharvit and many more whenever I'm there or in Europe (when they are on tour).
Your bio mentions reduction as a fundamental element in your practice. Lack of space and commuting led to concentrating on a single cymbal as a sound source. Can you talk about your practice and its evolution?
Well, this recent solo work literally started because I lost my studio space. I couldn't find a new place and I started to rent some storage space for all my drums. But I couldn't be loud there so I started to amplify my cymbal and started scratching and rubbing it. The result of a year-long study of this cymbal and different techniques was "Messing" (Ventil Records ,2020). On tour, I always added on machines-samplers-drum machines and then reduced everything again every now and then. I have always loved people with a strong, extreme sound, cooked down to the actual essence of one's actual possibilities and output.
The instrument in a way is almost unrecognisable when I listen to, for instance, your solo album, Buffering Synapsis, on Opal Tapes. How do you structure your soundwork?
Buffering Synapsis was the result of touring with this "Messing"-Cymbal approach tour for one year. I sat down with Nik Hummer and recorded all the sketches that were created on tour and while playing/improvising. Therefore, I used different materials and machines to shape the sound in a more synthetic-electronic way. (Landscape stereo field, microcosm, particle delays and so on). Afterwards, I chopped everything together until I liked it.
You are also part of several ensembles, such as Mopcut (with fellow SHAPE artists Audrey Chen and Julien Desprez) and PLF (with SHAPE artists Peter Kutin and Elvin Brandhi). Can you talk about these collaborations?
Mopcut is one of my most important projects. I founded it in 2017, for the Donaufestival in Krems. I love Audrey's and Julien's way of playing-improvising-experimenting and the very strong voices they have in consequence. It's amazing to play with those two and we keep on exploring the world with this wonderful band. We just released our newest album, "JITTER" (Opal Tapes/Ventil Records), and we are happy to get it out into the world because it has been a great journey.
PLF grew very quickly into a crazy big thing for my heart as well.
Peter and Freya are crazy and amazing and it's been wonderful and easy so far 🙂 Our tape "EP:DEMO" will soon be out on Opal Tapes as well.
What are you currently up to?

I'm going to be recording a lot these days for a new solo project release next year. (marimba, beats, drums).