Posted on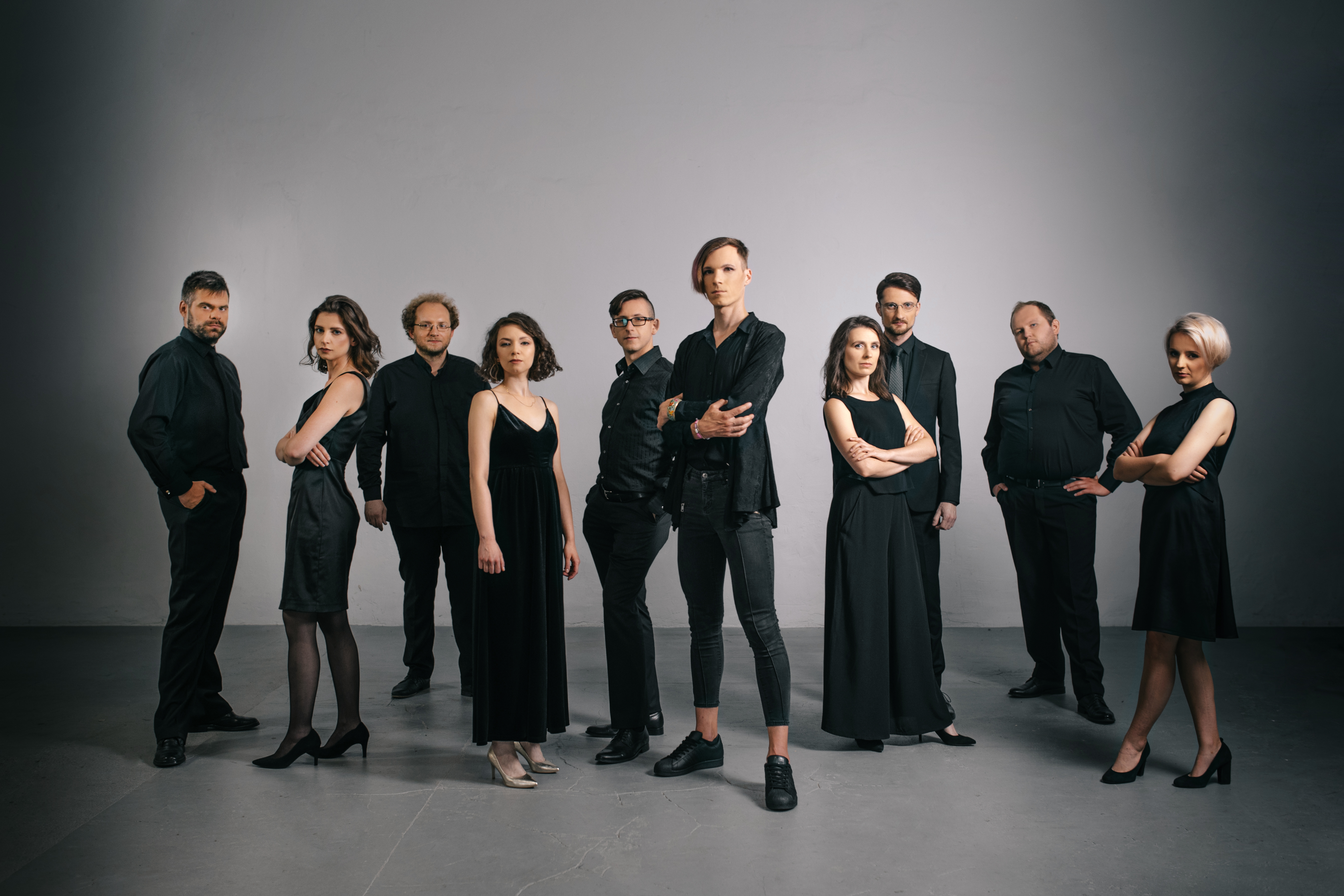 In 2013 a group of Kraków-based instrumentalists shared the stage as part of the European Workshop for Contemporary Music, conducted by maestro Rüdiger Bohn. Having then played together at Darmstadt's Internationale Ferienkurse für Neue Musik, the musicians – persuaded by Martyna Zakrzewska, Mateusz Rusowicz, and Piotr Peszat – established an independent body. A couple of events held in a community center by one of the town's exit roads and in a then neglected and declining theatre-slash-cinema marked the beginnings of Spółdzielnia Muzyczna contemporary ensemble (literally, 'Musicians Associated'), a group who specializes in performing new music, awarded the Ensemble Prize from Ernst von Siemens Musikstiftung in 2021.
Spółdzielnia Muzyczna have been featured repeatedly at the town's as well as the country's most influential music events, including the International Festival of Contemporary Music 'Warsaw Autumn', Kraków's Sacrum Profanum, Audio Art, and Unsound, Musica Moderna in Łódź, NeoArte in Gdańsk, the Festival of Traditional and Avantgarde Music 'KODY' in Lublin, and Musica Polonica Nova in Wrocław.
In their hometown of Kraków, the group themselves pursue several educational activities within the field of new music: it has been eight years already of instrumental workshops and competitions for young composers as well as live and illustrated discussions of new music given to possibly diverse audiences. In their programs, Spółdzielnia combines classic works of 20th-century music with younger generations' compositions, embracing experimentation and multimedia.
During Unsound 2022, they collaborated with Wojciech Rusin, presenting extended versions of his compositions from the Syphon album.
Does a band playing contemporary music have any restrictions? What is allowed and what is not?
Malgorzata Mikulska: The most remarkable thing about new music is that everything is permitted.
Jakub Gucik: Limitations depend solely on our collective decision about what we want and prefer not to do. Everything is free; the important thing is that whatever we do, we do it for a purpose and in harmony with ourselves. Contemporary music today is all about time, space, and sound. I think it is not worth closing ourselves off to suggestions and inspirations, even those seemingly contradictory to what we do every day.
Barbara Mglej: It depends on the people who make up the team what they want to participate in and what they don't want to participate in. I think you must be open to the new but also not push your boundaries if you don't want to at the time. Contemporary music is now everything around us.
How did you react to the proposal to work with Wojciech Rusin? Have you heard his recordings before? What impression did they make on you when you heard them?
Malgorzata Mikulska: I was not previously familiar with Wojtek's work. However, having already looked through his Instagram account, I was curious about the instruments he designs. I silently hoped that he would use them. My experience with previous Unsound editions convinced me it would be an exciting project.
Barbara Mglej: To be honest, I didn't know Wojtek before, but I was curious to work with him and try something new.
Jakub Gucik: I reacted to the proposal with curiosity. I must admit that I had heard something about Wojtek before, mainly in the context of his instruments, but I cannot say that I knew his music. I knew what he did but no details.
Wojciech Rusin, with whom you collaborated at Unsound 2022, speculates on the music – combining futurism, folk, and contemporary music, going beyond the boundaries of genres. And what is it like for the cooperative – do you like to go beyond the limits of genres, music performance, and aesthetics? What is the most appealing thing about it?
Barbara Mglej: The most appealing thing about it is discovering one's boundaries and crossing them or not, through which you also get to know yourself. In contemporary music, you very often go beyond the limits of genres, and this is something I enjoy. It allows you to develop, to learn new things; it's never dull.
Jakub Gucik: We constantly go beyond the boundaries of aesthetics and genres, sometimes even leaning against the limits of what music is directly going in the direction of paratheatrical activities, performances, or pure sound experimentation, which in total is rather music. This constant 'going out' means that we are always energized. Still, we constantly have to learn new techniques on our 'native instruments', handling software and hardware, working with our bodies as objects, and playing unusual instruments. In general, new music is new, and we develop with it.
Malgorzata Mikulska: That is why we perform new music, mainly based on taking inspiration from the world around us. Often the pieces we perform contain elements of popular and improvised music. We like unobvious solutions, crossing boundaries, and searching for new sounds. It is endlessly surprising fun.
How did you prepare to play with Wojciech Rusin?
Barbara Mglej: We met with Wojtek at rehearsals and started to delve into the material he presented. We searched for form in improvisation and how to combine all the pieces coherently. It was very creative and exciting work for me because Wojtek knew precisely what he wanted, and it was pure fun to come to a satisfactory result together.
Jakub Gucik: Wojciech brought pre-written songs, and we arrived at the final forms during rehearsals. Instrumental parts were written in graphic notation or improvised with a specific condition. Some aesthetic decisions were also dictated by the electronic and visual layer proposed by Wojtek. Generally, we arrived at the final form together, respecting the composer's intentions.
Malgorzata Mikulska: Wojtek told us about his work; he also brought his musical material, which we 're-composed' during rehearsals. Some of the songs were written classically. There were also a few improvised fragments. One was written down as a graphic score created by Wojtek. I think the projects in which we can also be creators – we bring in our ideas – are the most inspiring.
Rusin made 3D pipes, and you play real instruments every day – what was the experience like for you?
Malgorzata Mikulska: It was great fun. I had the opportunity to practice permanent breathing on a wind instrument other than my own. Our task was to play a stable sound for a very long time. Wojtek made us a gift and left us the instruments. They will likely find many more uses in our projects.
Jakub Gucik: For me, Wojtek's 3D printed pipes, ocarinas, and trumpets are as real instruments as possible – Romitelli had classical instrumentalists play mouth harmonicas and inflatable guitar reeds, and other composers use everyday objects. Generally, anything that can be played is an instrument—the real thing.
Barbara Mglej: I prefer that we play our instruments, which we have paper for after graduation. The 3D squeakers are also a 'real' instrument. I enjoy playing instruments other than the violin, so I was happy to have this opportunity.
How important is the performative element at concerts for you? I remember once at a show in Gdańsk, you played one piece in caps, in Kraków Rusin inflated a colossal balloon from which you then let the air out together. What does this bring to your music or its reception?
Małgorzata Mikulska: Performatics is an inseparable element of new music performance. We have had at least a few fun performances, such as the concert mentioned above in Gdańsk: we also happened to walk on all fours at the FN/Warsaw or roll on the floor while blowing into the violin at the NOSPR/Katowice. I have the impression that for all of us, this is fun but also a challenge that requires additional skills. That is why, in such situations, we try to invite people who deal with stage movement professionally.
Barbara Mglej: We make each concert a kind of performance, a spectacle. We build its form by choosing the correct sequence of pieces, lights, behavior on stage, etc. The strictly performative works are important because we go beyond being an instrumentalist; they show that we are open to the new, develop creatively, and get to know each other in the ensemble from a different side.
Jakub Gucik: The piece in caps was Brigitta Muntendorf's 'Yes, Master,' and her whole presentation was carefully composed. In Rusin's case, blowing the cushion and letting the air out was the climax of the entire form. As an ensemble, we occasionally go beyond the 'normal' forms of expression and reach for something different. For the viewer or listener, too, this is often an unexpected enhancement of reception.