Posted on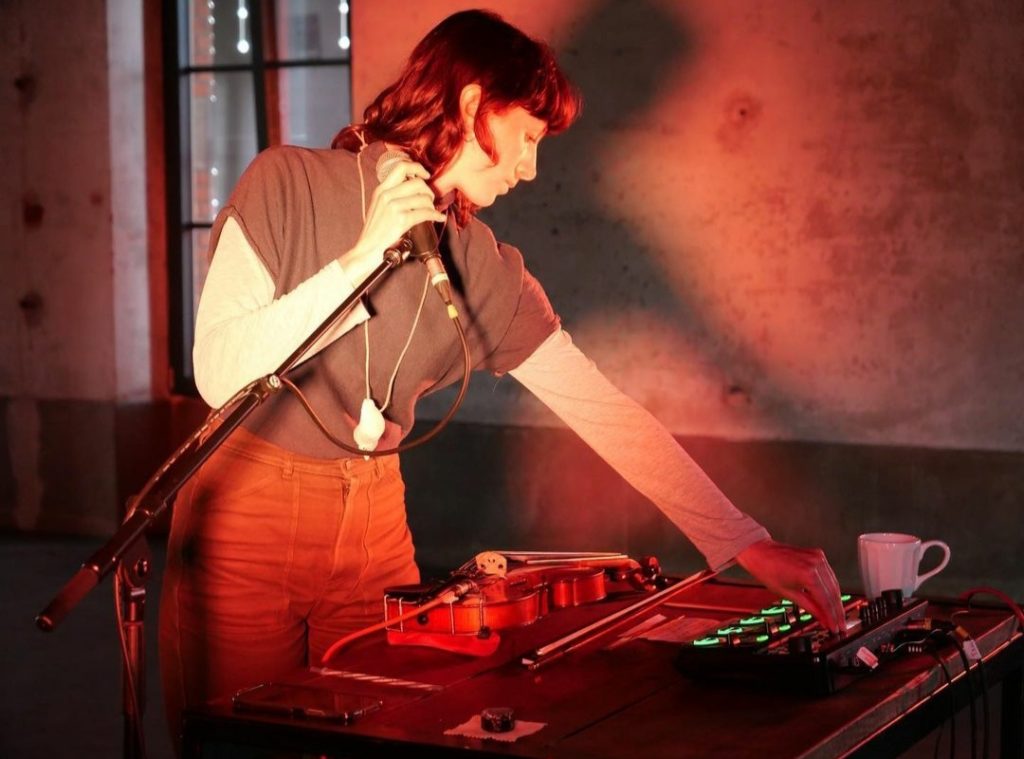 Roxane Métayer was born in France in 1992. She learned to play the violin at a young age, and then continued her studies in Belgium at the Ecole de Recherches Graphiques, where she obtained her master's degree in Speculative Narration, Narratives and Experiments. She continues her practice as a visual artist and musician, based in Brussels. She has released several albums with the labels Primordial Void, Vlek, Kraak, and Morc, and has a number of records planned in the coming year with Marionnet Label, Student of decay, Morc and wabi-sabi tapes, which released her latest album Visage Zyg​è​ne.
You learned violin at a young age, then you studied Speculative Narration, Narratives and Experiments, which sounds intriguing. Can you describe the studies? And can you talk about your journey to arts and music?
It was at l'ERG (the School of Graphic Research) in Brussels, a transdisciplinary and experimental school where I was able to test out such different mediums as animation, video and drawing in a very free way. The specialisation of my area of study was narration. It was there I started to talk about the environment, such as the forest where I grew up. At first, I wanted to do animation, but in the end, I started to film and create soundtracks. That's how I started to do music without using music scores.
You work with different mediums and materials, including beeswax, clay and soap. Your sonic and visual world is inspired by fauna and flora and organic imagery. How do you translate these into your music and art?

I have spent a lot of time walking in the forest, but also observing and listening and then filming and recording. It is a vast territory that I have explored over the years. I feel that now a mental map is imprinted in my sensory memory. When I draw something, I like to summon up organic forms in it. First, I intertwined field recordings from the forest with my own music, but I also played violin in the forest and started to consider it as an instrument of inter-species communication. Then I began to imagine how I could create a dialogue between the fauna and me, so I wanted to play sounds that imitated animal calls, bird and insect songs. This is the case in the piece of music titled "Mille Pics" from the album Éclipse des Ocelles in which I evoke the presence of thousands of woodpeckers thanks to my violin :

Effectively, this process is also present in the materials I use for such projects as "Concrétions des profondeurs". I went in search of beeswax from the beekeeper of my village. Knowing where the bees had foraged brought a new strength to the process. I could imagine their journeys through the forest and create a story with that knowledge in my mind.
And the really good and intoxicating smell of the beeswax probably helped with the perception of these travels.
Can you elaborate on the idea of the fictional fauna and flora that you create? You have a new release on Wasabi Tapes that also touches on some of these topics. What inspired this release, and what themes do you explore in particular?
My projects are composed from elements of reality, such as the organic imagery and sounds of fauna. Starting from what I observe around me, especially in the places where fauna and flora live, I transform it and create a kind of parallel and fictional world close to the one we know. As some insects imitate fauna to disappear and hide themself, it is a mimesis which can bring both similarity and strangeness because it isn't an exact copy of the original.
"Appareils sporophoniques" takes its source from inside the mushroom for its aesthetic aspect but also for its biological mechanisms of sporulation because I wanted to consider the frequencies as mushroom spores, as if the sculptures were born from the sounds that they produce. All this story is also suggested by the title I chose for it. Titles help me to bring this fictional dimension. This is also the case for the album " Visage Zygène" and the others for which I named every track using fauna and flora vocabulary. Every title is a way to name a chapter of a story. Inside each track, something is happening narratively. Albums are narrative frameworks in which the protagonists are animal and vegetal.
How does the evolution and destruction of nature and natural habitats, the fauna and flora, by humans, influence your work?
As the research and documentation for my projects are a way for me to learn about fauna and flora, I started to think about how to share them. The more I know about insects and other species, the more I can link them to myself. It is an opening of the visual field through which you can imagine how others' lives take place on a microscopic scale, on scales other than your own.
I'm now starting to produce new kinds of drawings which contain within them a pedagogical dimension. (Drawing is moreover an incredible way to remember what you've learned.)
I feel it is important to transmit and give this pedagogical and sharing load to my work regarding the destruction of natural habitats and their inhabitants.
This is what I did with the album "Visage Zygène". The title mingles a part of the human body with an insect and this association creates fiction, but I also wanted to talk concretely about the butterfly zygene and make use of the release for that purpose. I wrote a text that brought together all the information I found out about it and made it the main character of the album. Stories are a privileged way to create an awareness of a specific subject.
I have also been thinking about the places where we choose to share knowledge and to sensitise. I try to locate myself in different cultural and social spheres, and I have also started to manage to do this with the music.
Interview by Lucia Udvardyova