Posted on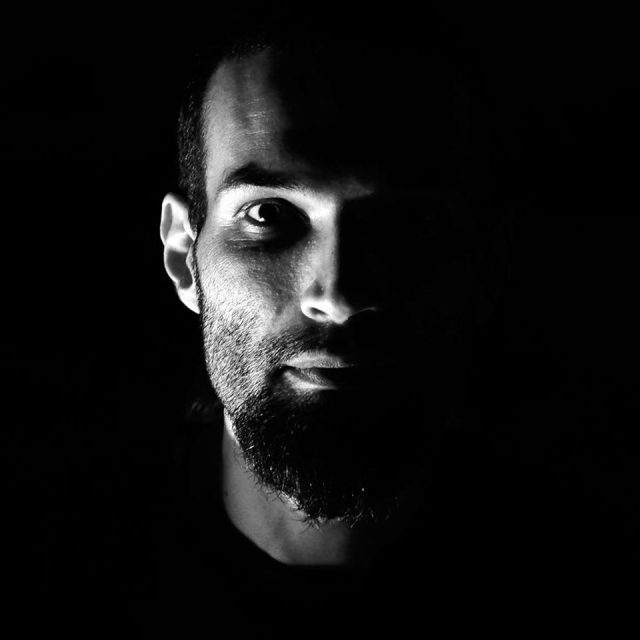 Author: Luka Parežanin
Originally published by Kulturpunkt. All rights reserved, rights to it could not be obtainable.
Date of publishing: 29. May 2022
Jaka Berger and Branimir Štivić are, each in their own way, notable members of the Slovenian and Croatian experimental music and art scene. Berger is undoubtedly one of the most prominent drummers and percussionist-improvisers in the region, with a wide range of activities from contemporary theater to free jazz. Štivić, on the other hand, is a musician, producer and multimedia artist who, in the local context, mainly presented himself with audiovisual and sound works under the stage name Die Zoone. As part of the inaugural edition of the residency program of the ZEZ festival, organized in cooperation with the Slovenian Sonica, Berger and Štivić stayed in Zagreb, where they worked on a joint musical-visual performance. The result of the residency will be presented at the first evening of this year's ZEZ, which will be held on Tuesday, May 31 at KSET, and on this occasion we talked with Berger and Štivić about the experience of cooperation and the work process. The interview is accompanied by an excerpt from the test performance, which was recorded and edited by Lujo Parežanin.
How was the first contact with the space you worked in, its possibilities and limitations? Introduce us a little to the beginning of the process and its course.
Jaka Berger: I'm used to situations where you have to constantly improvise. We both brought everything we had because nobody knows what will happen. We came with a carload of equipment, and then things got cleaned up. We had various ideas, maybe to record this forest environment and work with it, but in the end what you can do happens by itself. With music, things go so that you have an idea, but in the end, the music itself tells what is good and what is not. You can only know what one's doing when you hear it, and then things go through a process of reduction – that's how we worked on this residence. The first thing that delighted us was that neither Branimir nor I had played our instruments since the corona virus. I installed this drum after a year. When we started playing – I played the drums, he played the bass – we had smiles on our faces for the first time in a long time. When you work with a computer and synthesizers, you have to think and calibrate a lot, and then you just press "play" and everything works. It is a different process from playing, where you are present and just disappear. That first day was great.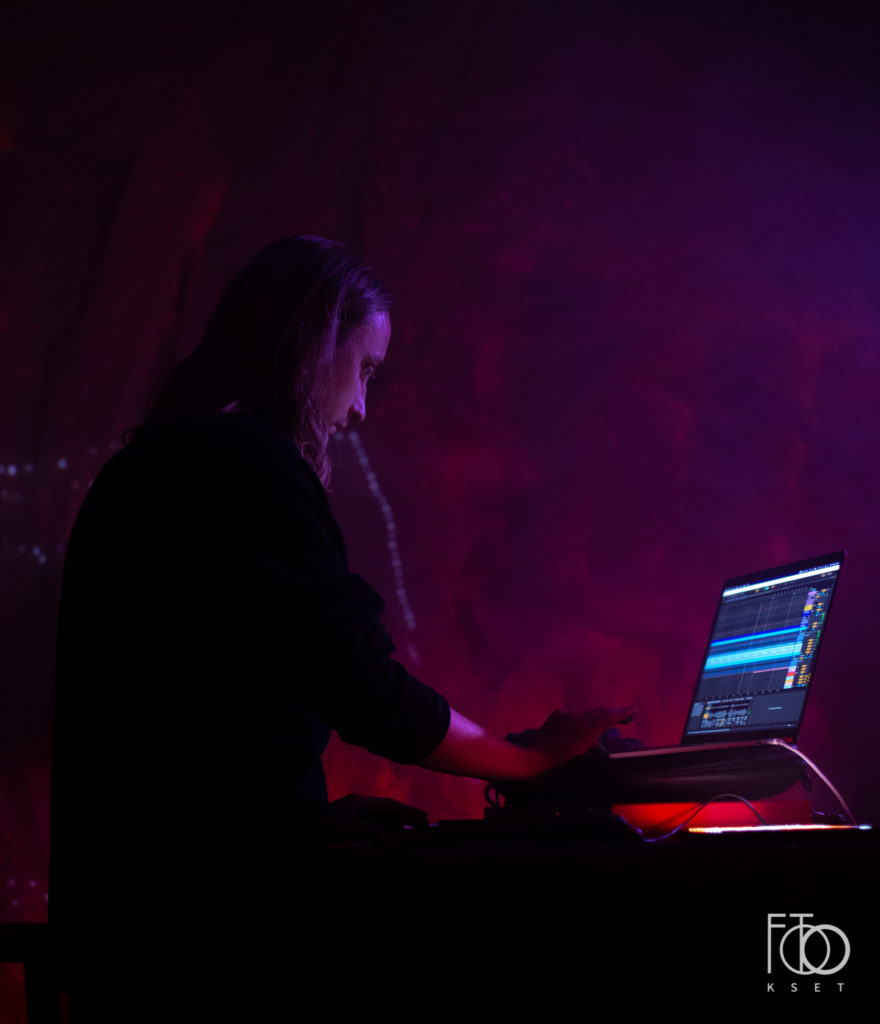 Branimir Štivić: Yes, and the fact that you feel that sound in the space and how it vibrates in it is very important!
I went with the idea that I would work with projections, lighting and video samples and play bass at the same time. Slowly, over time, I realized that it didn't make sense and that I had to reduce things. If I play bass, I'm not in Ableton anymore, I'm not behind the controllers anymore, I can't control everything live.
Jaka: That was the first thing. I have a drum and a synth. The modular synth has become my second instrument, and the drum is my primary one. With me, it is clear what I can do, and Branimir brought a lot of equipment with which he can do various things. First we reduced it, in such a way that in the end, unfortunately, the bass came out. If you make songs, you need time, you need to put together an arrangement, to rehearse it. You can't do that in a week. In the end, the visuals were left for after the residency, when we make the music. Branimir has a lot more work than me. [laughter]
The recycling factor is very important to me. We both deal a lot with recycled materials at home. Branimir has a lot of video clips of traditional music from all over the world, which he puts into loops, which is close to what I do with audio. I have a lot of samplers in the modular synth, from working with that material came the ideas for those two songs in which we play music without just "screwing" the electronics. Recycling is a kind of conductive line that influenced everything that was created here.
At what moments would things most "open up" to you during work? What did you react to the most, in relation to each other, but also to the environment?
Branimir: I think it's great that Jaka is actually a drummer. As I play bass, it is quite important for me that the percussive elements are alive and playing. Somehow we found ourselves there immediately, but also with some traditional and tribal elements that we both love and collect.
Jaka: I play a lot of improvised music and free jazz and some experimental stuff. There are many good musicians I work with, but lately I've been missing arranged music. I also haven't played with a bass player because these bands I play in have a lot of electronics so the basses are on matrix. This interaction, when Branimir played the bass, was really great. But there are also a lot of abstract things in what Branimir does. Let's say, when he works with visuals, he thinks just like I do when I make improvised music. Also, how he does some environmental things, how he hears, what kind of view he has on the world. We also synced well in terms of the relationship between sound and visuals.
Space has a lot to do with what will happen. Let's say, the fact that you are in the city, and not somewhere in the countryside; in the forest, not somewhere in the center – everything has its own sound that you react to differently, and that was an interesting moment for us.
How do you approach the instruments and tools you used here? Jaka, what is interesting to you about the sound possibilities of drums, and how do you use a synth?
Jaka: For me, the drum is an instrument on which I can die. When I sit on that chair and start playing, there is no mindflow, no thoughts – I just am. Some kind of meditation moment. I think it happens to you on all the instruments you need to play. When you make songs or some arranged material, yes, you need to learn, to make some parts and then reproduce that idea. So you play the same piece every time. But, it still happens to me that I get lost in the sound and what I'm playing. Another style for me is that I play a lot of improvised music, where I need to react at that moment. There are a lot of situations – and it was like that with Branimir – that I meet people at a concert that I have just met or that I have watched some of their YouTube videos or heard some of their material before. But that doesn't mean that it will happen at the concert. What is interesting to me is that on the drums, regardless of the fact that I have a given sound, I can be with someone at that moment because I have my own language, a sound that I make and with which I can respond to what the music needs. In terms of improvisation, it's important for me not to think too much, so that kind of absence of mindflow is important to me, that you're like an observer of what's being streamed.
And the modular synth has become a computer replacement for me in the last few years, because the computer is a machine to which you need to say everything, it has no life and will not surprise you in the process. When I started with modular synth, I first wanted to use granular synthesis in real time, because in the last few years in the world of modular synths, they have made modules and samplers that can do granular synthesis in real time. Now I make a sound and I can immediately granulate it. In the last year, as I try to do more live music with the modular, I realized that I'm really a fan of the sampler because with it I can recycle some organic sound like the drum sound. I also interact a lot with the instruments with the modular. This year I have released three records on which I try to introduce it into the context of free improv through samplers. The process itself when I make genre music, if I compare it to a computer where I spend hours and hours clicking with the mouse, here I turn on the machine and in five minutes I have a beat and some material. What I am working on is physically present to me, the buttons and controls, and then I am even more surprised by the devices – at that moment something happens that I did not foresee.
Branimir, what was interesting to you about Jaka's approach to the drum. What is most interesting to you in the interaction of visual and sound?
Branimir: The most interesting thing about Jaka is that the rhythm is created on the spot, that process is instantaneous. In order to find a rhythm on the computer, I have to type it in, I have to have some idea of what it will be. Then it goes into a loop over which I add new layers, but the rhythm remains as it is. If it is not something automated and generative, the computer is straight through. Working with a live person, even if it was on modulars and on some machines, is still a living process. As for sound and video, doing sound on a computer is a necessary evil for me. I decided to work that way because it is available to me at this moment in my life. Somehow, I focused more on programming, on Max, on TouchDesigner and some things that are more on the programming side, than on hardware, but there I can combine video synthesis, some video sampling, which while performing allows me to enter that material and jam with him. With sound, it's more like – now I've produced something, so I'll change the levels a bit, I'll correct the live tape a bit, but with the video I can actually get into it. As part of this residency, I worked with video sequencing, short loops of half a second, one second, two, and actually "playing" the video. That's interesting to me – if I play the sound that's in the video itself, I get an instant link between the picture and the sound. If it is, say, in some found footage material or in a film, it is background sound, but then I can play with it rhythmically and add it to some sound that is created in the space.
How would you, each from your own perspective, describe what you achieved as part of the residency?
Jaka: Exactly what you said, Branimir. Video is to you what music is to me, you disappear when you make a video, in which sound is secondary. The computer becomes a better instrument in your work when it is applied to video. One thing I find fascinating about what Branimir does in this context. Usually it looks like the visuals put the video to the music, and you left the sound on that found footage and started thinking about the video in a musical way, which is a total hybrid. I don't know anyone else who approaches it that way. I think it is important that everything at this workshop happened organically, but also has something to do with music in the traditional sense – we have some dub, some Afro moments, some drones and some ambient moments that are related to the videos that Branimir brought, which again recycled material of "traditional" music. Until your question, we didn't even think about what we were doing. [laughter]
Branimir: I think we'll know what we're doing when we finally do it and when everything settles down a bit. We are still in pieces, somehow I still don't have the big picture.
Jaka: Yes, I think it's a similar process for both music and video, when they ask you what you thought. Well, I thought nothing of it. When you do something like that, you disappear as a person and something good happens. You don't think why it's good. After that, you can philosophize about it – this is now that period and this kind of philosophy, avant-garde or something. But when it happens at that moment, there is no you, there is nothing but sound and image; if it works, it works – if it doesn't, it doesn't. I think we were both quite intuitive in this process, no one had a problem rejecting some material if it didn't work. It's great that we have some sync, we agree on what works and what doesn't; when we both hear and see some material we know if it works. There were no clashes and in that sense it was easy for me to work, spontaneously and without any fuss.
What do residencies like these bring to your work and how do they facilitate or shape the work process?
Branimir: It's great for me that I can separate myself from other projects. Whether it lasts five days, a week or two weeks, I do it and my focus is only on that. Otherwise, I always do several things in parallel, so the quality decreases, this way the focus is greater. This is my first collaborative residency. Sometimes when I'm solo at a residency, I'm in that position that something has to come out, that I have to present something. And then I think – well, I'm alone, if I get stuck, no one will rush in and save me with a new idea. You have limited time and something has to come out, you have to force something.
Jaka: I have such and such experiences. In Slovenia, in the field of improvised music, we have many meetings where there is no audience, no program, nothing. We get together and talk and play. What happens, happens. You have a different focus there because you step away from everyday life, you meet some new people who inspire you. In some other moments, yes, it can also happen the other way around because people disagree in terms of character or ideas. And something comes out of that – maybe it's not the most pleasant experience, but something happens. But you can't know that – when you're with someone you don't know, anything can happen. First, it is important that you behave like a human being and that you try to find a common language in some process. The worst thing is when things get personal – "I want you to play that" or "I want it to be like that". You have to make compromises and try to make something happen in that process. There were a lot of distractions here, the space might not be ideal and if the two of us hadn't clicked, it would have been a nightmare. But nothing was important when we started working, the music and a good connection did its job.
What are the key needs of music and visual artists in your communities?
Branimir: these are certainly spaces for exhibitions and performances. This is something basic – if you have a place to perform and an audience that will appreciate it, of course that will encourage you. Another thing is, of course, money, for production and for life. There is space here, but what if you pass one round in a year or two? You get fed up with it, the audience is the same. It would be nice to be able to go outside and get another perspective.
Jaka: In the context of residences, the most important thing is to meet certain conditions so that you don't have to think about where you will eat, where you will sleep and what will happen. In this context, where we have some organization, some festival, some production, you need a space with the conditions to not worry about other things and to isolate yourself. We have an example where we are in a city with a million inhabitants, there is a scene, but there is not a single space where the two of us can be for a week without distractions. Speaking of which, our music would be completely different if we worked in different conditions, if we had more peace, silence from which something else could emerge. This space is harsh, and so is this music. In this context, the two of us will continue to do something because we agreed on some levels and if we moved this to better conditions, we could take it all further now that we know how broadly we can imagine this. This is not a criticism of this experience, I would rather say that what we have done is a reflection of this space. When we talked about reduction, a lot had to do with this space – with where we could connect to electricity, whether we could have projections, what kind of public address system we could use, etc. We don't need Cankarjev dom – basic, simple conditions are enough.