Posted on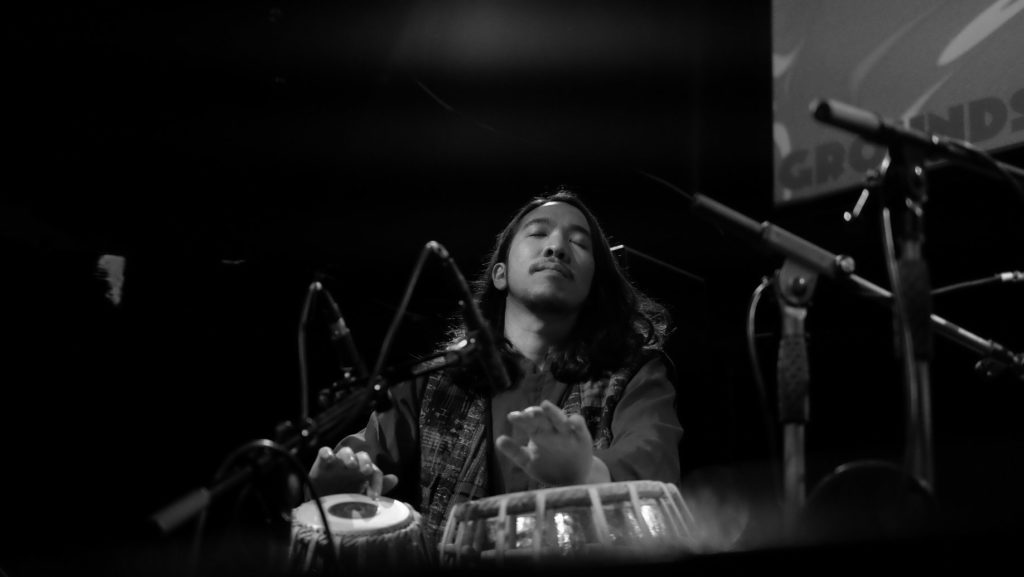 Bintang Manira Manik focuses on various hand percussion and ancient vocal techniques from India and Tuva such as dhrupad and different types of throat singing. His unique choice of sound creates a portal between the past, present and future combining musical chants with acoustic traditional instruments and electronic sound. Besides playing in multiple bands and creating solo projects, he is also actively creating and collaborating at the intersection of theatre, film, dance, performance and visual art.

You started your musical journey early, at the age of nine, by exploring various percussion including djembe, kendang sunda (Indonesian traditional drum), Cuban percussion and cajon. What led you to this? Were you growing up in a musical environment?
Yes, in a way. Both of my parents are transdisciplinary artists who, after several years of working for international exhibitions, were inspired to create a cultural centre called Jendela Ide Indonesia, which focuses on promoting and providing access to art activities for youth. They founded this centre in 1995 and so I jumped in directly from day one to learn many art forms such as ceramics, theatre, dance and also music. This centre was the place where I would go after school to learn about culture and socialise. The exciting part was that they would invite different artists from all around the world to give workshops. For example, when I was nine, I was able to join in a master class held by Mamadou Diabate, a djembe and balafon maestro from Burkina Faso. These experiences truly widened my horizon. Since then I started my journey of music, especially diving deep into the ocean of percussion and collecting traditional musical elements from around the world. 
You then also completed three years of studying tabla and dhrupad singing at Shriram Bharatiya Kala Kendra, New Delhi, India in 2016 and completed your Bachelor of Music focused on Indian Music at World Music Department of Codarts, Rotterdam in 2021. How do you view the institutional educational aspect of learning traditional & roots music?
Firstly, traditional instruments offer me a medium to learn about and explore the different aspects of their culture of origin. My drive to learn various traditional music and instruments has been rooted in my fascination for uncovering the richness of culture.
That said, if you're focused on mastering the ins and outs of traditional/roots music, there are many ways to do it. Institutional education is one of the relevant pathways that have shaped me, but it is good to mention that they can only convey the soul of traditional art to a limited extent. To delve deeper, I believe that at some point you have to connect with the core source and the original context in which this music has evolved.
Yet during my journey, educational institutions did play an important role in giving me access to traditional music with focus and structure. When I was living in India for three years to study tabla, I knew that institutional education of traditional music was part of India's systems. It is classical music for their country, so it is the same like learning cello or violin in Europe. Of course the approach is not the same as the western way of learning instruments, since they have various methods of learning the music, for example learning based on oral tradition such as living and learning at your teacher's house (method of Guru Shishya Parampara). These approaches indeed are part of their institutional learning process.
After I had absorbed the fundamentals of tabla and dhrupad singing in India, I continued to study at Codarts in Rotterdam to refine my own artistic viewpoint and creative approach. Over a period of four years I focused on translating my acquired traditional skills into a more experimental workflow and ultimately creating my own signature sound. Hereby Codarts, as a conservatory, provided me with the right structure, balance and network to grow as an individual artist. It really became a platform for me to experiment with and deepen my knowledge of traditional music.
Subsequently, both academic experiences have had their own long lasting effect on my development. But I think the most important step for me is always to learn traditional & roots music first handedly from the source, within its original context.
How to approach traditional music with respect to its roots and people playing it? How not to appropriate and rather, build new connections and interaction with this music?
As I've just emphasised, I believe that connecting to the musical source of a traditional instrument is crucial. Especially when incorporating it into my experimental creations. By truly immersing yourself in its context, you will understand its core and looking at the larger picture serves as a source of great inspiration to me. Traditional music usually reflects the lives, natural surroundings and mentality of the people. Through learning their rhythms, I also learn about the soundscape of one place, its dynamics and dances, the daily routines, tastes and smell and perspectives on life. I don't just learn their music, I want to build a relationship with the people and places treasuring it. Hence my drive to learn various traditional music and instruments has been rooted in my fascination for the richness within their culture. 
That is also what brought me to learn tabla. Besides my curiosity about the complexity of the rhythm, the way of playing and the whole musical structure behind it, I was eager to understand how compositions are preserved and passed on from generations to generations by oral tradition. And I started observing how the soundscapes of India are reflected inside the rhythm and sounds of tabla itself. All this inspires me when I create new music and I apply it to ideas or methods of composing. For example, I've been using the structure of Indian classical music in my improvisation electronic set, wherein there are three movements (Alaap, Jor, Jhala) that establish the flow of my performance.
There are many ways to properly incorporate traditional elements into experimental music, but one thing that I always do is by learning and truly immersing myself in the culture of one tradition and applying it on the ideas or methods of composing. Because at the end these traditional elements can be the core of your experimentation. This approach has given me a way to treat and interact with the instruments, the music, the people and their larger culture as such with respect. 
You are also the International Network Coordinator for Jendela Ide Indonesia, a cultural foundation that is based in Bandung, Indonesia. Can you talk about your role and the organisation as such?
Jendela Ide Indonesia is an inclusive cultural institution that focuses on providing access to diverse audiences to participate in art and cultural activities. This cultural institution was initiated by my parents, Marintan Sirait and Andar Manik, in 1995. Since then, Jendela Ide has been contributing to the development of the art scene, creating a community and art network in Bandung, and wider West Java. It really started as an after-school activity for many kids to create art and developed into hosting festivals, international artist residencies and facilitating several programs for the Cultural Minister of Indonesia, such as documenting and preserving traditional knowledge around West Java and more.
I started contributing to the foundation by creating musical programmes, teaching kids with special needs, and planning cultural events during my youth. Now, a couple of years later, as the International Network Coordinator, I'm building the network around the places I live and travel to see possibilities of art and culture collaboration between countries. We have been doing several art residencies and workshops with artists from different Indonesian islands, India, Australia and Japan. The network itself is still expanding and we are aiming to create annual events for art residencies, performances and festivals.
See more here.
How important is the notion of decolonisation in your work? 

I mostly work on the notion of humanity, ancient knowledge and expansion of traditional music. Decolonisation is a part of humanity's point of view in my work. Especially when I work in a place like the Netherlands. I realised that in the Netherlands it is quite a one-sided story when they talk about their own colonisation past. This situation and the lack of awareness raise the urge in me to create projects that bring up the topic of decolonisation – always with the aim of strengthening equal understanding and mutual respect between humans. I mostly approach decolonisation projects through a creative process that is inspired from ancient knowledge such as rituals from many traditions around Indonesia. I do believe that music, also in combination with other art forms, does have the power to initiate collective healing without the need to name or frame it as such. And I feel that combining traditional instruments with a modern, experimental touch to it really helps in putting decolonisation into a new spotlight, a less rationalised way of dealing with the past and building a bridge into the present mindset.
Interview Lucia Udvardyova