Posted on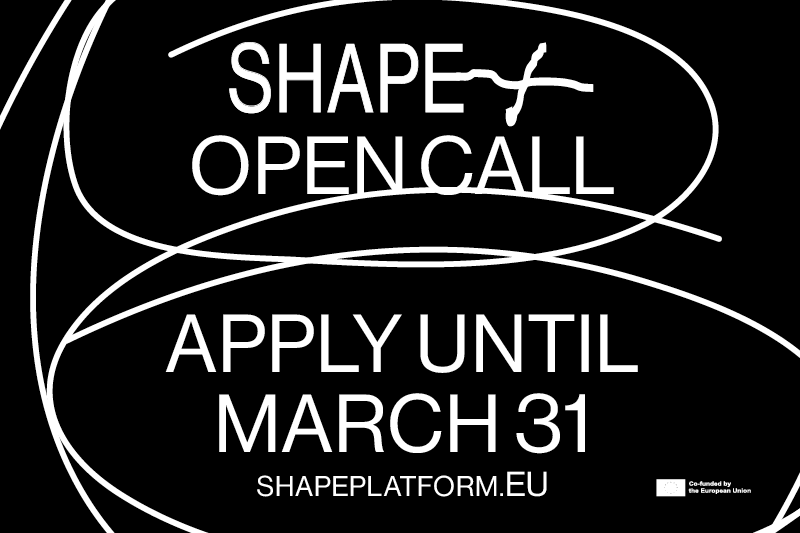 SHAPE+ platform for innovative music and audiovisual art, co-funded by the European Union, announces a new open call for artist submissions for its next working period: July 15, 2023 – July 14, 2024
SHAPE+ aims to foster exceptional emerging talent, connecting them to local communities and audiences through collaborative residencies with multiple artistic outcomes, commissioned artworks, as well as one-off presentations and performances. Combining an open call and a curatorial selection, the participating festivals and venues will select a roster of artists to support each year.
The artists chosen for SHAPE+ must be willing to choose greener forms of travel when such choice is possible, and are expected to participate either in residencies that include artistic collaboration or one-off performances and presentations as well as publicity activities, educational events and artist meet-ups.
Artists can see more detailed eligibility criteria in the application form.
Deadline: March 31, 2023 23:59 CET
Apply here.
During its second year, the platform will welcome two new member organizations, expanding its list of partner festivals and venues to 15.
So far, the members are:
MeetFactory, Prague, CZ
Construction Festival/Kultura Medialna, Dnipro, UA
CTM Festival/Disk, Berlin, DE
INTONAL/INKONST, Malmö, SE
Les Siestes Électroniques/Association Rotation, Toulouse, FR
musikprotokoll/Österreichischer Rundfunk, Graz, AT
Rokolectiv Festival/Asociatia Rokolectiv, Bucharest, RO
schiev/Productions Associées asbl, Brussels, BE
Skanu Mežs, Riga, LV
SONICA Festival/Museum of Transitory Art, Ljubljana, SI
Terraforma/Threes Productions, Milan, IT
UH Fest/Ultrasound Foundation, Budapest, HU
Unsound/Fundacja Tone, Krakow, PL
Support for Ukraine
With the war in Ukraine having passed a one-year mark very recently, SHAPE+ would like to encourage its partners and audience to resist becoming jaded by news about Russia's invasion of this sovereign country – our help and support is needed as strongly as ever.

See this resource, prepared by the European Commission to find out how you can donate and help.