Posted on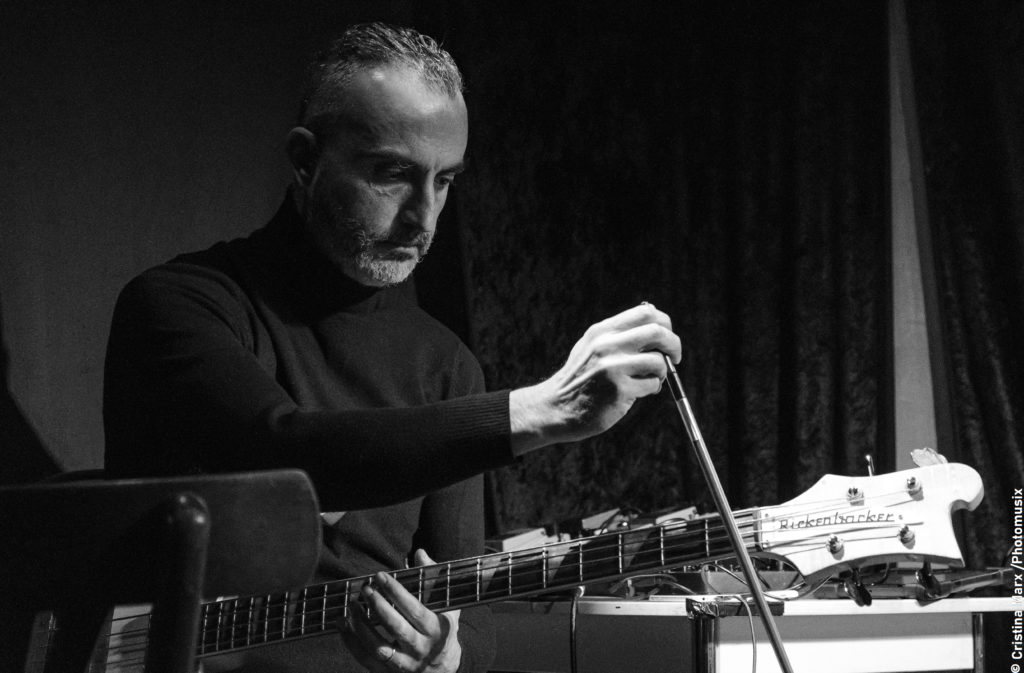 Tony Elieh is one of the pioneers of rock and experimental music in Lebanon. A founding member of the first post-rock group in post-war Lebanon, Scrambled Eggs, he has since developed his unique electric bass skills in various groups and styles of music, including collaborating with groups such as Karkhana, Calamita and Wormholes Electric. In recent years, he has performed a solo set of heavily processed bass-generated sounds.
You're one of the pioneers of rock and experimental music in Lebanon. Can you talk about how the scene was when you got involved in it and how it developed, and also about the backdrop of socio-political changes?
I started playing Music in 1996, that's six years after the civil war ended in Lebanon. At that time, there was almost no scene of any musical genre, except traditional music and some heavy metal and rock cover bands.
During 94 and 95, small projects started to emerge, especially in connection with grunge and the alternative rock wave.
It was then that Generation X started organising concerts. Initially, they were a cover band, then they gave their name to the group who started arranging gigs with other bands from the heavy metal, hardcore and grunge scenes, some of which composed their own materials while others covered the big bands of that era, or those from the seventies and eighties.
The events were held in a deserted church in the city centre of old Beirut, which was completely destroyed due to its location on the line that separated east and west Beirut back then.
After that, scenes started to develop with bands like Soap Kills (trip hop), Scrambled Eggs (post-punk and free rock), A Trio (free improvisation), 3akess el Sayer (hip hop), Tarek Atoui and Jawad Nawfal (electronics) and other projects that were founded and then disappeared, or transformed into other projects.
Labels also started to appear, like Al Maslakh, Rupturedand Al Nihaya.
The Irtijal Festival for experimental and free improv music also started in 2000.
And since then, things have started to come together, especially with the emergence of art centres such as BAC (Beirut Art Center), which collaborated a lot with the music scenes in organising events, and more musicians and styles started to emerge, making Beirut one of the most diverse cities in the region in terms of alternative music and contemporary art.
You are also a founding member of the first post-rock group in post-war Lebanon, Scrambled Eggs. What is the importance of this project for you personally?
In 1996 we started our first band, Scrambled Eggs, and we used to cover bands such as Nirvana and Smashing Pumpkins; soon after, we started composing our own material, which was inspired by grunge and alternative rock, and over time, the band started to shift its genre to more experimental and punk.
The first release was in 2002, and we ended up releasing ten albums, two of them were soundtracks for two Lebanese movies, A Perfect Day, which was awarded the best soundtrack at the Festival des Trois Continents, Nantes France, and Je Veux Voir. The band also composed music for other movies by Nadime Tabet, Laila Hotait Salas and Daniel Arbid.
Scrambled Eggs was very important for my career as a musician as we toured a lot in Europe, the USA and Canada. We also collaborated a lot with other musicians, locally and internationally, which shaped me into the musician I am today. Now I take part in various projects in various genres. I also have my solo projects where I compose for a number of varied performances such as dance, movies and installations. My latest was a composition for the Neues Vocalisten Stuttgart.
Do you follow the music scene of Lebanon? There's the Irtijal festival, but could you perhaps give us a short overview of the current state of the country's experimental music scene?

Even though I have been based in Berlin since 2021, I still consider myself part of the Lebanese scene and I am still working on projects with musicians from Beirut and also perform there.
My last performance there was last year during the Irtijal Festival in April 2022. I presented my new Solo (Sighs), which is going to be released this year by Al Maslakh Records.
The past three years have been devastating in Lebanon, starting with the economic crisis, followed by the covid pandemic and then the 4th of August explosion…this left everyone hopeless and in despair…those were heart-breaking times… but luckily enough, and due to the stubbornness of musicians, organisers, venues and labels, things started to move again – of course, not in the best way but at least everyone is trying. The Irtijal festival did not miss a single edition during that period, likewise another local festival called Beirut and Beyond; they were both able to keep going.
Venues and Clubs are organising concerts again after the renovations following the explosion.
The experimental scene in Beirut is so diverse and big, considering how small the city is and the lack of funding and support, and the scene has been able to prove itself regionally and internationally.
I will share with you the names of artists, labels and design studios which are active on the Lebanese scene so you can check them out and maybe get in contact with them for future collaborations.
Musicians:
Sharif Sehnaoui, Mazen Kerbaj, Raed Yassine, Aya Metwali, Nadia Daou, Lise Tabet, Youmna Saba, Fadi Tabbal, Julia Sabra, Anthony Sahyoun, Jad Atoui, Ziad Moukarzzel, Jawad Nawfal, Paed Conca, Sandy Chamoun, Abed Kobeissi, Ali Hout, Liliane Chlela, Rabih Beani, Radwan Moumneh, Charbel Haber, Marc Codsi, Akram Hajj, Sary Moussa, Kid Fourteen and many more that might have slipped my mind, but of course, you'll get to them through the other musicians I mentioned above.
All these musicians have projects together and solos.
Labels:
Al Maslakh
Ruptured
Al Nihaya
Design Studios:
Mazen Kerbaj
Studio Safar
Festivals:
Irtijal
Beirut & Beyond
Clubs and Venues:
Frequent Defect (Club)
Ballroom Blitz (Club)
Grand Factory (Club)
Metro al Madina (Venue)
Riwaq Beirut (Venue)
Anis (Bar)
Beirut Art Center (Art Space)
Besides music, you are also active as a photographer, working in the fields of fashion, documentary, architecture, and food. Both skills are self-taught. What fascinates you about photography, and do you perceive any parallels between your visual and your sonic work?
I would first like to explain how I got introduced to photography.
I graduated with a marketing degree, and I worked in this field for almost 10 years, but in 2006, I decided to quit my job and pursue my musical career, despite the fact that making a living from music in Beirut is almost impossible as an experimental musician. Since I was a kid, I had as much interest in visuals as I had in music, but music was always the thing that I wanted to do the most. But I also remember that visuals used to intrigue me and I had a photographic memory, so it was easier for me to learn and memorise the things I saw.
So in a certain period, I started to attend workshops and read about photography until I got my first camera and, bit by bit, I started taking photos and posting them online. Jobs started to exist for me and I was then able to develop myself as a photographer, working with magazines, design studios, chefs, architects and fashion designers.
I didn't practice photography in its complete artistic aspect even though I had two exhibitions. All I wanted from it was for it to be my cash cow so I would still be able to live as a musician and not go back to my old job.
I do have an artistic view in photography and I have big projects I have not yet realised; there have been only a few opportunities to work on them. And since I moved to Berlin, I have been mostly concentrating on my music and how to be more integrated in the scene here. Now, after having had two fruitful years here, I can start thinking of projects and especially how to perceive the two practices together.
You have several music projects and collaborations, shifting from punk rock and pop rock to improv, jazz and experimental music. How do you do the shifting between genres and styles and collaborations?
As a young musician, I was always open to other genres, even if sometimes it took me more time to accept them, I would push myself to do so, and try to hear the music with an open mind. That's what actually happened to me with free improvisation and free jazz. I still remember the first performances in the Irtijal Festival, which I really didn't used to like at all 🙂 and even found it annoying at times. I also remember Mazen Kerbaj's solo performance at an event organised by la CD Theque with a bunch of artists from the Lebanese scene; it was in 2001 in a club called Strange Fruit, Mazen was playing his solo before Scrambled Eggs performed and I really wanted to punch him in the face since he almost drove the entire audience out of the venue :)) but of course I didn't, and Mazen is now not only my best friend, he is also one of the musicians that I really admire and respect. I am very influenced by his work and we ended up collaborating on many great projects, such as Karkhana, Johnny Kafta Anti-Vegetarian Orchestra, Wormwholes Electric, and lately in Berlin, we have a new duo, Junx, and a trio with Maurice Louca, Dog Plug.
I always remember that day and talk about it to explain that sometimes things need more time to materialise than others, and pushing myself and not succumbing to the idea that this genre is not good or that genre is bullshit and rather trying to find what's interesting about this music and what attracts people to it and trying to apply it in my own language is important.
The first gig that actually changed my mind about this music and made me understand it was Michael Zerang and Axel Dorner in Beirut during the Irtijal Festival, and since then, I started gradually to immerse myself in this music and in that scene in Lebanon that was presented by Sharif Sehnaoui, Mazen Kerbaj Raed Yassine. After that, Scrambled Eggs started to shift more and more towards experimental rock and this shift is noticeable in the two albums of 2004, No Special Date Nor A Deity To Venerate and Nevermind Where Just Drive. That led the band to more collaborations with musicians from outside the rock scene, and two albums were released in 2004 due to these collaborations (Scrambled Eggs and Friends) and (Scrambled Eggs & A Trio). The collaboration with A Trio also led to a merge project between the two bands under the name Johnny Kafta Anti-Vegetarian Orchestra.
You can find all these projects on my website www.tonyelieh.com.
And yes, since then I started to move between genres, and more collaborations and different projects were born, and this is ongoing here in Berlin. Since I moved here, I have been able to develop many projects with different musicians from the free improv and electronic scene.
What are you currently occupied with?
Since I moved to Berlin as part of an Adk fellowship within the Berliner Senate stipend "Weltoffenes Berlin", I started developing projects and founding new ensembles. I was lucky enough to get myself integrated very well, especially because I had visited the city many times before and collaborated with many of its musicians, both in Beirut during the Irtijal festival and in Berlin. And the city in itself was somehow smooth and easy, and of course things also felt easier with the help of the many friends and musicians who supported me and my family in our journey in Berlin.
The first performance was with Tony Buck at the Akademie der Kunste, after which we started developing our duo (Spirit Weather).
The second performance was at Au Topsy Pohl where I was invited by Mazen Kerbaj to play with Sawt Out in their first electronic live performance, and after that we had a recording session together, which materialised recently in the album Machine Learning, which was released on Bocian Records. I also took part in Raed Yassin's Phantom Orchestra and Rabih Beani's Instrument Project. In addition, due to my residency at the Akademie Der Kunste, I had access to their electronic studios, where I had many recording sessions with many musicians, some of which turned into permanent projects such as:
Hiccup:
A quartet with JD Zazie, Matthias Koole and Marina Cyrino
Zone Null:
A duo with Burkhard Beins
Spirit Weather:
A duo with Tony Buck
The Most Unusual Thing:
A trio with Sara Persico and Niko De Paula Lefort
Junx:
A duo with Mazen Kerbaj
Dog Plug:
A trio with Maurice Louca and Mazen Kerbaj
Also other projects like:
A trio with Ute Wassermann and Emilio Gordoa
A quartet with Maurice Louca, Tony Buck and Frank Gratkowski
A duo with Michael Thieke
A trio with Sofia Borges and Christian Kuehn
I also got the chance to get a Musikfond for my duo with Aya Metwali (Los Panteros) and we recorded for five days and performed two gigs at Morphine Raum. Now we are in the process of finding a label to release our first album.
I also worked on a new project called Inland with Frédéric D. Oberland, Gregory Dargent and Wassim Halal.
In 2022, I was more concentrated on creating, touring, forming, and recording. This year, I will concentrate on releasing some of these projects and touring with them.
Future releases:
My new solo Sighs on Al Maslakh, 2023
Calamita with Aya Metwali on Zehra,2023
Zone Null on Bocian, 2023
Finally, I want to thank SHAPE+ Platform for having me as one of the artists for their 2022/2023 edition. Through them, I got the chance to perform at two great festivals: Skanu Mezs, where I performed my new solo along with other great musicians in a wonderful setup at a church in Latvia, and Sonica Festival in Ljubljana, where I had the chance to enjoy a one-week residency and perform with two wonderful artists, Jaka Berger (percussionist and analogue synth) and Branimir Stivic (visual artist). We were able to compose an audio-visual piece for the festival and we are looking forward to maintaining this collaboration in the future, which we have called E2E.
And I also had the chance to meet other new artists at the Prague meeting and exchange thoughts and ideas.
You can follow me on Soundcloud
Interview: Lucia Udvardyova