Posted on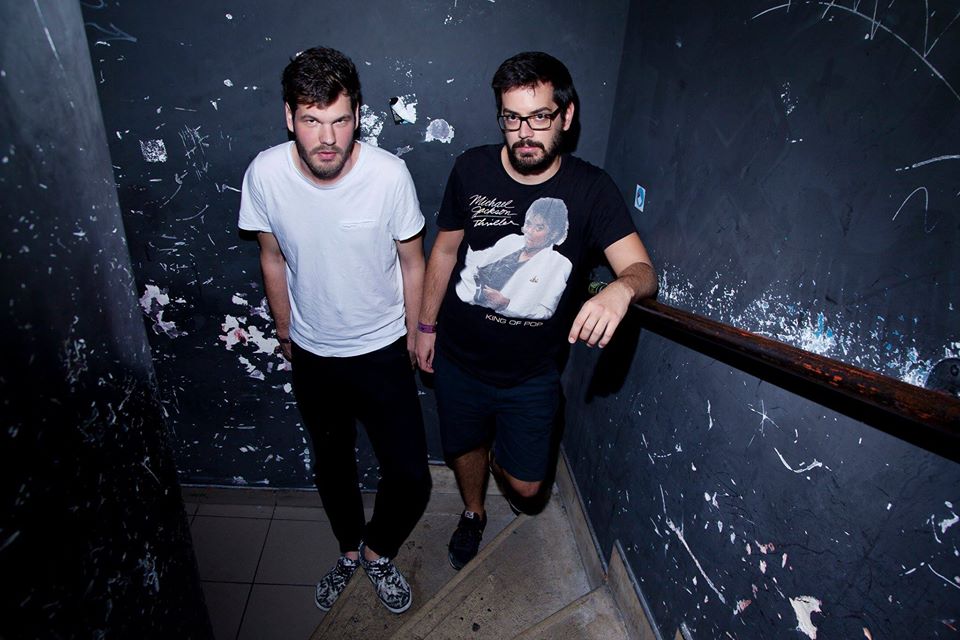 SILF (Synths I'd Like to F*ck) is a Hungarian electronic music group. The two members, Bálint Zalkai (aka Alpár) and Martin Mikolai (aka S Olbricht), have been running the Hungarian label called Farbwechsel since 2012 and have become a staple of not only local, but also international underground through their numerous solo releases on labels such as Opal Tapes, Lobster Theremin and SicSic Tapes. Their preferred tools of expression are analogue instruments, from which they extract sophisticated dancefloor friendly electronics. They released their first, self-titled, EP on Farbwechsel in 2013. SILF were nominated for SHAPE by UH FEST, where they are set to perform in September 2015.
Can you talk about how SILF was born?
Bálint Zalkai: SILF was born in 2011, when I got my first synths and drum machines. Martin [Mikolai] came over once and we started to jam. The direction at that time was completely different, it was mostly techno like noise. Then as time passed, and we also became more confident in handling the gear, the results became cleaner and the sound of SILF developed. The name came from this typical last minute stress before the first concert, when you have to think of a name that will then stick around. So it became SILF, Synths I'd Like to F*ck.
You both have solo projects, how is SILF different to how you work alone and how does the aesthetic of all of your individual and mutual projects influence each other?
BZ: We both brought our solo project's mentality, but the results do not resemble either of them. In Olbricht's music, there are lot of percussive elements, Martin really has a thing for drums. There's an idiosyncratic character that's hard to describe to his whole work. Once, someone sent in a Ste Pwri Tmod track, with a question, whether it was SILF. It wasn't SILF, and it wasn't even 4/4, but it was undeniable, that Martin is playing the drums on there. In his solo work, he's much more abstract, offbeat, a little of which is also transferred onto his other projects, he builds a really strong groove as a base in general.
When it comes to Alpár, there are no drums at all. Since I got a modular synth, a few rhythm based elements have appeared in the music, but these are more like accidental filter modulations, not programmed drums. Until now, the Alpár setup has continuously changed and differed from the SILF one. Now, however, the gear I'm using in both projects is more or less the same. The DIY modular scene is really active, they have been doing really great modules in the last couple of years. My rack is 70 percent DIY, and everything is built from there. It is a really unique instrument, and I'm trying it out in all respects. Although I'm using it in a different way in each project, I'm curious, in longterm, about the parallels in sound between each.

Is the fact that you make music on analogue hardware important?
BZ: This is a question of process rather than results. It is possible to make music with anything, you don't need 60 types of instruments.  The good thing is, rather, that most of the instruments are limited, but they have their own character. When you are trying to use it to the maximum, you can arrive at really nice results. It's much more fun to make music like this than with a computer. We are really lucky to have met Zoli Balla. We can try out any instrument we've dreamt of at his place [Ballacid studio in Budapest's outskirts]. But you need some limitations though, because the more stuff you are surrounded with, the more lost you can feel.
What is the importance of the Ballacid studio for SILF and the producers in Budapest?

BZ: Ballacid is our friend Zoli Balla, and he's become an institution here in Budapest. He's been collecting musical instruments and records. If you look at the Ballacid youtube channel, you will realise that the guy is a little crazy, but in the best sense of the word. He loves this milieu of vintage instruments, and that's why he started to collect them. He also likes to share them with others, a lot of people go to record a few tracks or borrow gear there. There are musicians, whom we met at his place for the first time, such as Eril Fjord. Things simply happen at this 8th floor block apartment in Ujpest. We can talk about our gear obsessions sincerely as if we were in a synthaholic anonymous group (laughs).
Can you talk about the actual music making in SILF? Does it mainly revolve around the live recordings? What are your roles in SILF, who does what?
BZ: We start to jam, Martin makes a hypnotic groove and I do some psyched synths. If we like the results, we record them all into one stereo track. We sit for ages next to each other, without talking, we are pressing and tweaking everything, looking for cables, and then suddenly, one of us starts to talk and says something like 'This is really good, we should record it'. We don't mess around a lot, there is a threshold for mistakes after which we repeat the recording because the mishaps are really annoying, but it is not very common. Luckily, our brains work the same way, so we don't react to each other, but rather we just do things simultaneously. From this, a very good flow has developed, which can be only sourced from these jams. It's not possible to premeditate it.
What are your plans with SILF?
BZ: What is certain is that there will be a Farbwechsel EP. We also have lots of recordings, which are waiting to be released. Apart from this, we are also playing a lot of live shows. We've managed to diversify the setup and sound. Before, we made things harder for ourselves. When, for instance, we'd put 32 sounds into the sequencer of a SH-101, it's likely it would get fucked up somewhere between 25 and 32, and up until then, most of the time, only the kick drum would work which can be boring. So it's good to let go of these romantic ideas and simplify the process. But this is evolution, no?
Farbwechsel has become a flagship for the fledgling Budapest electronic scene,  championing many increasingly successful producers from the start (eg. Imre Kiss, Norwell, Route 8, etc).

BZ: We started Farbwechsel in 2012. After the pointless demo submissions and because of the increasingly active Budapest scene, we decided that we have to do something. Once, Olbricht said, that he couldn't find a label for his album The Last Act of Dorothy Stratten, and this was the final straw that made us decide to start it. We were very lucky that our graphic designer Daniel Jani also liked this idea, especially that he would have a free hand when it comes to the visuals. It wouldn't be such a label without him and he also became a really good friend. We have a really good relationship with everyone with whom we've ever worked with. We have become very tight friends, we meet regularly, jam together. I think the Budapest scene is really happening now, people push each other, everyone's music has developed a lot in the last one or two years. There's Aiwa, for instance, who will soon release his second Farbwechsel album. It is great that everyone is working on their stuff. From the standpoint of the label, we are happy, that we were finally able to release this great music on vinyl. When it comes to short term plans, one of them is to publish music of the artists who have already released something with us – (Aiwa, Imre Kiss, Route 8, SILF) – and also, of course, others, but we'd like to define the basis of the label through its stable roster.

Interview: Lucia Udvardyova
Photo: Eva Szombat