Posted on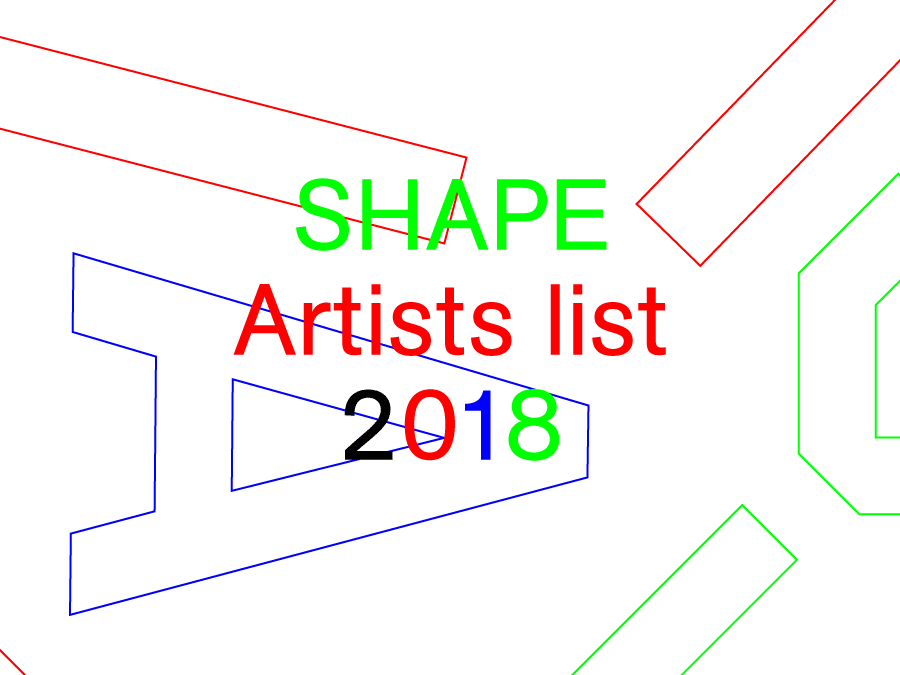 The Creative Europe-supported SHAPE platform for innovative music and audiovisual art is announcing its 2018 list of artists. The artist selection for the platform's fourth year traditionally places a number of audiovisual projects and sound artists alongside musical acts that range from post-grime and techno to free improvisation and acousmatic music. SHAPE is also happy to say that its 2018 roster is 50% women and 50% men.
The fourth year also launches the second phase of SHAPE – initially intended as a three-year project, it has now been prolonged until 2021 thanks to the support of the "Creative Europe" programme of the European Union, and some changes will be introduced into the mechanism of the platform.
The platform is run by a union of 16 European festivals, including Insomnia, Maintenant Unsound and CTM.
New elements in SHAPE, phase 2
As the "Creative Europe" has prolonged SHAPE for a second phase – four more years until 2021, the platform also gained a chance to introduce some new elements in the way it works, including the artist presentations and the educational events.
As of 2018, SHAPE's artistic presentations will have a wider geographical reach – in addition to the SHAPE member festivals in 16 cities and 12 countries (see full list at the end of this document), associate partner events will be picked by each festival individually, covering European cities and countries that are not represented among the 16 core member festivals. Each SHAPE festival will present at least one artist or musician at its associate partner event, thus solidifying a wider network within European adventurous music events and visibly increasing the number of SHAPE showcases per year.
The structure of SHAPE's educational events has changed as well – two open educational events will be organized for attendants of each SHAPE festival, while the educational activities for SHAPE artists have become centralized; two two-part events will be organized annually to bring together all SHAPE artists of the respective year. In addition to engaging them with topical workshops or lectures, these occasions will serve as opportunities for them to network, exchange ideas and initiate collaborations.
The roster
The fourth year's roster of SHAPE continues to demonstrate a kind of eclecticism that is clearly an outcome of all the 16 diverse festivals selecting artists and projects together – you may find Tunisian-born producer Deena Abdelwahed, whose sound stands at the crossroads of Pan-Arab traditional, bass ambient and techno music, sharing the stage with the 16-bit sound and videogame soundtrack-influenced dance music producer Yamaneko, or composer/audiovisual artist Kathy Hinde brushing shoulders with Lifecutter – a Slovenian experimental rhythmic music producer, experienced in hardcore punk and pleased with distortion as well as sonic clarity that characterized the IDM of the 90s – and experimental singer-songwriter Umbra from Serbia.
A deliberate desire to detect streams of fresh ideas and unexpected influences beyond genre categories has influenced the choices of SHAPE's curators. Interesting musical collisions and fusions are encouraged: Èlg, the self-styled "epileptic bard", fuses the worlds of Musique Concrète and songwriting, whereas the project Sourdure creates "odd melange of Occitan folk and lo-fi experimental techno" (quoting The Quietus). The British-Polish duo NAKED, known for their EP "Total Power Exchange" on Rabit's Halcyon Veil imprint, create BDSM-inspired power electronics and transgressive industrial dance, whilst inviting listeners not to think of their music in genre categories. The somewhat surprising collaboration between Adam Gołębiewski, an improvising percussionist, and Robert Piernikowski, an alternative hip-hop producer and rapper, further accentuates SHAPE's search for new sounds in territories where seemingly incompatible musical influences clash and merge.
Less explored musical scenes are represented: the presence of Latvian experimental rock and metal group Tesa gives a flavor of Riga, Latvia's strong heavy music underground, while RED Trio is probably the most critically acclaimed free improvisation ensemble from Portugal – a country that's lately become one of Europe's most vital areas for this kind of music. The musical underground of Budapest is represented by post-grime project Alley Catss and sound poet Kinga Tóth whose intense performances, accompanied by looped noise and somewhat industrial rhythms, show her dadaist roots and love for German avant-garde literature. Nkisi and Bonaventure are two EU-based producers and DJs, associated with NON (Nkisi is co-founder), a collective of African artists, and of the diaspora, using sound as their primary media, to articulate "the visible and invisible structures that create binaries in society, and in turn distribute power".
As in previous years, links to prestigious labels can be observed: producers of dark rhythmic music JASSS and December are related to the coldwave-oriented Mannequin Records, with the former having her debut album released by iDEAL and the latter also having been published by Blackest Ever Black. Jung An Tagen is one of the recently emergent names to be published by the legendary Austrian label Editions Mego, and Chinese-born, Berlin-based performance artist and musician Pan Daijing released her debut album on PAN in 2017. Bérangère Maximin, a French composer of electro-acoustic music can boast releases on such influential labels of avant-garde music as the Brussels-based Sub Rosa and John Zorn's Tzadik. Italian analog synth composer Caterina Barbieri found home for first full-length album on the American label Important Records, known for picking contemporary and innovative takes on acoustic and electronic minimalism. Also, Budapest's Gosheven teamed up with the UK-based label Opal Tapes to publish his debut album "Leaper", which The Wire magazine describes as "blurring boundaries between instruments, voices and gender roles".
Speaking of The Wire – this partner magazine of SHAPE recently published its list of top 50 releases of 2017, and SHAPE artists Pan Daijing, Gosheven and Caterina Barbieri are featured in it.
Continuing the path started in 2017, the new artist list of SHAPE puts a large emphasis also on seeking out interesting DJs – this year SHAPE welcomes Poland's DJ Morgiana, who complements her sets with performative elements, vocal experiments and passages on her prepared zither, OKO DJ, the head of web-based radio station LYL, whose sets span from EBM and italo disco to metal and unclassifiable ambient music, Vladimir Ivkovic, a renowned resident of Düsseldorf's Salon des Amateurs, Berlin's Sarah Farina, whose sets travel through footwork, UK funky and R'n'B, Dresden's Sinosc, who plays post-club sounds and noise, Catalan DJ Tutu, who plays everything from bass house to cosmic trance, abstract grime and schizophrenic tribalism, and Mika Oki, an audiovisual artist with a background in sculpture and electro-acoustic music who often DJs,  translating her experiments in atmosphere, blurring the boundaries between techno and ambient/narrative sounds.
First activities of the fourth year
For SHAPE, the fourth year formally starts in December, and the platform will kick it off with artistic presentations and public talks at Berlin's CTM 2018 – Turmoil (26 January – 4 February). The first confirmed SHAPE acts of this event are JASSS, Nene H and NAKED. More will be announced soon.
One can also expect a large SHAPE showcase outside of Europe in the tradition of SHAPE's previous activities at Canada's MUTEK or Brazil's Novas Frequências. More info will be announced soon.
Full list of SHAPE artists for 2018
Alley Catss (HU)
Arielle Esther (FR)
Berangere Maximin (FR)
Bonaventure (CH)
Caterina Barbieri (IT)
Catnapp (AR/DE)
Chinaski (DE)
December (FR)
Deena Abdelwahed (TN/FR)
DJ Morgiana (PL)
Èlg (BE)
EOD (NO)
Ewa Justka (PL/UK)
Giant Swan (UK)
Golin (BE)
Gosheven (HU)
Isama Zing (SK)
JASSS (ES/DE)
Joasihno (DE)
Jung An Tagen (AT)
Kathy Hinde (UK)
Kimyan Law (AT)
Kinga Toth (HU)
Lifecutter (SI)
Malibu (FR)
Mika Oki (BE)
NAKED (UK/PL)
Nene H (TR/DE)
Nina Hudej (SI)
Nkisi (BE)
Oklou (FR)
OKO DJ (FR)
Pan Daijing (CN/DE)
Piernikowski / Golebiewski (PL)
Red Trio (PT)
Sarah Farina (DE)
Schwefelgelb (DE)
Sinosc (DE)
Sissel Wincent (SE)
Sourdure (FR)
Swan Meat (US/DE)
Tesa (LV)
Tomoko Sauvage (JP/FR)
Tutu (ES)
Umbra (RS)
Uriel Barthelemi (FR)
Vladimir Ivkovic (RS)
Yamaneko (UK)