Posted on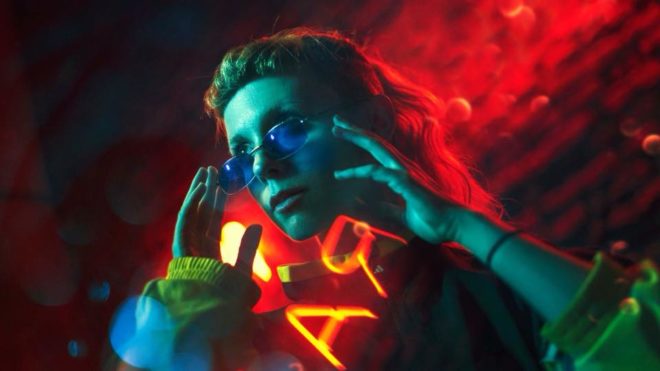 Catnapp combines R&B, rap, breakbeat, pop, drum and bass, and other genres, resulting in an intense and sometimes nostalgic atmosphere with fat beats. Songs run through the simplest "girly" lyrics with a 4/4 beat to the deepest and scariest childhood memories with huge, compressed pads and synths to create a unique and original sound. Now based in Berlin, Catnapp is originally from Buenos Aires, Argentina. In 2017 she founded the label NAPP Records. Having released four EPs, three LPs, two remix albums, and two singles, she has performed at many events, including Boiler Room and Rokolectiv Festival.
You've just returned from a South American tour, and you grew up in Argentina. Can you talk about the music scene there?
There's a lot happening, but there's also a limit to how much you can grow. For me, there's a lot happening (gigs, interviews) because I hadn't been there for two years. But if I stayed there for a year, things would slow down. You can do stuff, but that usually doesn't take you anywhere. No one really invests in artists making something different, or takes risks. Because no one really has the money to do it. And those who do are safely investing in the same working formula over and over. And people keep consuming it. Because it's known. It's easy to digest and a "common place", a "comfort zone" maybe.
You've been making music for a while.
I've made music my whole life. The Catnapp project started in 2010. First, I made more drum'n'bass and breakbeat, using a lot of distortion on my voice. I remember my first gig, which turned into a mosh pit. That was amazing. My music was more aggressive, and then it mutated into something a bit more hip hop-py. Then it changed into something really dark, talking about my childhood and my fears – it was more Fever Ray-ish. And now I returned to a kind of breakbeat, but not THAT aggressive. I really wanted to go back to having an intense live show and album.
In what way?
Something that makes you want to jump and dance and scream the lyrics, and that gets me more connected to the audience. I like more chill stuff as well, but I wanted to pump it up a little bit.
These changes probably also expressed your development as a person.
It has always been hard for me to keep the same project because I've always wanted to do different things. Because I change inside, I also change how I feel I want to make music. I used to just start a new project when I wanted to make something different, but this time I said to myself "No, I will do this, it's a bit different. But it will still be Catnapp". Maybe this project will be characterised by change.
There's a description in your bio about "girly" lyrics. Can you talk about them?
Girly lyrics maybe had a meaning in 2010. By girly lyrics I meant that I was singing about boys, going out – things young people do. I really enjoy talking about simple things – there are some songs that are about this, but there are also other songs that talk about deeper subjects.
You also mention childhood memories. Is there anything specific?
These are memories and feelings that I have, from when I was a kid. Sensations. There is a track called "House Is Gone", which talks about my childhood house. One day, I went back there wanting to see the house where I grew up once more, and it wasn't there. No one in my family had told me that it had been destroyed because I was the most sensitive of all of them. When I called my mom she was like: "yes we all know". Apart from that, it's abstract feelings that I get about places that I've been to. We have a really old beach house which looks like it's from a movie. Being in some places, like that one for example, makes me feel a certain way, and then I make a song with that feeling, even if I'm not specifically talking about it.
Could you talk about how you make a track?
Sometimes I make a song when I have something I want to transmit. I'll be inspired by someone or something and I'll write lyrics about it. Or it could be that I find a sound that I like and try to match it with words. Sometimes I start by randomly making a beat, and sometimes I randomly open Ableton and start scrolling through the presets until I find one that I like. Before, I used to start with the drums every time, and now I might start with the synths and add the drums later. It's not so often that I start writing because I'm inspired by someone or something, I just start because I want to make music. Those songs that I write after being inspired by someone or something are usually the deepest and the strongest in terms of the lyrics and content. Lately my sound is kind of dark, destroyed, and overdriven.
Could you talk about your label, NAPP Records?
I started it last year, and managed to find artists that were interested in taking part and that I completely fell in love with. I cannot believe that they actually came to my small label and told me that their music fit. This year I'm going to put out releases from new artists, maybe some of my own stuff also. I'm super happy about it. Now it's production time – getting all the artists together, preparing their releases. It's just me in my room with the internet, and help from friends, learning how to do it. It's a huge job and it demands a lot of knowledge. I would love to help other "strange" and special artists show their music through Napp.
What advice would you give to young artists that are starting out now?
A lot of people ask me why and how to do things. I would like to tell them that it's not about right or wrong, it's just about doing what you want to do. For instance, I would say it's wrong to make music only so as to find the best technical solution or way to do it (unless that is your main goal of course). Everyone should do what they love and feel, and not be asking what is technically correct, or how to get somewhere artistically. Follow your gut.
Your music was also featured in a Hollywood movie. How did that come about?
They were filming a movie called Focus, starring Will Smith, in Buenos Aires. The guy that was in charge of the soundtrack asked me to send him some music by Argentinian artists that I liked. So I sent him a lot of material from my friends and producers and also included a track that I made with Marciano's Crew and P.Lopez. In the end, it got selected. It was crazy. I had to go to the cinema alone because I probably would have had a panic attack if I was with someone. It was so nice to hear the music on the big screen.
Is it something that you'd like to pursue in the future?
Something that I really want to do besides being Catnapp is making music for science fiction movies.
Photo: Tatiana Avila