Posted on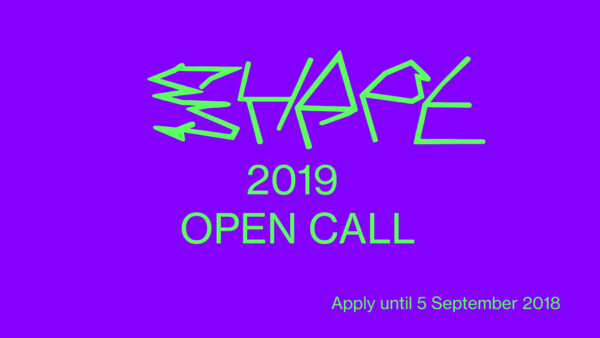 SHAPE platform for innovative music and audiovisual art, supported by the "Creative Europe" programme of the European Union announces a new open call for artist submissions for the 2019 SHAPE artist roster.
Musicians are asked to provide an up to 10 minute long streamable video or audio excerpt of their live performance, while audiovisual artists are asked to provide streamable video documentation (or photos) of their work (online links, no attachments). Materials that are not sent in accordance to these requirements, will not be considered.
As the creation of the annual SHAPE artist roster is rather complex and demands consensus from 16 different organizations, we will not be able to get back to artists or musicians with detailed evaluations of the submitted materials. However, they will be contacted in the case if they're chosen for the SHAPE roster of 2019.
Artists can apply by filling in this form.
Deadline: Sep 5, 2018
Each year, the curatorial teams of all 16 SHAPE festivals and initiatives come together and choose 48 artists. The artist roster is created disregarding divisions of genre, age or popularity. Rather, creative novelty and successful experimentation serve as core values, with additional emphasis on the inclusion of upcoming and underexposed artists as well as representing local scenes of involved festivals and art centers. SHAPE also considers questions of diversity and gender equality when creating the artist list, ensuring an artist list in 2018 that was 50% male and 50% female. The artist submissions are considered alongside ideas from curators of SHAPE festivals.