Posted on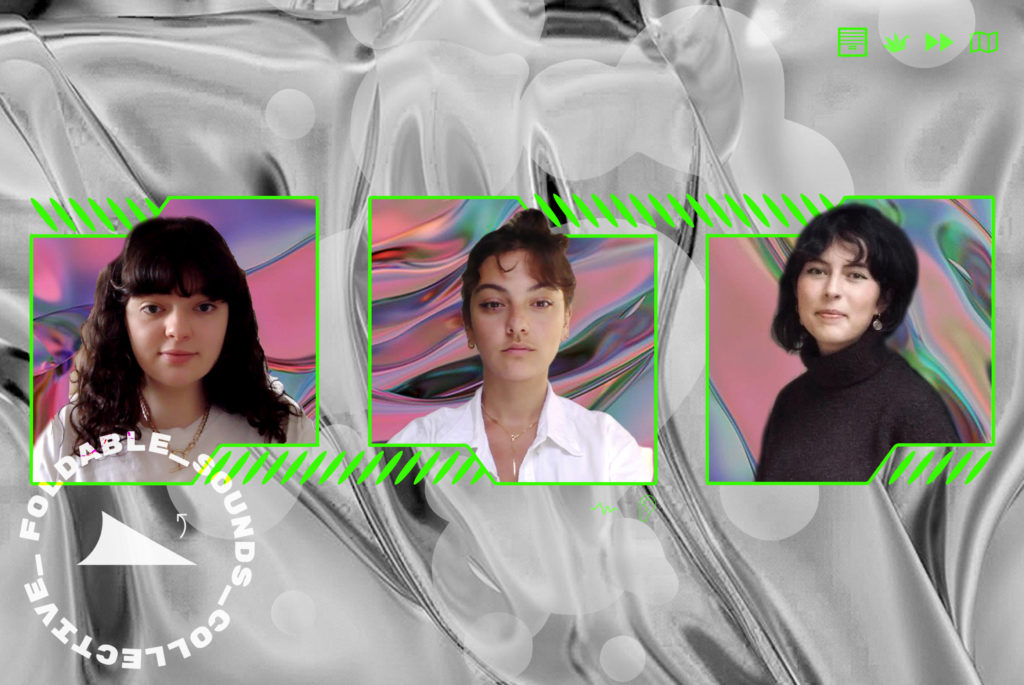 Foldable Sounds Collective is composed of three artists: Daniela Maria Geraci (IT/UK), Lucy Rose Cunningham (UK) and Isabelle Pead (UK).
The collective formed during the lockdown of April 2020 following the rise of Zoom calls and Facetime windows – once a less prevalent means of communication. Individually dealing with sound as an archival, performative and narrational tool, collectively they interrogate sound's potential to sonically transport the imagination outside one's four walls, drawing on a global need for freedom of movement.
The Foldable Sounds project – on which the collective was based – draws on the simultaneously collaborative and independent nature of the child's drawing game Exquisite Corpse. Placed into groups, participants share sounds, layering and editing recordings together to form a track. With 106 participants to date, the project now has 4 albums of intimate field recordings – the inside traces, spaces of many, folded into each other and shared in email chains of strangers – 4 people per track, maximum 4 minutes of recording, 2 days to pass it on.
Your collective was born out of the Covid-19 pandemic, during the spring lockdown of 2020. This was a period of anxiety and uncertainty, the fear of the unknown. We didn't know how long it would last (we still don't), when we'll be able to travel & see our close ones. Can you tell us about the birth of your project Foldable Sounds?
FS: Having all graduated from University of Leeds in Summer 2019, it's bizarre looking back to then – a time of stimulating conversations, making work 24/7 and dancing with friends in warehouses across Yorkshire – to summer 2020 sat indoors wracked with worry about what was going to come, and in fact, borderline boredom. We can't imagine what we'd have done with such an expanse of time if it wasn't for Foldable Sounds and everyone who was so keen to get involved. Shout out to them.
Our collective formed during April 2020, a month into the rise of Zoom and Facetime windows. Individually, we deal with sound as an archival, performative and narrational tool in our art practices. But we all recognised how we could sonically change our perceived surroundings through this sharing project. Through the consistent video calls, often we were hearing glitchy house sounds from each other's homes, places that in that moment couldn't be accessed physically. Through this project, we wanted to really celebrate those noises through all their layers of lag, distortion and time zones and weave them into a collective soundscape that had the potential to time/space travel when we couldn't.
We realised we could reimagine our lived experiences through listening to the sounds of others', using it as an excuse to listen properly, meditively, and with intent to be able to share them – and in turn enjoying our ear holidays through the sounds we received back.
Essentially, we were interrogating sound's potential to transport the imagination outside one's four walls, drawing on a global need for freedom of movement. Having lost a number of in-person projects, and finding ourselves without physical spaces for interactions, projects had to be translated to digital collaborations, which actually enabled interaction with new and wider audiences. The more we spoke about these things, the more tangible Foldable Sounds became as an idea to be realised.

Your project's idea is simple, inspired by a children's game, and somehow reminiscent of the mail art scene, when art was created by sharing. Can you talk about the technicalities of your project? How do you choose whom to involve & what does the process look like?
FS: The project – on which our collective is based – draws on the simultaneously collaborative and independent child's drawing game Exquisite Corpse. The perfect game for isolated sharing. It's the game where someone in a group draws a head, folds the paper and passes it onto person 2, for them to draw the next part of the body, and so on, until a monstrous creature is unfolded. This collaborative effort to create an entire holistic piece inspired the sonic game we now play, curate, and share: hence, Foldable Sounds.
Placed into groups, participants share sounds, layering and editing recordings together to form a track. The project now has 5 albums of field-recordings folded into each other and shared via email chains – 4 people per track, maximum 4 minutes of recording, 2 days to pass it on. That's the only rule. The collective process, the tracks themselves and collective listening felt, and still feels today, resistant in a time when individualism is forced.
In terms of who to involve, we don't select people – we openly encourage people, through global open calls, to contact us and be involved, no matter their level of sound/production experience.
To date, we've had over 100 participants, many of whom we don't know beyond the screen, which we love. We feel that the project has provided a space for such different moving, living energies to be translated into pieces for the collective ear. The only thing we ask is that everyone follows our rubric, but mostly, that they spend time listening, activating the home by giving attention to objects that reside with them – whether that's a metal spoon, a whirring tumble-dryer or a singing bird that hasn't yet fled the nest. We're interested in the material and sonic potentials within our spaces, promoting a symbiotic relationship with our surroundings as well as others'; not only inhabiting, but being part of them.
Another part of our project is asking people to describe the sounds that they contribute to the track during the project. This might be literally describing it, or just trying to type down in letters and syntax what that sound might look or read like, or writing a short analogy related to the sound. Again, it's a super open request, but has given us some beautiful and reflective responses which we're now using to inspire our NARR radio show selections.
You mention lack of accessibility and diversity within sonic practice. Can you talk about this? How do you think this could be changed?
There are long established hierarchical structures within sonic practice. From classical to electronic music, there are barriers of class, race and gender placed onto the making and listening of music/sound practice which discourage people from engaging with it on a professional level. Approaching sound from a variety of different backgrounds, we have often found a level of gatekeeping around certain practices in the so called "sound art" field; especially when it comes to the more technical side of production and equipment. We want to create welcoming and frictionless ways to just play and share collective knowledge, rather than concentrating on the technicalities of sound making.
This is why – from the beginning – we encouraged anyone and everyone to take part in the project. It's always been a core policy of ours. It's also why there's just a 2 day turnaround per person – it really takes off the pressure of perfection and pushes instinctive playfulness in both selecting and mixing. We wanted to make it as accessible as possible by instructing people to just use their phones or whatever they had along with simple instructions and a link to some free sound software. We wanted to remove any possible presumption that you could only make sound if you had expensive and intimidating bleep bloop equipment.
We're also cultivating an open source document which lists free online sound resources and readings which we invite our community to add to (link in our insta bio).
Radio seems to play an important role in your work. You host several shows on various radios. What role does radio have in your practice?
FS: Radio is the broadcasting of so many conversations that might otherwise go unheard. It's the conversations that stimulate more dialogue, that provoke, push and pull you towards new resources, outlooks, collaborators who hear you from their home on the other side of the valley, the sea, the equator. We've been lucky enough to get Foldable Sounds' tracks on air to be able to share the collective experiment that each participant has individually given their time to.
Coming from a Fine Art route, we all individually have dealt with sound in some capacity, but it's so good to have the collective, our community of regular and new participants and the radio platforms to be able to dig into the archival and temporal potentials of sound as an art medium as well as a standard sonic output.
We also love the freedom we've been given by both stations to just explore and play, pushing the boundaries of what should and shouldn't be on a radio show is interesting too. Because we encourage WIPS and experiments, sometimes we get in some really weird stuff. But we love listening to the responses to the prompts we put out – our most recent being the voice – and reading the written descriptions. They really make it worth all the organisation and all the sifting through crazy email chains.
Our radio shows serve two purposes – one (monthly on NARR Radio) is just us playing out the products of our project, using the collected text as prompts and our shared youtube/bandcamp playlists as a pot to pick out of to weave between those sounds. A bit like an archive of the time. The other, (bi-monthly on Resonance Extra) is totally open call – we reach out to the void for anything listenable – unfinished thoughts and WIPS included. We want to use our platforms to lend to new experiments and new talent – so we also interview sound-workers and weave their words between the curated tracks. As an all female collective, we want the (vast) sound industry to begin to represent the true multiplicity of its makers and consumers, and our collective work is a small way we can contribute.
You are based in three different cities (Berlin, Leeds and London). How does this influence the modus operandi of the collective?
FS: When we first began, we were operating across three cities, and two time zones. We had to plan, but it never impacted negatively on the project. In fact it was such a solid recurring foundation for us all to come back to each week.
The online focus allowed the project to open up to participants from even further in other time zones speaking various other languages coming from backgrounds of art, tech, music, engineering and some completely unrelated to sound or art.
The resulting sound tracks only served to heighten the sense of communities coming together through sound, and how everyone globally was experiencing similar anxieties, frustrations and anticipations for the year ahead. Fast-forward to today, and we're all based in the UK due to Brexit and COVID travel restrictions, so now we operate from London and Leeds but can't wait to get back out.
There's talk about resuming the pre-Covid world or returning back to "normal". Since your project was born out of lockdown and isolation, how do you see its future once we (at some point) leave our homes and screens and socialize IRL?
FS: The project was born out of lockdown but it is still relevant as a way to play with sounds in a way that they wouldn't outside of the project's rules. When you blindly collaborate with a stranger without meeting them or necessarily even speaking to them, you're forced to take different approaches to the way you think or make instinctively and we ourselves have appreciated that part of the work that's gone into the collective.
Our feedback on it for the same reasons has been so positive and we think the project will grow while still continuing to act as a kind of listenable archive of the period, giving people quick collaborative opportunities to create. For so many, the anxiety of getting back out there is still real. Foldable sounds hones in on just being and listening to your space for a short burst of time, which for us has really helped to recalibrate and stop, to be able to concentrate on something outside of work/duty/daily noise and possibly turn it on its head and into a track. Sound enables you to position yourself into another's experience and give context to what they are witnessing and feeling. I guess the project is now less about staying connected through lockdown but realising that maintaining connectivity can mean so many things, and lead to unexpected and inspiring results.
For the future, we have discussed working physically with all the amazing independent DIY spaces in Leeds and London we had been working with just before lockdown to produce meditative and purposeful listening events using practices from 'Deep Listening' as a guide. As artists, we have exhibited in many spaces across London, Leeds, Berlin, Hamburg, Rijeka and Palermo – we'd love to open up those possibilities again with Foldable Sounds Collective as a curatorial project for sound and listening.
We're currently working on continuing to grow our research and resources in experimental sound use in arts, performance, spoken word, poetry and music and are looking to collate it into a website/archive and a recurring publication, to house what we've done online and turn it into something tangible, useful and cohesive. We want to continue to support the work of our participants and collaborators, add to our list of free and accessible resources, carry on our inspiring interviews with sound-workers and create prompts for more unusual collaborations.
Interview by Lucia Udvardyova