Posted on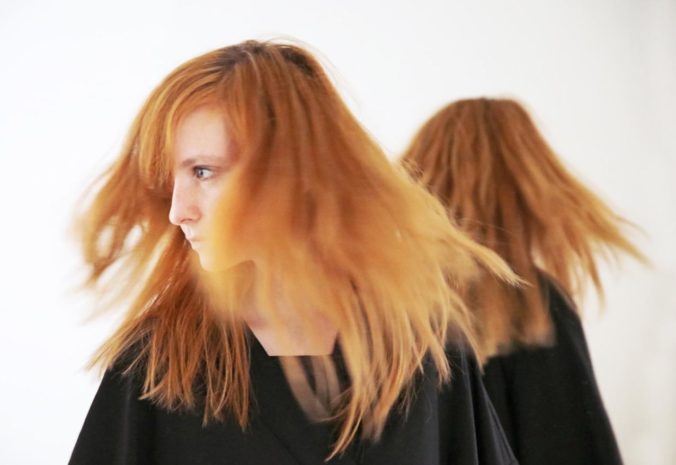 Resina aka Karolina Rec has featured on numerous album releases and soundtracks (including the Oscar-nominated 'Rabbit a la Berlin'), and has been the author of a dozen music productions for theatre. A compulsive live artist, Karolina's style is primarily characterized by personal language of improvisation and alternative approach to melody.
Her self-titled debut album, released by 130701, was a result of experiments with cello and simple electronic tools – sometimes close to the form of song; sometimes based more on powerful, intuitive impressions but always marked by the desire to use non-obvious characteristics of the instrument.
As a live artist, Karolina has played throughout Europe, developing into an increasingly powerful performer and supporting the likes of Sarah Neufeld, Godspeed You! Black Emperor, Owen Pallett, Hauschka and labelmate Ian William Craig. She has played at Unsound, Tallinn Music Week and Brdcst festivals; also at Boiler Room, TEDx, and at London's Union Chapel.
Resina's second album, 'Traces' was released in July 2018, alongside tour dates throughout UK and Europe. The following year saw Resina expand her oeuvre, soundtracking the cult RPG video game, 'Vampire: The Masquerade – Shadows Of New York', which was compiled as an LP on Gdansk-based label Coastline Northern Cuts. Resina's third album, 'Speechless' was released in November 2021. She participated in Weavings project at Unsound 2020 online as well as premiered "Ego Death" with at Unsound in 2022 with Aho Ssan.
Jakub Knera: Over the years, you have proved that you are primarily a composer of experimental music, but your base instrument is still the cello. What fascinated you about it initially, and how do you use it to play – at times almost noise?
Resina: The cello is a complete accident. I chose it at music school, which I had never seen before because neither the flute nor the guitar convinced me (and I was "too old" for the piano). And so, for 12 years of study, it became my primary musical tool, in which I think I was fascinated by its tangible, body-resonating physicality and expressivity. At the same time, however, I also enjoyed the opportunity to develop my piano skills or voice training. The cello has a specific range of expressive means that the piano, for example, does not have – the primary one being the absence of keys and, therefore, of tempered tuning, imposing scales, and direct access to the strings. The fluidity of the sound is closer to that of an oscillator, which provokes me to search for a typically timbral sound; from there, it is a straight road to noise. I'm glad I didn't become a pianist; although I can handle harmony thanks to the keyboard, I find soloists and instruments not restricted by the keyboard (including the voice) very inspiring. An equally important tool for composing is DAW or loop station programs and effects – they allow you to record and verify multi-layered compositions quickly.
On your albums, you don't play the cello sauté but use electronics and voice, and on your last album, there is also a choir and percussion. What made you decide to broaden your sound palette? Is the instrument alone not enough?
This probably stems from the fact that I enjoy composing, and although writing for the cello is natural and enjoyable, it doesn't exhaust compositional ideas. For pragmatic reasons and for the immense fun of playing concerts, I perform my thoughts and compose mainly for cello, but I am interested in all potential sound sources. Broadening my palette is primarily due to the emergence of a real possibility of collaboration with a larger group of people – in the case of Speechless album, among others, with the 441hz choir from Gdańsk. The voice is an instrument of powerful possibilities and enormous variety, which, in addition, for neurophysiological reasons, will always focus our attention. My most ecstatic musical experience is not related to the volume level, the noises, or the trance but to the tuning of 24 human voices, e.g., in the form of a sound cluster, when you have the impression that the whole air around you are vibrating. Apart from that, I'm very interested in the juxtaposition between acoustic instruments and electronics, the permeation of these spheres, the tension between them, and how electronics affect the expression of the 'physical' instrument. This comes with specific difficulties – primarily the sound reinforcement and live performance of such music, especially in these days of playing mainly from more predictable DAWs. For now, however, I don't intend to give up on this formula because it lies at the intersection of differences and what escapes predictions and genres that interest me the most.
You compose music for albums, film music, and games, where it has a specific function. Your most recent work is the soundtrack for the film Hidden Web with Hubert Zemler, previously for the visual novel game Vampire: The Masquerade – Shadows of New York. Your songs have also made their way onto the fashion catwalk of the house of Gucci and into the trailer for the film Two Popes. How do these two approaches differ?
It is more difficult for me to create my composition for an author's album – and by this, I mean a piece not inspired by some motif, color, folk melody, or larger' cultural heritage' but (purely subjectively, of course!) created independently from scratch. In my case, it helps to focus on what genuinely fascinates me and what I think may also be necessary to others. Therefore, in moments of intensive composition, I try to read a lot and saturate myself with content that I find relevant and valuable (currently in the field of natural sciences). Surprisingly, I then find non-obvious traces of these contents in the music.
In the case of a film or a game, there is always a ready-made inspiration – an image, content, a storytelling style – because it is the result of the collaboration of many creative people, each of whom contributes some ideas. Even the slightest impulse like this allows me to take off more quickly, naturally narrows the field of unlimited possibilities, and takes the burden of measuring myself against myself.
You have collaborated with many Polish and foreign artists playing very different music genres – you are currently working on two albums – duets (one with Christina Vantzou, the other with Aho Ssan), and some time ago, you asked Ben Frost and Abul Mogard, among others, for remixes. That's stylistically quite a wide range.
I've often come across the expression that my music is challenging to assign to a genre – and that, in a way, is the answer. Labels do not drive me. Of course, I have my aesthetic preferences, but I find the need to place myself in some simple category (often attributed to me only because of my use of the cello rather than the actual sound of the music) unnecessary. I like to work with artists with distinctive language, sound, and original style (sometimes, it's hard to define). Something in their music seduces me and moves me creatively – and I don't always understand what or why, but I know it works and strongly inspires and ignites more ideas in my head. I'm almost simultaneously working on a record with Christina Vantzou and Aho Ssan, and both resonate with me intensely. In my case, the key to successful collaborations is this deep level of feeling for the artist's music in question, to some extent, their intuitive understanding, the inspiration from that, and the need to confront over comfort. And beyond that… that's the beautiful aspect of being a musician – the opportunity to meet and exchange with fascinating artists and creatives.
You first met Aho Ssan aka Niamké Désiré during the Weavings project at the online edition of Unsound in 2020. What was that experience like for you, and what impression did his music make on you?
The whole online live performance was quite a surreal experience. It gave us some substitute for creating a fabric, a focus, and an understanding regardless of time, place, or world situation; interestingly, thanks to a plugin that appeared during the pandemic and technologically made such a performance possible. I'm glad that the Unsound festival opted for such a formula, and I'm so happy that Nicolas Jaar arranged the chain of performers so that we could play as a duo (the artists played in pairs' interlocking'). I was very impressed by the style of expression used by Aho Ssan; I feel that if I were involved in electronic music, I would want to do that! Although I was familiar with his sound and super excited to meet him, I had no idea what such a duo would sound like in an experimental live online improvisation. Experience suggested that if I was so attracted and inspired by something like this, then there was a chance it would work. Immediately after our performance, we started exchanging messages: that I think it worked, that we both liked what happened, that we need to do something with it further, and this is just the beginning…
You have forged a collaboration that has resulted in the unique concert Ego Death at Unsound 2022. Please tell us what you have in common in how you look at music, think about it, or where you felt a common point in your work.
We have everything in common: from the obvious issues – we like similar music, we look for similar things – to our broader interests to our general outlook on our duo and how it works. We use different tools that stem from other life stories, but the essence of expression, needs, and musical tastes are incredibly similar. During our first meetings, we talked a lot about it and listened to music, and very quickly, it became clear that we complemented each other perfectly precisely because of such different tools. As soon as we started improvising, we had to record everything we could because even momentary, working material immediately brought us further inspiration, a bit like a self-perpetuating spiral.
I've been thinking about collaborating with an electronic music composer for a long time, but I didn't push the issue; I didn't want to create something conjuncture-driven, project-based, and ephemeral. We will be able to create something special for us – we are just finishing the album. Niamké Désiré has impressed me enormously, not only with his skills and talent but with me. Having such a significant collaboration with a brilliant artist, a great companion, and a good person is also essential.