Posted on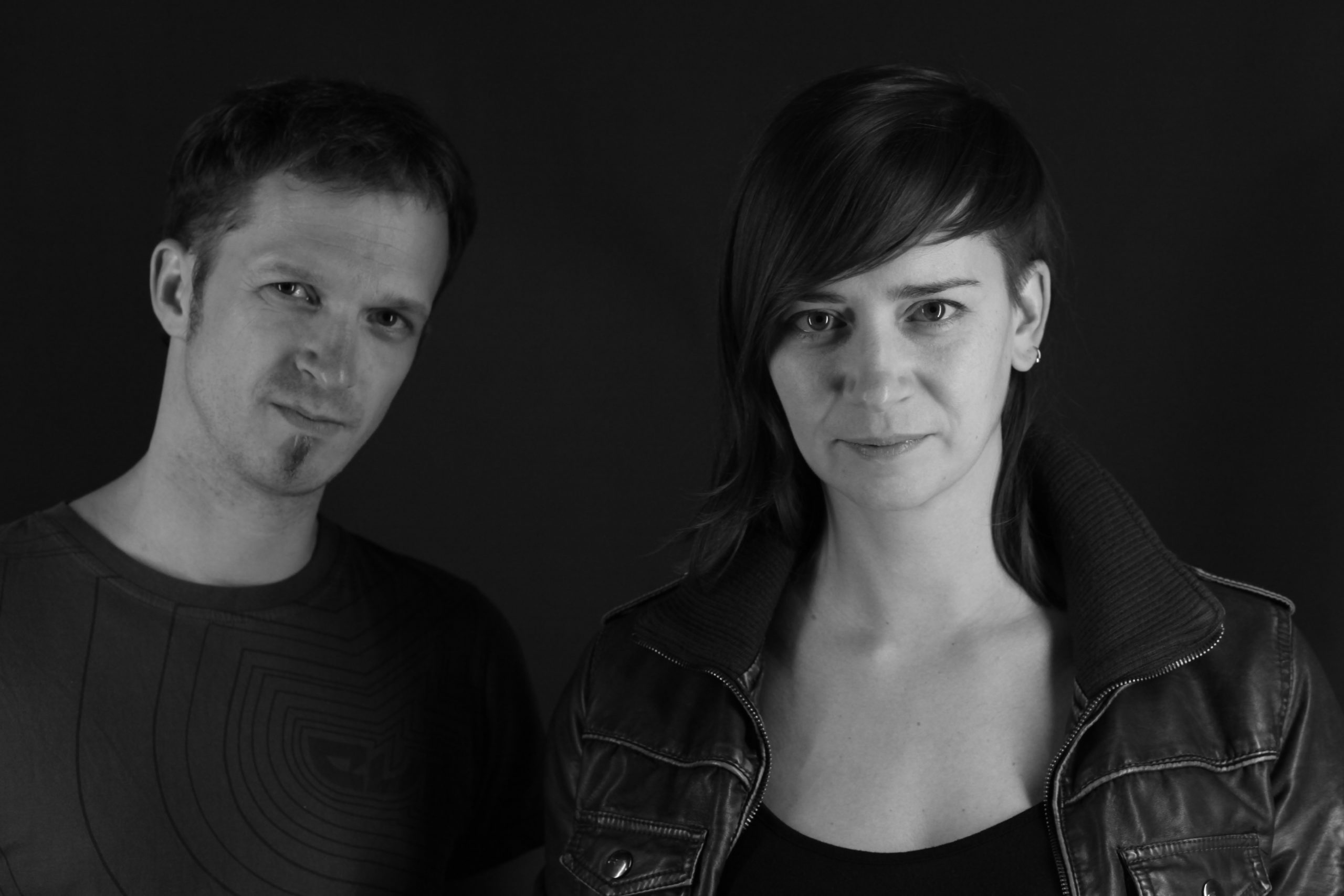 Elwira Wojtunik and Popesz Csaba Láng are an internationally recognized Polish-Hungarian duo of digital artists known as Elektro Moon Vision. They are working at the intersection of creative computing and light art, creating interactive multimedia installations and augmented reality art projects, animations, scenography projections and innovative multimedia programming designed for museums and galleries, theatres and concerts. Their works were presented at significant international digital media art exhibitions and events around the world, including the TADAEX in Tehran, Iran, ~PdCon in New York, ISEA in RPA, Museums Quartier in Vienna, New Media Art Biennale WRO in Wroclaw, Akarenga Soko Gallery in Yokohama, Japan.
In Krakow, where they are based, their​ works can be seen at the Unsound Festival and Gallery Europe-Far East of Manggha Japanese Art and Technology Museum. Re-Kreacja, an interactive mapping installation, is included in the Contemporary Art Gallery Bunkier Sztuki collection in Krakow, Poland. They were granted the Creative Scholarship of the City of Krakow, the Scholarship of the Ministry of Culture and National Heritage in Poland, the MuseumsQuartier in Vienna, the Japanese OMOSIROI award for innovation, and the ArtMuse award in Bocholt, Germany.
They founded Share:Krakow – a unit of a global organization dedicated to supporting collaboration and knowledge exchange in new media communities. Since 2012 they are curators of the Patchlab Digital Art Festival in Krakow, a member of AVnode network – an international network uniting artists and events presenting contemporary audiovisual art supported by the Creative Europe EU program.
To begin with, to avoid simple categorization as a visualization or installation duo, please write how you define the area of your studio's tasks.
Elektro Moon Vision started its journey in 2004. Initially, it was a VJ studio creating visualization for different club events, concerts, and stage designs for theaters. Later, as the technology and our knowledge improved, we moved our expression to interactive installations and light art. This progress evolved into VR, AR, and XR during the pandemic. It's hard to define with one word, as we like to experiment and try to create something new to keep ourselves learning.
What is the difference between creating works for museums and galleries in static space and works for concerts, where they are an event that continues in time and has a beginning and end?
Popesz: The stage is always best for me to show our work. No difference if it is a night-long improvised set or a concert with a prepared show. The most important is the reaction from the audience, which signals their like or deilike. that there is an immediate reaction from the audience, which inspires the most.
Elwira: I like to present our works more in galleries or museums. You can observe the spectators from the outside. It is always a social experiment, how people behave when they enter the installation and try to become a part of the art piece. And this social experiment varies in every country.
You have created Share:Krakow, an open platform that brings together new media artists – what is its purpose, and how does it work?
Share:Krakow was founded in 2006 as part of a global movement. We tried to animate all the new media lovers, creators, and audiences from the very beginning we moved to Krakow. We have curated evening shows, exhibitions, and performances connecting different disciplines. Actors joined us to perform onstage; jazz musicians joined the VJs. The stories should be shorter to list all of them. We, as organizers, arranged the technical equipment beforehand so everyone who wanted to join had sufficient cables and instruments.
You organize Patchlab Digital Art Festival, which focuses on the potential hidden "in machines, algorithms, programming, and databases, exploring key phenomena in contemporary digital culture and art, including VR/AR/XR, artificial intelligence, machine learning, hacking, and digital identity". It may be evident to you, mysterious to some – should we be fear of technology?
Good question! Technology is for us and not the opposite. Of course, it can get into the wrong hands or mad professors, but we should decide how to use human-created technology's potential. The artists are probably responsible for showing the future or the presence as you like. They are like philosophers, but they could explain more clearly what technology can achieve. And they also have the responsibility to teach AI for creativity and not destruction.
Is new media still something new in Europe?
Yes, it is relatively new compared to other disciplines, but the history is still long enough to say it is new. The unique thing about New Media is that it evolves together with technology. And therefore, it never remains static. As mentioned, our studio is almost 20 years old, and we are not the first pioneers. What is beautiful about being a New Media Artist in Europe is that you are part of a Digital Family. Wherever you travel, you find either old friends or friends of friends who are all willing to share their knowledge. This may be one of the reasons why New Media evolves so quickly.
How do you look at the discussion on artificial intelligence, and what do you think about it yourself?
Popesz: My favorite book about this topic is The Tale of the big computer by Olof Johannesson, written in 1968. It describes the history of the human from the perspective of the fabulous computer, as there is no one else on the Earth to tell it, only the computer left. Stanislaw Lem also described the symbiosis of the evolution of man and the computer as an inseparable phenomenon. According to him, neither man nor the computer can evolve without the other. Even if it is hard to accept, people should assume that many jobs are or will be better made by computers. Losing our jobs creates more opportunities to make something that computers cannot do, especially creative work. As an artist, I want to have a 100% impact on my expressions and not just sit back and clamp what my computer can do. Surely this attitude will change with time, but I want to play the leading role and not let my computer be my boss.
I wanted to ask you about projects you've been involved with at Unsound (among others). The first is Archive, a show in which you took Zofia Rydet's photography – what was the idea behind your approach to her work?
Zofia Rydet, without discussion, is one of the best photographers in Poland. We had the honor to animate her huge archives for a unique concert during Unsound. Almost from the beginning, with our projections, we wanted to get out of the box, or in other words, get down from the screen. Using tulle as a semi-transparent rear projection screen, we achieved a unique visual effect projecting the images in three dimensions as we filled the air with hazer. The light stops on the screen but travels further like a hologram above the heads of the audience. Photoshop was not equipped with AI at that time, and all the cutouts and animations had to be done manually. The archive of Rydet was tremendous; we had great fun preparing for the concert. And we will continue this journey with animated photography of other Polish photographers' images. But next time, surely we will improve the quality with AI.
The second is Weavings, a synchronized concert of 13th musicians conceived and curated with Nicolás Jaar – an unusual event in the pandemic worldwide. Was it easy to produce it? Did such a format and pandemic influence your further thinking about what you do?
Weavings is genuinely in the middle of our hearts. We felt honored when Mat Schultz asked us to help with an online concert that takes place on the internet live, but all the musicians are from all around the world, from Jakarta to Chicago. Even if such a concert was never done before, we knew nothing was impossible for us. The cooperation with Nicholas Jaar was a pleasure. However, the biggest challenge was to prepare all the musicians who think analog be digital. Popesz had online meetings from the morning till late at night, as most were in different time zones. He was controlling all the musicians' computers remotely from our studio. Nicolas's computer was the master, and all the others were connected to him; this way, he could be the concert conductor. The premiere had an hour delay, but in the end, everything went perfectly, and we all felt unforgettable happiness that we made something for the first time on Earth. We are convinced that the world will never be the same as it was before the pandemic.
Remote cooperation is increasingly accepted; we no longer have to make long trips if we can do it online. As Elektro Moon Vision, we have created many exhibitions without our presence in different countries. We believe it is better to make it remotely than resign if you cannot be on the spot.
The third is Barble with music by Aho Ssan, an interactive sculpture in Augmented Reality, which has a form of an ephemeral bubble changing its shape and color in real-time according to the air pollution level in Krakow. How do you recall this project, and what potential do you see in your activities on social engagement?
During the pandemic, when galleries and museums were closed, we decided to bring art to people where they are. We created many AR works because of this reason. Barble was one of these. The topic of air pollution in Krakow always inspired us. We planned to develop, for example, a light art above the sky of the city to show in real time the air quality. Sometimes your ideas are too big to make them happen, but if you find the right way to show them, you can reach your audience. BARBLE was precisely in this situation. Three more animated bubbles were changing shape and size depending on the real-time air pollution data from Airly. We connected this with the geolocation of the venues of Unsound, so when people opened the web app in their browsers, one could see the animated sculptures above the stage or in front of the entrance of an event. Even if this was a data visualization, many people started thinking differently about our circumstances. The aim is not to make people feel threatened but to let them think about what they can change. And what is the best tool for it if not art?