Posted on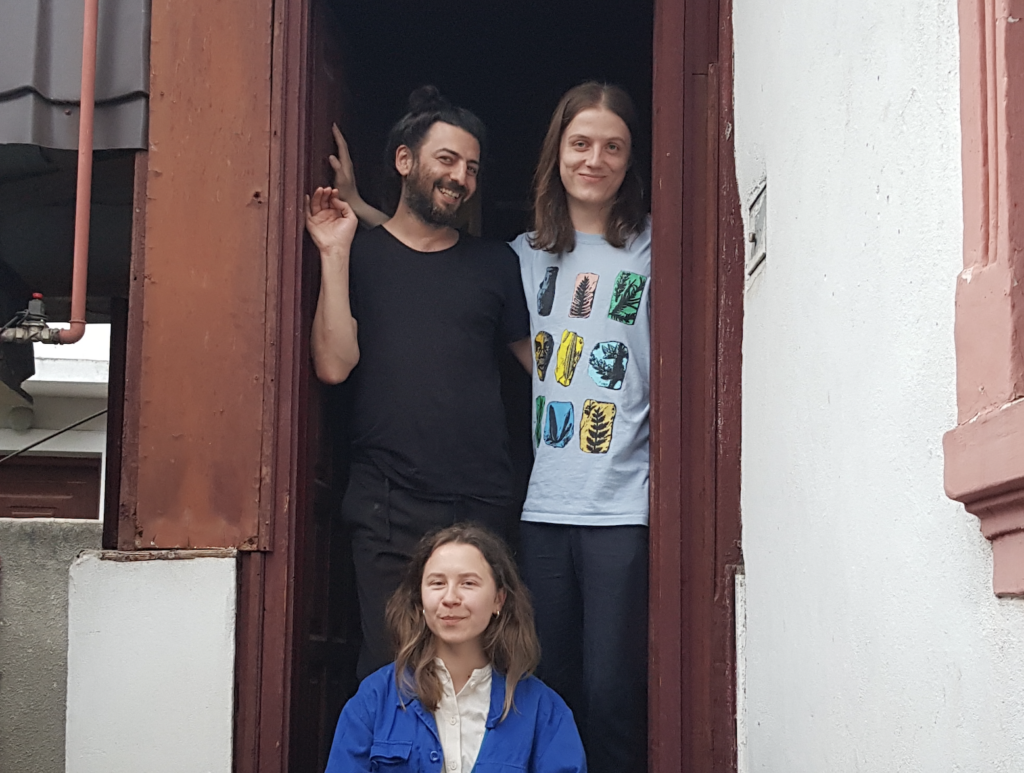 With the ATOPIA collaborative residency, Rokolectiv Festival brought together Ukrainian musician Maryana Klochko and Bucharest producers Ion D and Inana to work on new music outputs. On this occasion, we caught up with Future Nuggets' Ion D and Inana to talk about the Romanian music scene, pop, Tik Tok, and speculative philosophy.
Last year you released an extensive new Future Nuggets compilation. What are the ideas behind it?
From its genesis, Future Nuggets stood for sub-genres, hybridity, twisted expressions under the radar, experiments with no precise scope, and surely rarely thinking about releasing. Publishing when it made sense, or more often, when it was possible!
In a way, our recent FN "Sounds of the Unheard" vol. 4 is keeping up with the initial drives, adventurous, mixing the un-mixable, transgressing genres, seeing the studio process as a laboratory, mingling global sounds, and still looking for the future unknown. Meshing untraceable pop, hypnagogic trap, psychedelic RnB, electronica, kraut inspired soundtrack vibes, and generally merging with the local and Balkan oriental. Devising points of intersection and going further, wherever.
How would you describe your relationship to pop?
Strong and enduring! I see modes of experimenting that could hide behind whatever "pop" could be, pushing the envelope through non-intellectualist means, yet producing progressive political overtones.
In the past 6-7 years, FN has enthusiastically become the home to unclassified pop expressions, breeding and introducing voice and lyrics, and fostering artists like
Suce Fraga (Andreea Baciu)
Inana (Thomas Höfer)
Sarra (Sarra Tsorakidis), new configurations Xenofolk (Ion D, Suce Fraga),
and recently Lidia (Lidia Ilici).
We have, collectively, steered navigation into uncharted territories! So, there is a transference, but it happened slowly and organic, and, as I like to think, the foundation principles of the label were by default designed to welcome and encourage sound shifts of any magnitude.
"Fragmente Pop vol. 1" compilation was the output indicating this new landscape, and basically with the same drive of inventing an alt-pop scene of Bucharest.
This year we are preparing the 2nd instalment of this compilation.
Last year, one of your tracks became viral on Tik Tok. Can you tell us more about your recent relationship with the platform ?
Actually it was this year, and I was completely unaware until a friend told me about it. It was curios, I was not even credited, the track was anyway a re-work I did as an homage to a nineties proto-manele band, Azur, in 2015!! It had a new life of its own in 2023.But I was already fascinated by Tik-Tok and promoting it for some years. I've been writing about the phenomena and even came up with a political speculative project, "Tik-Tok democracy".
The Chinese company has really revolutionized the game, their algorithms are set on other principles, yet to be deciphered. Pushing info and content in a more (quasi)democratic and unpredictable way; one can become a star/viral with one's first post and 10 followers. It abolishes chronology and hierarchies. It has become the crossover platform par excellence, it connects cultural bubbles and varied geo-locations through games and self-choreographies, playfully drifting towards a globalized awareness. The traditional music industry has had to deal with its new speed of virality, a futuristic experience that has no school.
As the western media is generally focused on the negative, "alarming" aspects of the platform, I'm looking for the exciting stuff. And there's a lot. This general attitude of mistrust I think is very damaging in terms of understanding this huge phenomenon; political prejudices has made the academia and politicians reluctant to engage in a non-biased way with the cultural revolutions taken place due to this platform (see the recent absurd, hypocrite and irrelevant Tik-Tok hearings in the US congress, where the only concern of the democrats and republicans was to prove to the American public that they are "tough on China").
What inspires you these days outside of the music realm?
Many things but mostly, in the past years, I've been dwelling into speculative philosophy territories. Writing and sometimes publishing texts on themes ranging from cave metaphysics, black hole non-human theology, the history of illogical of affect to new body-mind reconfigurations, sketching other subjectivity models that can process the current cultural anomalies and political blockades. Manufacturing conceptual instruments for a world to come.
Actually, an extract out of all of these interests has just been published this month in a fanzine from New York.
INANA
What are you working on at the moment?

I am currently working on polishing and releasing some of my unreleased songs. I also have plans to create new music soon, but, before diving into that, I want to finish some of my existing demos. One of my goals is to dedicate more time to creating instrumental music in the near future. This is because I used to produce a lot more instrumental music a few years ago, so I intend to remake and re-release some of my older instrumental tracks while also composing new ones.

How do you see the current artistic / musical context in Bucharest?

Currently in Bucharest, there is a flourishing underground micro-scene, along with more popular scenes such as the manele scene, trap scene, alt rock scene, and so on. Within our more intimate musical sphere, there are a few small independent labels, some really talented bedroom producers and DJs, and some outstanding bands. These artists approach music making and playing in a playful and boundary-pushing manner, exploring a wide range of sounds. Unfortunately, there is a limited number of venues to choose from, and when it comes to club culture, most clubs tend to focus primarily on the RO-minimal scene, resulting in a lack of diversity in their events. However, a few venues regularly host all kinds of events, both concerts and parties, while maintaining a more receptive attitude towards diversity in terms of electronic music.

How would you describe your sound?

I'll start by saying that my music is mostly vocal-oriented, with the majority of my songs following a pop structure, such as verse-chorus-verse-chorus. I enjoy experimenting with various genres and rhythms, including Balkan and oriental rhythms. The manele inspired lead keyboard lines and the dark, emotive guitar riffs are two main ingredients in my songs. My lyrics can be described as a mix of naivety and melancholy, sometimes expressing non-sense while other times reflecting personal struggles. I feel like I possess multiple musical identities, all under the same umbrella. As a result, some of my tracks lean towards a more emo-trap style, while others have a bedroom pop or lo-fi sound, and so on. Goth, post-punk and chiptune influences are also worth mentioning. Since I am not loyal to any specific genre, incorporating various influences simultaneously is a common practice in my songs.

How was your work with Maryana Klochko and Ion D?

Collaborating with Maryana and Ion was a unique and lovely experience. We had a great time together, frequently jamming and exploring new musical ideas. Each of us brought something fresh to the table, contributing to the creative process. The studio filled with synths and our laptops full of ideas and drafts turned out to be a fantastic playground for us. I feel privileged to have been a part of this project.
Here you can hear the result of this collaboration:
Originally appeared on Easterndaze.net