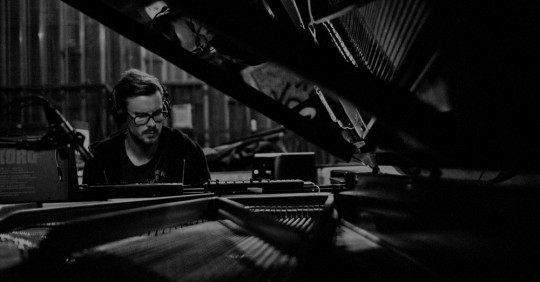 Mørk
2015
The pianist and composer MØRK is a melody-maker. He tells gripping stories without words, using his mechanical piano. The Norwegian word «Mørk» translates as «Dark» in English.
«I think my spine would have been just as frozen if I were to listen to it during summer[…]» 
(Nya Upplagan, Sweden)
Mørk is from the island of Senja, which lies in the northern part of Norway. His musical influences range from Esbjørn Svensson Trio, Nils Petter Molvær and Motorpsycho to Deep Purple, Kraftwerk and Americana.
«I allow myself to predict great recognition in the coming years»
(Hissig Musikkmagasin)
Mørk is currently touring with a stunning visual set made by lighting-designer Torbjørn T. Sandnes with material provided by filmmaker Carl Christian Lein Størmer and Mørk himself.
«Silent and original, 5/5» 
(AN, Norway)
Download a hi-res photo here. (Photo by Carl Christian Lein Størmer)