Upcoming
Past
More events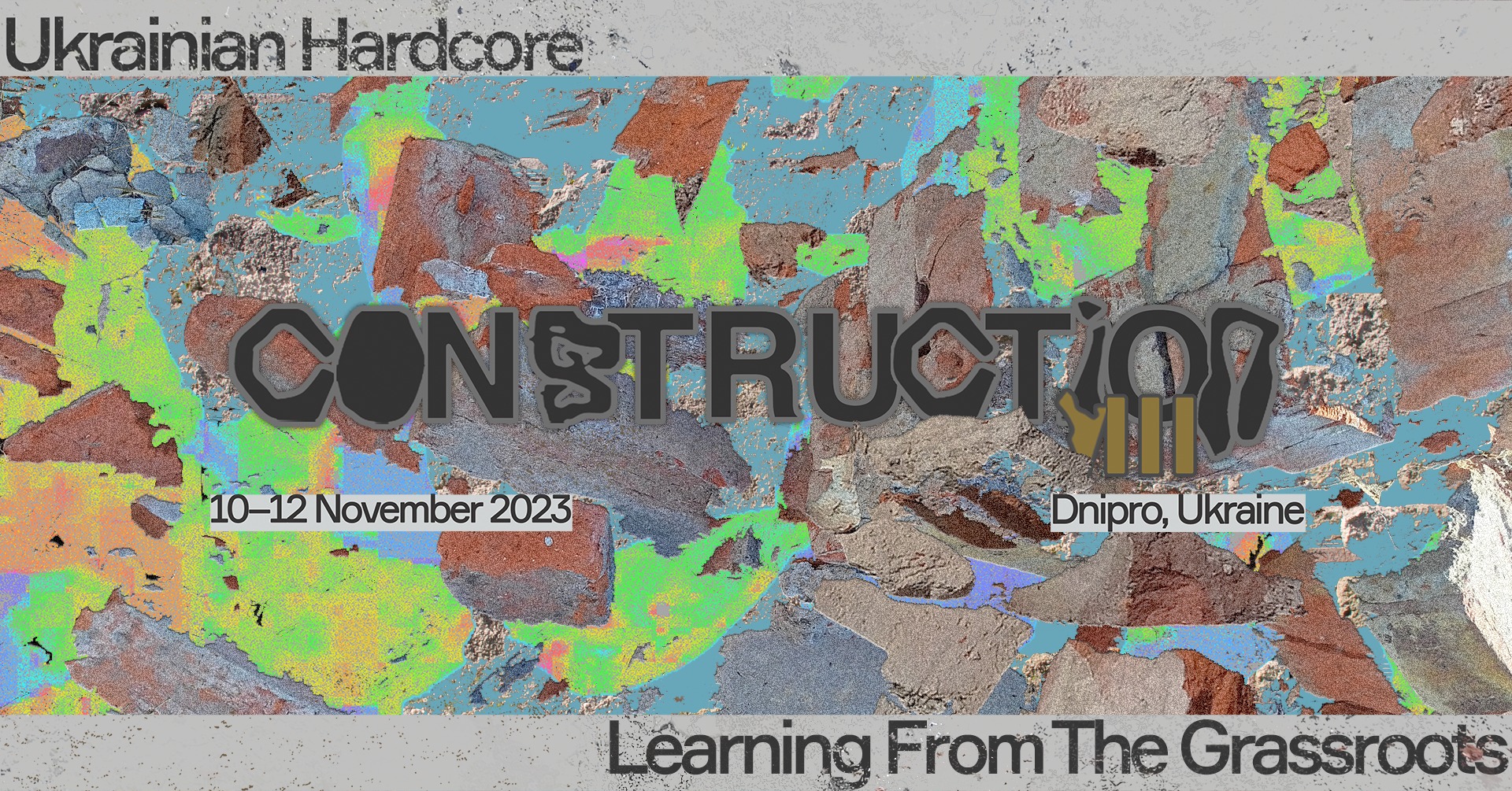 Construction VIII
November 10–12
Dnipro, Ukraine
Construction returns to Dnipro after a two-year break resulting from the full-scale Russian invasion. Our focus will be on the wartime experiences and participation of citizens in Ukraine's social, cultural, and physical recovery – in the here and now, as well as in the near and distant future. Self-organized initiatives that have stayed put in the country and work at the intersection of culture, activism, and volunteer practices will be invited to join the discussion.
The central theme of Construction VIII is Ukrainian Hardcore: Learning from the Grassroots. The main topic appeals to the meaning of the word "hardcore". Today it is often associated with transgressive forms of creativity and underground music styles, however it has its origin in building construction. As the Merriam-Webster English Dictionary points out, in its earliest use (from 1841), the word referred to "brick, rubbish, clinker, broken stone or other hard material in pieces used as a bottom [building foundation]." In other words, it is a contingent base assembled from a wide variety of parts and materials; it is the shifting foundation on which everything is held.
The hardcore of Ukrainian society consists of grassroots initiatives that arise as responses to solving community problems, countering dangers, and protecting common values and spaces. We seek to bring together and systematize the experiences of grassroots initiatives, DIY movements, and volunteers who are working with reconstruction, tangible and intangible heritage, and grassroots activism in the public sector and culture in times of war.
The three-day program of Construction VIII — Ukrainian Hardcore: Learning from the Grassroots will include several vectors: an educational and discussion program, a music program, a visual arts program, and a film screening program. Through these events, we will draw attention to the role of grassroots initiatives and movements in sociopolitical processes and explore how they can affect, and have already affected, Ukraine's present and postwar future.
SHAPE+ related talks at the festival: 
– discussion about the Ukrainian underground music of the 90s. Ihor Tsymbrovsky and Oleksandr Tsapenko. Moderated by Vlad Yakovlev
– discussion about Ukrainian niche labels: Liky Pid Nohamy (Viktor Konstantinov), Pincet (Yaroslav Kachmarskyi), Pep Gaffe (Daniil Golovko), Dnipropop (Evgen Goncharov). Moderated by Olena Pogonchenkova
Organized by