Upcoming
Past
More events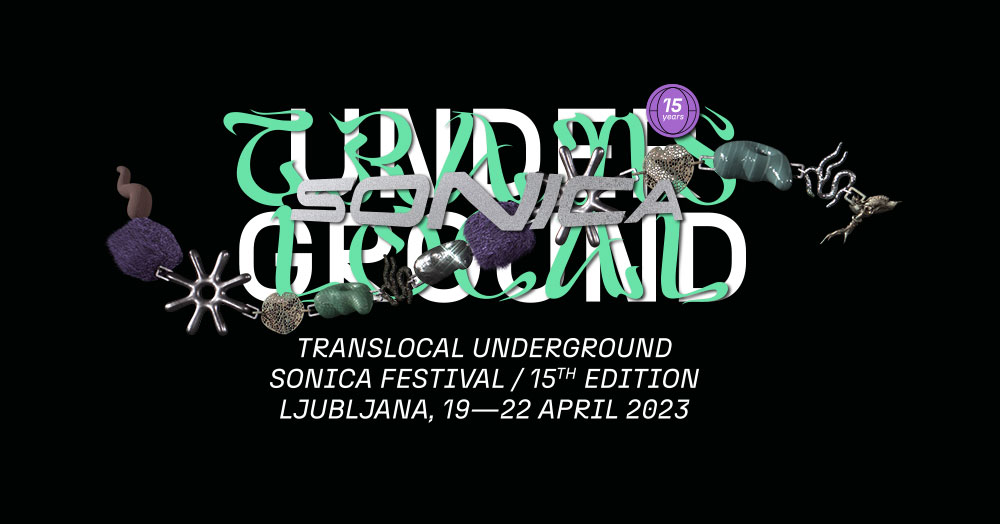 SONICA Festival 2023
Translocal Underground
19 ─ 22 April 2023
Ljubljana, Slovenia
The Ljubljana festival of contemporary electronic music and transitory art SONICA returns for its 15th edition, which brings a new spring date and a new focus.
The theme of this edition, Translocal Underground, alludes to the complex nexus of aesthetic tangents and transgeographical connections that characterise contemporary music production, which is locally inspired but globally-oriented. We live in a globalised world where local microscenes are connected in a superorganism, a kind of mycelium of translocal underground creativity that spreads across all four continents.
In addition to presenting contemporary regional creativity, this edition will focus on artists from non-European musical traditions, especially from Africa and Latin America. The last decade has seen the emergence of many new trends on the international electronic and experimental music scene, especially at the crossroads
SHAPE+ residency artists
Isabelle Forciniti (IT/AT)
Aleksandra Bajde (SI)
Uršula Berlot (SI)
Pre-event
Thursday, 30 March | The Old Power Station, Ljubljana
This year, SONICA is joining forces with the Ljubljana festivals MENT and Druga godba. SONICA will be a guest at MENT 2023 with a specially curated stage at the Old Power Station, featuring the Slovenian AV duo GMB+jesusonecstasy with their new project Nexus and two SHAPE+ alumni, Polish avant-garde composer Wojciech Rusin and Ukrainian vocalist, producer and composer Katarina Gryvul.
The headliner of the concert night at Kino Šiška is the visionary Colombian experimental multi-instrumentalist Lucrecia Dalt, presenting her singular blend of salsa, bolero and merengue influences that defined her critically acclaimed album ¡Ay! – one of the best releases of 2022 according to The Wire, The Guardian, Pitchfork and others. Peruvian artist and experimental instrumentalist Ale Hop will present her singular sonic trajectory, blending strains of noise, pop, electroacoustic music and ambient.
Croatian producer and composer N/OBE will premiere his ambitious project MONUMENTS, which details six world-renowned Yugoslav socialist monuments. The project attempts to portray a chronicle of the former Yugoslavia's rise and fall and its history and legacy via the dense interpretational layers of its most iconic monuments, using the toolset and capacities of contemporary global club music. The current wave of Latin American club sounds will be represented by the rising Colombian-born Miami-based DJ Bitter Babe.
The closing night of the festival, a co-production with Druga godba, brings a double package of contemporary cutting-edge African electronica with the Ugandan-British percussive techno collective Nihiloxica and Egyptian experimental club producer ABADIR.
More info here.
Organized by
Artists