Posted on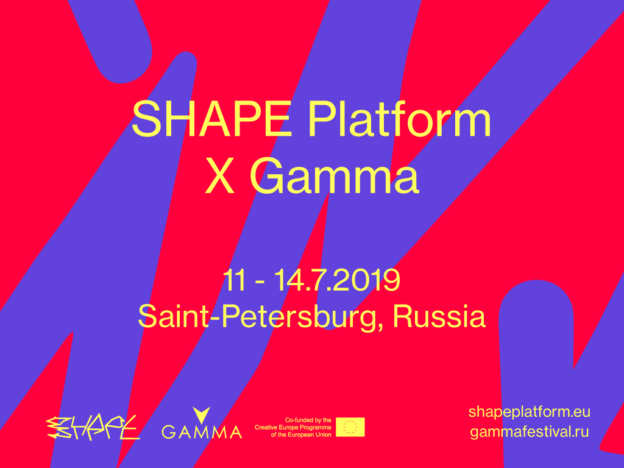 Gamma Festival, the large-scale Russian event for music and modern culture will be held for the fourth time from July 11 to July 14 2019 in Saint Petersburg. This will be the fourth large SHAPE showcase outside of the EU after Montréal's MUTEK, Rio De Janeiro's Novas Frequências and Jinja, Uganda's Nyege Nyege.
The organizers of the festival present this collaboration with the following words: "Gamma not only represents established names in music and contemporary art, but also opens up new ones. Therefore, in 2019 Gamma is hosting the project of the SHAPE platform with the support of the "Creative Europe" program with its two dozen fresh European artists performing in Russia for the first time. Thanks to this initiative Gamma continues to expand the boundaries of musical discourse."
We can now reveal the full list of SHAPE acts for this event:
Bear Bones, Lay Low (BE): For over a decade, this Venezuelan now long-time based in Belgium, has been creating psychedelic electronic sound by juxtaposing digital and analog sources. Using repetitive melodies and rhythms combined with dissonant sounds, BBLL wishes to induce a multilayered trance that allows solemn listening as well as ecstatic dancing in a mental space where the archaic meets the futuristic, where the earthly meets the cosmic.
JESSE (FI): Finnish band JESSE makes unsentimental and innovative music, that is influenced by earth and space – Jesse's astral and cosmic wave is prospective, totally boundless, and vibrant of life and blood. The production sounds luxurious and helps the psychedelic qualities to shine through the sound. Jesse, who with their first releases some ten years ago played fast and arrogant synth-based music, now picks up influences from afro beat, funk and ambient but they've kept the electronic core of their sound.
Lutto Lento (PL): Lutto Lento is Lubomir Grzelak, sound artist, producer, DJ and co-owner of DUNNO Recordings, based in Warsaw, Poland. Lone ranger, making uncompromising decisions when it comes to publishing, producing and playing music, achieving blissful states through recontextualization. Inspired equally by post-war avant-garde and indigenous music of Native Americans as well as dancehall and raw off-beat club music.
Lucy Railton (UK): Cellist Lucy Railton released her debut album Paradise 94 on Modern Love in 2018. Emerging from a long-term engagement with contemporary music, her recent work exists between modern instrumentalism, hard-edged electronic composition and expressive musique concrète.
Myako (FR): Myako is a French DJ and producer, living in Paris. Her inner animal expresses itself when she plays her sound rings into clubs. Her sets are rhythmic equations of break, Techno, UK music, Noise, in a perpetual Indus and Dancehall spirit. She has been exploring the nights of European capitals since a few years, Trésor, About Blank in Berlin, or Concrete and Rex Club in Paris. In 2018, she participates in the "Qui Embrouille Qui" adventure alongside AZF.
Marta SmiLga (LV): Marta SmiLga* & asterisk untitled** are projects of Liga Smirnova, a Riga based musician who lives for electronic music. Since early childhood her main interest has been music, though her deep passion for electronic music and sound synthesis established at the time she conducted an in-depth research of electroacoustic music while studying musicology at Latvian Academy of Music. As she is currently a product specialist at Erica Synths, the research of sound synthesis continues in even more practical manner.
Michela Pelusio (IT): Michela Pelusio is an Italian Art Scientist, Sculptor, Performer, and independent curator. She has realized numerous major exhibitions and projects around the world. Not limited to the confines of Museum, Festivals and Public Space her practice engages Scientific Institutions and community projects. Her research involves the exploration of human perception, art, science, and technology.
Robert Curgenven (IE): Robert Curgenven is an Ireland-based, Australian-born artist producing albums, performances and installations. His work emphasizes physicality, our embodied response to sound and the correspondence with its architectural context, weather and physical production via air.
Soho Rezanejad (DK): Soho Rezanejad is an electronic composer and vocalist whose practice, much like her upbringing, is a testament to versatility. Born in 1989 in New York City, the child of relocated Iranian dissidents, Rezanejad was raised in Copenhagen, Denmark, where she currently studies at the Rhythmic Music Conservatory. The tongues, scales, and registers in which she sings have varied through each of her releases; this same unwavering commitment to change is also found across the diverse themes and instrumental palettes Rezanejad has explored in her recent sonic works.
Schtum (AT): schtum distills the spectrum of oscillatory rhythm, noise, and microtonality into an aesthetic lying somewhere between the organic and the machine. Processes are set in motion by the instruments, only to be stressed and superimposed, decontextualized and deformed, until – like an exhausted voice – they break. In this electroacoustic world of feedback loops, sub-bass interference and twittering noise, an outline emerges: the shape of the field upon which schtum plays.
Violet (PT): In her home city Lisbon, Violet contributes to her local scene from different angles. She's the co-founder of the online radio station Rádio Quântica and also resident at mina – a queer rave in unexpected venues. This work permeates Violet's practice as an artist, as she thoughtfully expresses the political history of dance music through her voice and her music.
Click here to visit the Gamma website.