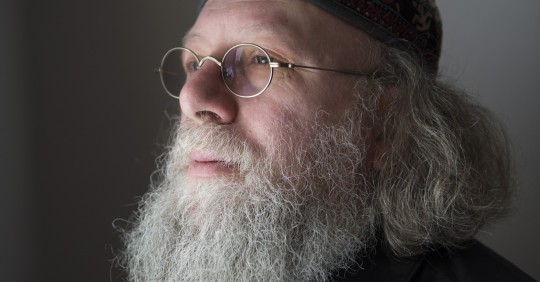 Jakob Ullmann
2015
Jakob Ullmann is a German composer and university professor. He is the son of theologian and politician Wolfgang Ullmann.
Jakob Ullmann was born in Saxony, East Germany in 1958. After refusing to undergo military service in East Germany, Ullmann worked as groundskeeper, boilerman and house painter from 1978 until 1982. He studied Church Music in Dresden, and received a Doctorate in Philosophy. He studied composition privately with Friedrich Goldmann.
From 1982 onwards he worked as a composer and writer in Berlin, and since 2008 has been part of the music staff at the Academy in Basel.
Most of his recent works have been published by Edition RZ.
"Ullmann creates a quiet music in order to give himself and his listeners the opportunity to hear more, and better. This comes about because our ability to hear is augmented when listening to quiet music. We hear better because we make an effort to hear better. That is why Ullmann likes to locate his sound sources at the periphery, so as not to make it too easy for the ear. In order to let sounds develop and move on their own time, the pieces are usually longer than the general concert norm dictates. The opening minutes serve as the exposition of the tempo and the mode, to condition, as it were, the listening."- Bernd Leukert
Download a hi-res photo here. (Photo by Frank Bauer)