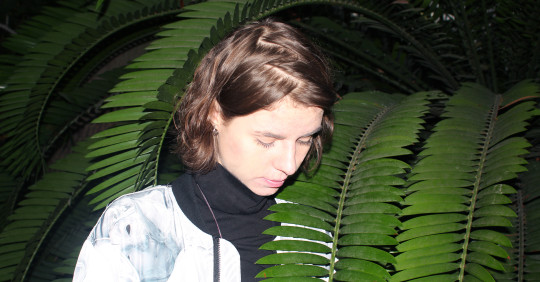 DJ Morgiana
2018
Alchemy of vibration constantly fusing into new states of matters. Since 2013 ze (sic) conjures up "za duszno" which was born out of desire to create a meeting space for people interested in unusual music; talks "Histories of musics", home concerts "residential music" and workshops. Spiritus movens of "Sound Emancipation" which started with "Vocational School of Music" in 2016. It is motivated by the conviction that only talking about feminism in regard to music is not enough – actions and groundwork bring actual change. Ze is interested in abstract turntablism, experiments with voice using extended vocal techniques. Seeing it as a primordial instrument, ze sometimes groans, at other refers to mantras and also produces small sounds (akin to ASMR). This brings feeling of ancient spells and atmosphere of tribal ritual. Chosen crystals and minerals have a prominent place in hir (sic) performances. Ze weaves in their sounds with handmade theremin with photo-resistors, contact microphones which also transmits vibrations of organic ingredients and various objects. Ze is always looking for new means and ways, other sonic planets, so this arsenal is supplemented with hir field recordings – untamed sounds which she explores oceans of endless possibilities – connecting nature and eco-sexuality approach with creative using of new technologies: special interest in live coding, spectral processes, crystal scanning, generative procedures, artificial neural networks or machine learning for sound creation.
Karnacewicz constantly develops her musical practice working with performative aspect. Ze took part in a mechanic-organic performance entangling Astma's electronics with sounds of plants in K105K gallery in Warsaw, before she conceived a multi-sensual action "Touch Room" with dancer/performer Rafał Pierzyński and Piotr Tkacz with whom she created a soundscape for this situation. This was an outcome of a residency at Lamella – the house of queer arts in Cracow. In June ze was invited by BWA – municipal art gallery of Bydgoszcz as a part of "Night of Performance" where ze presented a deeply personal, shamanic performance drawing upon purifying power of wildness. Ze composed music specifically for this occasion and set a crystal mandala with minerals and other natural elements.
Recently ze prepared a performative sound installation and with participants of Sounds Queer? series transformed Viennese Semperdepot Prospekthof into a queer safer space through vibrations and noises. Combining witchcraft knowledge of ancestors, consciousness of body and vibrational alchemy of unexplores musical hybrids ze conjures experiences of new forms of togetherness.
Download press photo here.  (Credit: Marta Nowak)