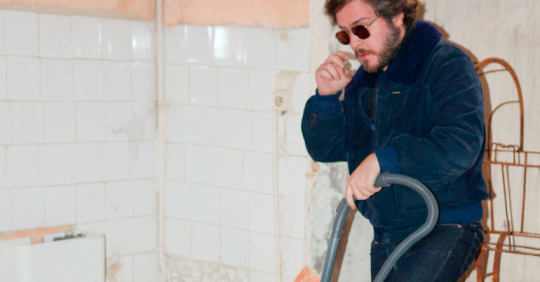 Élg
2018
Since 2004, Laurent Gérard also known as Èlg, has drawn concentric sound spirals made of musical pipes and entrails. He uses an arsenal of instruments and methods, constantly renewed and builds improbable bridges between concrete music and french song debris, between cryptic electronic tribal incantations and Russian doll dancing in Plutonia. When not in French, language is reduced to an alien babble of an old man, a child, a dusty revenant, an epileptic bard, a peaceful messenger…
The motifs and the contours of the sound reinvent themselves constantly like a living organism. Its a coil of prayers, an earth rocket, a parade we are following on a grand avenue..
Èlg is also half of the electronic duo Opera Mort (with Jo Tanz), and 33% of Orgue Agnes (with the members of Kaumwald, Sourdure and Premier Chasseur) and one a third of Reines d'Angleterre (with Jo Tanz and Ghédalia Tazartes). He is also part of the two headed clown monster « Schultz and Elg », with sound poet Damien Schultz.
His albums have been released by labels such as Kraak, SS-Records, Lexi Disques, Fonal, Hundebiss Records, Alter, SDZ, Bo'Weavil, Nashazphone… His next opus, Vu du Dôme, will be out on Editions Gravats in March 2018.
Download press photo here. (Credit: Nina Strebelle)
Èlg live in Nantes / Lieu Unique / 2017 from La Chimie on Vimeo.