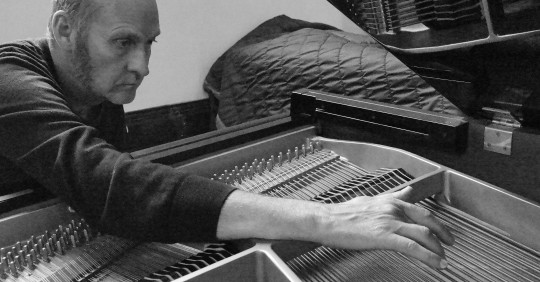 Stephen Grew
2017
Stephen Grew has been playing totally improvised piano and electronic keyboard music for over 30 years. His music works with the life forces of the instrument, their sounds and a multiplicity of rhythmic patterns, dynamic extremes and whatever an improviser conjures in the creative moment.
He has played in many European countries, toured relentlessly in his native country the UK and collaborated with many musicians, including the great British improvisers of our time. He also has countless recordings released on a variety of labels.
"Stephen Grew is one of Europe's most dedicated and imaginative pianists: Stephen's playing free from the constraints of traditional harmonic, melodic and rhythmic structures, is a virtuosic tour -de -force of dynamic extremes, percussive effects and spontaneous atonal flourishes, by turn surprising, witty and breathtaking!"
-Manchester Jazz Festival 2011
Download a press photo here (credit: Peter Fay).